If you're looking for an electric vehicle, you're probably thinking about Tesla or other luxury EV models — and you're probably thinking that electric vehicles cost big bucks. But they don't have to. There are many cheap EVs — and today I've rounded up five of the very cheapest electric vehicles currently listed for sale on Autotrader.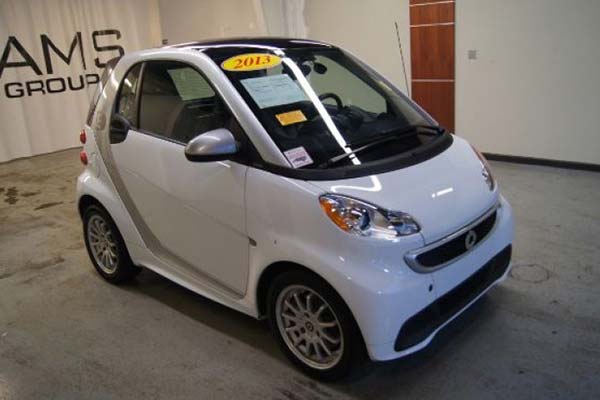 2013 Smart Fortwo Electric Drive – $3,000
The cheapest electric vehicle currently listed for sale on Autotrader is this 2013 smart fortwo Electric Drive, which is offered for just $3,000. In fact, several of the cheapest EV models on Autotrader are electric smart models, which have a short range and (obviously) a very small size — but can be useful runabouts in big cities. This particular example is offered by Adams Auto Group in Charlotte with just 4,600 miles.
This is the cheapest Nissan Leaf currently offered for sale on Autotrader. It hails from the Leaf's very first year of production, 2012, and it's an upscale SL model — though it's traveled around 57,000 miles, which is a lot for an early Leaf, and which has driven down its value. It's currently offered by a private seller in San Jose, California, for just $4,900, and the seller notes the battery's range stands at around 40 to 50 miles.
The fully electric FIAT 500e is an excellent EV, offering a sporty driving feel and cute styling for a reasonable price. In this case, the price is extra reasonable, as this 500e is available for just $5,375, making it the cheapest 500e listed for sale on Autotrader. It's traveled 69,500 miles, which is a lot for a 500e, and it's offered by Shift in the San Francisco Bay Area.
2012 Mitsubishi i-MiEV – $5,675
The Mitsubishi i-MiEV is the forgotten electric car — a small hatchback that failed to gain any traction or sales just as the Nissan Leaf and the Ford Focus Electric were going on sale back in 2012 and 2013. For those who haven't forgotten the i-MiEV, however, they're available cheap: this particular 2012 model is the cheapest i-MiEV for sale on Autotrader, and it's offered with 34,400 miles for $5,675 by Shift in the San Francisco Bay Area.
2011 Ford Transit Connect EV – $6,450
Although many people are unaware that Ford made an electric version of its Transit Connect van, they did indeed — and this is one of those rare fully electric Transit Connect models. When new, these had a range of around 80 miles, though the EPA said it was more like 56 miles — but either way, it's a nice way to transport goods short distances. This Transit Connect EV is offered by DPN Ventures in Grand Rapids, Michigan, with 49,000 miles for just $6,450.
MORE FROM OVERSTEER:
Video | The 2019 Ram 2500 Heavy Duty Is an Ultra-Tough $85,000 Truck
Video | The Mini Countryman Is an Underrated Small SUV
Autotrader Find: 1983 Chevy Pickup Hummer Replica