I was recently fortunate to spend some significant time with the Toyota 4Runner TRD Pro, and as you can read in the title, I just couldn't help get the vibe that this thing was the modern-day first- (or second-) generation Land Rover Discovery — the spiritual successor.
Fresh out of college for my first job, I had a short stint in the video game industry. The video game industry is filled with "spiritual successors" to video games of a previous time, sometimes due to people or complete teams who worked on one project jumping to another company to work on a new project and bringing the mindset or paying homage to their previous work. Or, sometimes they just drew inspiration from a previous quality project.
So what I am saying with my 4Runner TRD Pro/Land Rover Discovery comparison is not that Land Rover engineers went to work for Toyota years and years later to make the 4Runner and then spiffed it up with the TRD Pro trim. I am simply saying you cannot look at the 4Runner TRD Pro (feel free to squint if you need to) and not see the spirit of an old-school Land Rover Discovery.
Like my video showcases, let's talk about all the likenesses and why I have this overall feeling.
If a 4.0-liter engine was all that made my feelings for this thought happen, it wouldn't have much weight, would it? But let's touch on their engines for a second. Both, in fact, do have 4.0-liter engine options, but while the Discovery of old — both the first- and second-generation models — was available to come packed with a 4.0-liter V8, the 4Runner TRD Pro packs a 4.0 liter V6.
The old-school Land Rover Discovery was "the Safari" vehicle. It quite literally looked like it belonged overlanding some mountain or traversing some desert landscape, probably why NATO used to drive around in them. In my opinion, the Toyota 4Runner TRD Pro embodies that safari overlander vibe better than any vehicle currently new on the market.
The Discovery was not only more than capable to take on the terrain, but it also cocooned the driver in luxury. Now, the definition of luxury sure has changed since the last time you may have seen a first- or second-generation Discovery rolling across the assembly line, but a 4Runner TRD Pro and the 4Runner line up do a prime job of cocooning you in luxury in 2020.
Leather seats, a nav screen and, for the 2020 model year, getting Apple Car Play/Android Auto as well as a premium sound system, the 4Runner TRD Pro conveys an overall feeling of luxury.
Touching on the interior for another moment, the first- ( … or second-) generation Land Rover Discovery came equipped with a manual 4×4 gear selector. Now, many off-road or 4×4 vehicles have come equipped with such a gear lever, but while already checking those Discovery boxes I could not help but comment on it.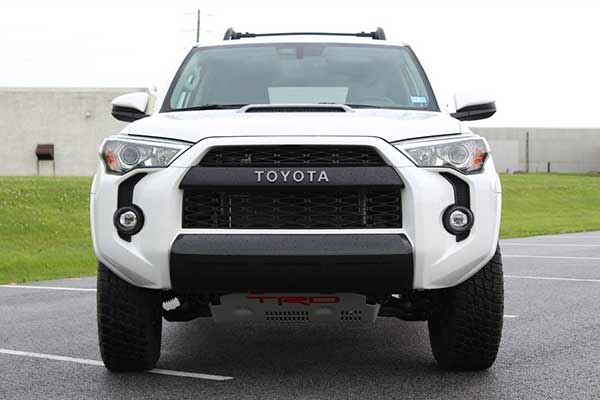 The 4Runner TRD Pro being the newer kid around the block, I could not help but think that it is one up on the old Discovery. The new models get some serious off-road chops in the form of Fox shocks and skid plates, and now it even gets even more Discovery-safari-esque roof racks.
I recently took the 4Runner TRD Pro's midsize off-road brother, the Toyota Tacoma TRD Pro, off roading, and then I had commented that this 4Runner TRD Pro was definitely at the top of my next vehicle list. Only time will tell if I land on one.
It would be silly for me to think that this unique opinion would not be a source of discussion, but do you agree? Disagree? I would love to hear about why you do or don't in the comments. Find a Toyota 4Runner for sale
For more of his automotive exploits, you can follow Danny on Instagram (@DKorecki) and check out his YouTube channel.
MORE FROM OVERSTEER
The Mitsubishi Montero Sport Is the Forgotten Toyota 4Runner Competitor
5 1990s Cars Worth Restoring Currently For Sale on Autotrader
Autotrader Find: 1987 Buick Grand National With 105 Miles