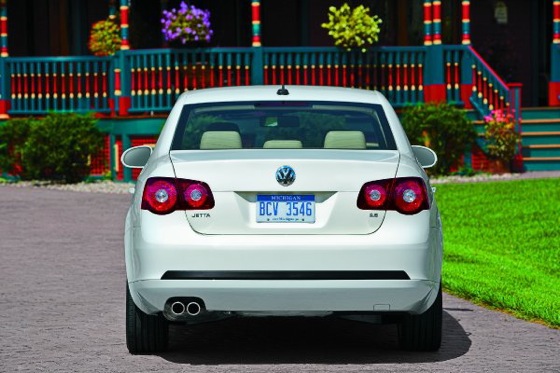 Right off the bat, we need to explain Volkswagen's maddeningly bizarre model year assignment. This review covers the 2005-2010 Jetta TDI, but there are actually two different 2005 Jettas. The last year of the previous generation was sold the first few months of 2005, then, halfway through the year, the new model (dubbed 2005.5 by VW) rolled into showrooms. If you're looking at a 2005 Jetta TDI, be sure it's the 2005.5 and not the 2005, otherwise you'll be buying the Jetta not covered by this review. Before you put down your pencil, there's one more thing you need to know. The Jetta TDI with the 1.9-liter engine was only produced between 2005 and 2006. There is no Jetta TDI for model years 2007 through 2008, but the Jetta TDI resurfaces in 2009 with a new 2.0-liter TDI engine. Confused? Yeah, that's pretty common. But we'll try to make sense of it all in this review. Once you do find a used Volkswagen Jetta TDI, grab it quick because these cars are rare, highly sought after and fetch a premium price.
Why You Want It
The most obvious reason you'll want a 2005-06 or 2009-10 Jetta TDI diesel is for the fuel economy. While the EPA rates the Jetta TDI around 30-mpg city and 40-mpg highway, many owners report that after a short break in period (around 10,000 miles) the highway economy numbers jump to as high as 50 mpg. The Jetta is a roomy, fun-to-drive car with a high attention to detail that outshines just about every other compact and midsize car in its class. If you're looking for more room than a conventional sedan provides, the Jetta TDI is also available in wagon form in model years 2009 and 2010 with either a manual or automatic transmission.
Of course, critics of the diesel will tell you it's slow (the TDI is actually quicker than the four-cylinder gasoline powered Jetta), its smells (the 2.0-liter Jetta TDI is a clean diesel, meaning there is very little black smoke or offensive odor from the tail pipe), they are loud (the Jetta TDI is mostly quiet), that they are bad for the environment (a diesel engine actually produces about 30-percent less greenhouse gas emissions than a gasoline engine), and that diesel costs more than gasoline, sometimes by as much as ten cents a gallon. OK, that last point is one worth considering, but remember this. While it may cost you a buck or two more to fill the TDI's tank, you can drive almost 600 miles before needing a refill. If you're only filling up once or twice a month vs. three or four times, then in the end, it's your monthly fuel bill that really matters, not the extra $1.50 is cost to fill the tank, right? To be honest, while there is diesel fuel available just about everywhere full-size diesel pickup trucks roam, some smaller towns and cities might not have a green handled diesel pump at every station, meaning you may have to travel a bit out of your way to find fuel.
Notable Features & Options
Volkswagen is well known for its feature-rich models, high-quality interiors and strong dedication to safety. As for equipment, Volkswagen equips the TDI with most of its more desirable offerings, while leaving only a few options on the table. Standard on the 2005-06 Jetta TDI is a five-speed manual transmission, power windows, door locks and mirrors, remote keyless entry, a tilt/telescopic steering wheel, air conditioning and an AM/FM stereo with cassette and CD. Both the driver and passenger have height adjustable seats with manual lumbar support and there are numerous cup holders both front and rear. For 2005-06, a six-speed dual-clutch "DSG" automatic transmission was offered. On 2009-10 models, the standard transmission is a six-speed manual with VW's DSG automatic offered as an option. Available equipment includes DVD navigation, upgraded audio with iPod integration, six-disc CD changer, heated seats, heated side mirrors, a power sunroof, Bluetooth and V-Tex simulated leather seating. A full compliment of safety features includes anti-lock brakes, front side and side-curtain airbags, and electronic traction and stability control. Rear side-impact airbags were a stand alone option.
Model Milestones
2006: Some new colors and wheel options mark the major changes for 2006.
2007-2008: Due to strict new NOx emissions guidelines set by some states for diesel engines, VW is forced to pull the TDI from the lineup. Some remaining 2006 TDIs are sold throughout the 2007 model year in states that allow it.
2009: An all-new clean diesel TDI engine is introduced, as is the Jetta SportWagen. New standard features include heated seats, heated side mirrors and heated windshield wiper nozzles.
2010: Bluetooth hands-free phone connectivity and an upgraded audio system are made standard on all TDI models. The Jetta and Jetta SportWagen get a slight interior makeover, new colors and new wheel designs. VW also produced a limited edition Cup Street racking version of the TDI, with 18-inch wheels, upgraded brakes and thicker anti-sway bars.
Engines and Performance
From 2005 to 2006, the Jetta TDI is powered by a 1.9-liter four-cylinder turbodiesel engine (TDI stands for Turbo Direct Injection) good for 100 horsepower, but a healthy 177 pounds-feet of torque. Remember, torque is a rotational force required to get a car moving, so the more torque an engine has, the quicker it can move a car either from a standing stop or when overtaking slower traffic. 2009 and newer Jettas feature an all-new 2.0-liter four-cylinder turbocharged engine with VW's "clean diesel" technology. The clean diesel features particulate filters and other devices for removing diesel soot and order from the exhaust, as well as a system for reducing emissions. The 2.0-liter TDI produces 140 horsepower and whopping 236 pounds-feet of torque. While the 1.9-liter engine can best be described as peppy, the 2.0-liter TDI is down right quick. Rocketing out of a tollbooth or merging onto the freeway is a snap for the 2.0-liter TDI, which feels more like the GTI's 200-horsepower turbocharged gas engine than a powerplant designed for maximum mileage. If you go with the manual transmission, you'll need to adjust to the diesel engine's lower rpm redline. Whereas most gasoline engines allow you to rev the engine high up into the rpm band, a diesel usually can go no higher than 3000 to 3500 rpm before requiring you to shift. As most TDI's were ordered with automatic transmissions, this probably won't be an issue for most buyers.
Recalls, Safety Ratings and Warranties
The National Highway Traffic Safety Administration, or NHTSA, has issued the following recalls for the 2005-2006, 2009-2010 Volkswagen Jetta TDI:
2005-2006 - Some Jettas failed to comply with federal standards regarding the ability to properly aim the headlamps. Some cars are missing a cap that disables the horizontal aiming screw, while others have a cap in place that can disable the vertical aiming screw.
2009-2010 - A recall was issued for cars equipped with the DSG automatic transmission. A temperature sensor wiring harness may have improperly crimped connectors that could lead to false high temperature readings causing the transmission to abruptly shift into neutral.
In addition, at the time of this article's publishing, NHTSA was looking into some 160 complaints regarding high-speed stalling. They suspect the high pressure diesel fuel pump may be failing and contaminating the fuel lines. There is no recall action at this time and VW is cooperating fully with the agency.
Recall repairs are required by law even if the vehicle is out of warranty. Your dealer can check to see if the repairs were performed and if not, will fix the car at no charge to you.
As for safety, the 2005-06, and 2009-10 Volkswagen Jetta TDI and Jetta SportWagen TDI perform near the top of the segment. NHTSA gives the Jetta and Jetta SportWagen four out of five stars in its front end crash tests, five out of five in the side-impact crash test, and four out of five stars in the rollover crash test. The Insurance Institute for Highway Safety (IIHS) gives the Jetta its highest rating of "Good" in the frontal offset crash test, side-impact crash test and roof strength crash test.
As for the Jetta TDI's warranty, on 2005-06 models VW provides a 4-year/50,000 mile bumper-to-bumper warranty and a 5-year/60,000 mile drivetrain warranty. In 2009, the basic warranty period drops to 3-years/36,000 miles, but the drivetrain warranty remains unchanged. If you purchase your Jetta TDI through a Certified Pre-Owned (CPO) Volkswagen dealer, the warranty is extended by 2-years/24,000 miles providing the vehicle is less than five years old and has less than 60,000 miles.
Word on the Web
There's a lot of cyberspace chatter about the Volkswagen Jetta TDI, some of it good and some not so good. Checking out consumer sites like ConsumerReports.org, we find that the 2005 and 2006 models had some low marks regarding engine and transmission complaints, and a mix of average and slightly above average marks in areas like climate control, suspension and overall build quality. The 2009-10 Jetta looks much better across the board, but it is still relatively new without much long term data to support the conclusion that all will be well five years down the road. Enthusiast sites like TDIclub.com are peppered with praise for the TDI's excellent mileage, good performance and generally overall fun-to-drive experience. Owners of older TDI models report having 150-, 200- and even 300-thousand miles on their cars. We also found quite a few mentions of little electronic gremlins frustrating owners and repair shops alike. There were also a number of threads, as well as professional reviews, that refer to the awkward jerkiness of the DSG transmission, especially when rolling to a stop or lightly tapping the throttle.
Competitive Set
As there are no other diesel cars in the Jetta's price range sold in the U.S., we think it is best to compare it to other high mileage cars. You can look at a Toyota Prius Hybrid, which is a bit smaller and not nearly as much fun to drive, but that gets better city/hwy fuel economy and has a better reliability history. Another alternative is the Honda Civic Hybrid. Again, this car offers great fuel economy, an excellent repair and resale history, and it isn't as radical looking as the Prius. But, like the Prius, the Civic Hybrid isn't exactly thrilling to drive, and its battery pack takes up some cargo space as well as removes the split folding rear seat option. The Ford Fusion Hybrid is slightly larger than the Jetta, provides lots of cool features like SYNC and is both sporty and fun to drive. You could also look at some non-hybrid cars, like the Toyota Corolla, Honda Civic and Nissan Sentra, all of which get mileage in the mid to high 30s and cost a lot less than the Jetta TDI.
Autotrader Recommendations
Due to its improved efficiency, 50-state compliant emissions and overall better performance, we advise scraping your pennies together and seeking out a 2009 or 2010 Jetta or Jetta SportWagen TDI with the 2.0-liter engine. Not only will the newer model likely still have its original warranty in place, the improvements made to the 2009 version over the 2005 and 2006 cars are substantial enough to warrant recommending the newer cars over the older one. If finances or circumstances direct you to the 1.9-liter model, go for a 2006 with a manual transmission; its fun to drive, gets great mileage and will probably be less costly to repair down the road than the complex DSG automatic.