Editor's note: You may want to read more of Autotrader's model vs. model comparison car reviews as well as the 2012 Toyota RAV4 review and the 2013 Nissan Rogue review.
If you're interested in a used crossover with an affordable price tag, we have no doubt the 2006-2012 Toyota RAV4 and the 2008-2013 Nissan Rogue are on your shopping list — as both seem to offer exactly that: a crossover driving experience with more budget-friendly pricing than a new model. But between the RAV4 and the Rogue, which crossover is better? And which one deserves your hard-earned money? We've created a close comparison to help you find out.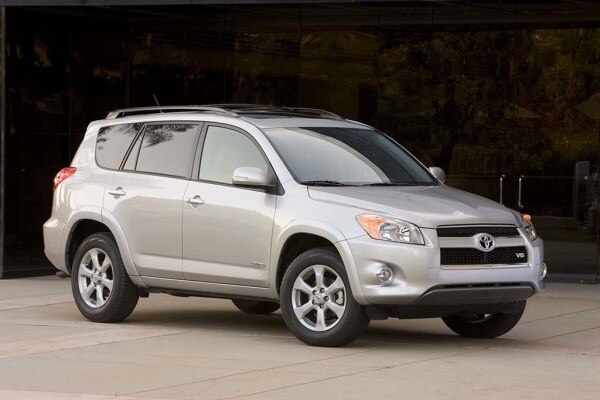 2006-2012 Toyota RAV4: The Basics
The 2006-2012 Toyota RAV4 was the model's third generation. Unlike previous RAV4 models, the 2006-2012 version offered an optional V6: While the standard engine was a 166-horsepower 2.4-liter 4-cylinder, the V6 produced a muscular 269 hp. Also unlike previous RAV4 models, this version offered 3-row seating — made possible by its larger size — though the third-row option was rarely chosen. Anti-lock brakes were standard on all RAV4 models; side airbags were optional in 2006 but became standard for the 2007 model year. The RAV4 was offered in base, Sport and Limited trims, with a fully electric RAV4 EV offered only in California for the 2012 model year.
2008-2013 Nissan Rogue: The Basics
The Rogue was brand-new for the 2008 model year. Unlike the RAV4, it offered no 3-row seating and no V6 option; its sole powertrain was limited to a 170-horsepower 2.5-liter 4-cylinder mated to Nissan's fuel-saving CVT automatic. Anti-lock brakes and side curtain airbags were standard on all Rogue models from the beginning. From 2008, the Rogue was sold in the "S" and "SL" trims, though a sporty "Krom" model joined in 2010. The SL model was replaced with the Rogue SV for 2011. Although a new Rogue came out for 2014, Nissan sold the outgoing model as the "Rogue Select" for the 2014 and 2015 model years.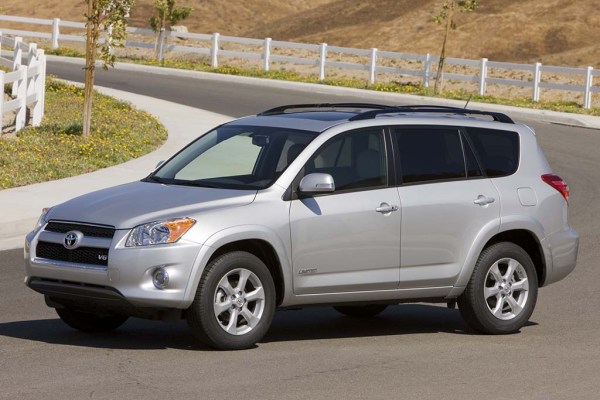 Reliability
According to reliability experts at J.D. Power, both the 2006-2012 RAV4 and the 2008-2013 Rogue earned the same reliability rating: three out of a possible five, indicating generally average reliability. Meanwhile, in hundreds of reviews from real owners on Kelley Blue Book, the RAV4 earned an 8.6 out of 10, while the Rogue earned an 8 out of 10. While that suggests the RAV4 has slightly higher customer satisfaction (which is typically based heavily on reliability), both scores are strong — indicating both models perform well. Between those numbers and the J.D. Power ratings, we'd say this category is a draw.
Fuel Economy
The Rogue was offered with only one engine: a 170-horsepower 2.5-liter 4-cylinder that returned up to 22 miles per gallon in the city and 27 mpg on the highway.
The RAV4, meanwhile, had several engine options. From 2006 to 2009, the RAV4 came standard with a 166-hp 2.4-liter 4-cylinder, which returned 23 mpg city/27 mpg hwy. In 2010, that engine was upgraded to a 179-hp 2.5-liter 4-cylinder, which earned 21 mpg city/27 mpg hwy. Drivers who wanted more power could opt for a 269-hp 3.5-liter V6, which offered a surprisingly strong 21 mpg city/28 mpg hwy — largely due to its 5-speed automatic transmission, compared to a 4-speed in 4-cylinder models. Finally, shoppers especially interested in going green could opt for the RAV4 EV — though it was only sold in California. It boasted 154 horsepower and a surprisingly strong 113-mile range.
In the end, unless you can find a RAV4 EV, you'll find the fuel economy of most RAV4 and Rogue models to be about the same — roughly 22 mpg city/27 mpg hwy — regardless of engine choice and model year. This category, too, is a draw.
Safety
When it comes to safety equipment for aging models like the 2006-2012 RAV4 and 2008-2013 Rogue, you can't expect them to have all the modern equipment — and, indeed, they don't. The Rogue came standard with side airbags, side curtain airbags, anti-lock brakes and traction control; the RAV4 came standard with all those features, too, except in 2006, when side airbags were optional. The latest gadgets — like forward-collision warning and a blind spot monitoring system — simply weren't offered in either model until the next generation.
As for crash-test ratings, the RAV4 and Rogue have identical numbers from the federal government's National Highway Traffic Safety Administration: five stars in the side-impact assessment, four stars in the rollover assessment and a mix of 5-star (driver) and 4-star (passenger) scores in the frontal-impact crash test. This category is therefore also a draw.
Technology
As in the safety section, it's important to understand the RAV4 and Rogue won't offer all the latest high-tech gadgets, as the newest version of each is already four years old — and the oldest RAV4s in this comparison are over 10 years old.
Instead, at the time these models came out, top-end versions of both the RAV4 and the Rogue offered features like leather upholstery, an infotainment system, Bluetooth and a 6-disc CD changer. Interestingly, once again, these two models are largely identical in these offerings: Neither model came standard with vastly more equipment than the other, and neither model offered any particularly enticing options the other didn't have. Once again, this category is a draw.
Value
Where these two models start to finally separate themselves is in their pricing. The average asking price of a 2006-2012 RAV4 on Autotrader is $12,100; limiting that search to 2008-2012 (the years it was produced in direct competition to the Rogue) brings that figure up to $12,900.
Meanwhile, the average asking price for a 2008-2013 Rogue is $11,700 — cheaper than the RAV4, even with later model years. Limit the search to 2008-2012 models, and the average asking price of a Rogue drops to $10,300 — a far cry from the RAV4's figure.
Admittedly, the RAV4 does offer a few benefits for its additional price tag: It's larger in back, meaning it has more cargo room (or the optional third-row seat). And some of that extra cost is from the option of a V6 version, which commands a higher price on the used market. But given how similar these two models are, it's easy to say the Rogue is the better value.
Autotrader's Advice
In the end, it appears the 2008-2013 Nissan Rogue and the 2006-2012 Toyota RAV4 are highly similar — and that's no coincidence, as the compact crossover segment is highly competitive, meaning most models have the same features and general pricing.
With that said, there are a few differences that separate the two cars. If you're especially price-conscious, we recommend the Rogue: Its lower average asking price suggests it's a better deal than the RAV4, especially considering how similar the two models are. Meanwhile, if you want more space, more power or an available third-row seat, we recommend the RAV4. The RAV4 also has slightly nicer materials, giving it a more upscale cabin — an important quality for some drivers.
Find a Used Toyota RAV4 for sale