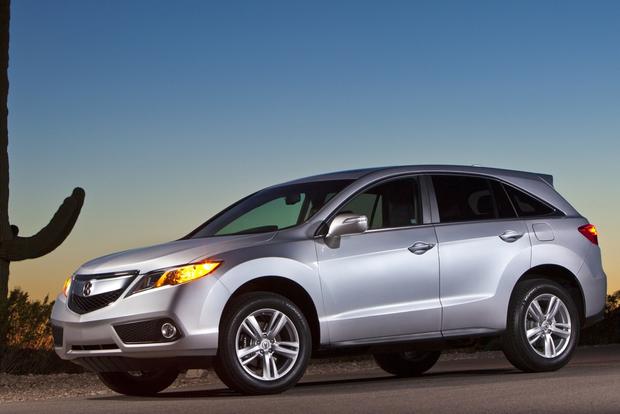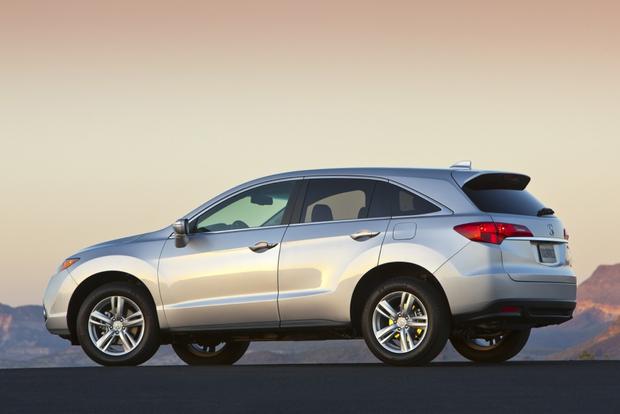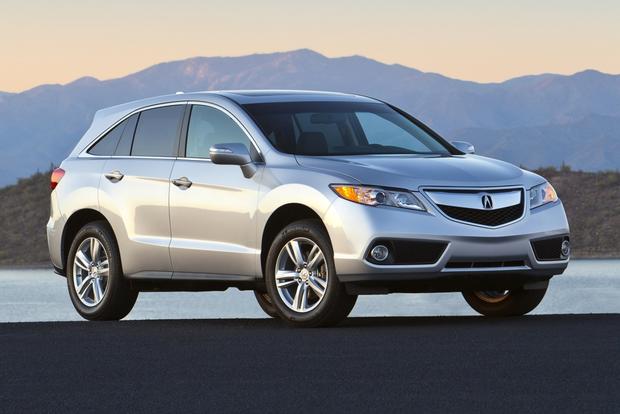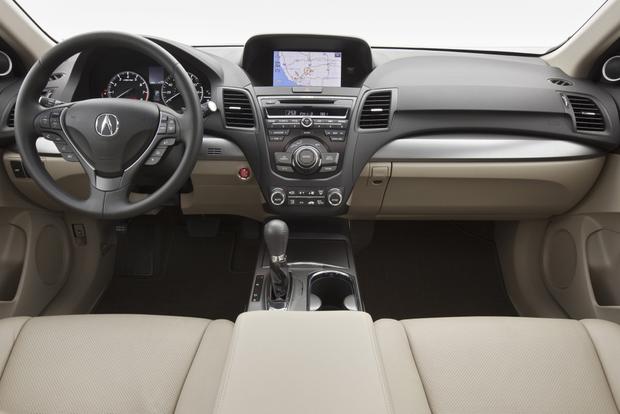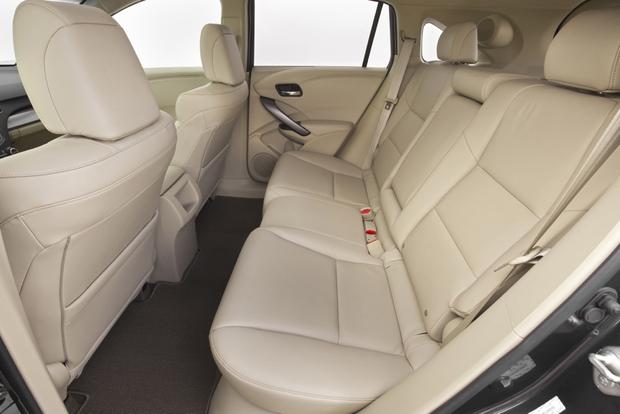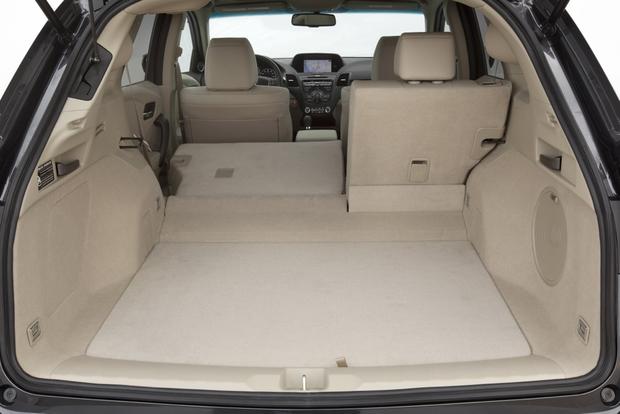 Pros: Plush cabin; smooth power
Cons: Pricey; muddled brand image
What's New: The 2013 RDX upgrades to a refined V6 engine in place of a turbocharged four-cylinder and has all-new design inside and out.
Honda and its Acura premium division have long thrived by being unorthodox. So when Acura launched the original RDX compact SUV in 2007 with a turbocharged four-cylinder to compete against the V6-powered Lexus RX350, it seemed possible that Acura could again succeed by zigging when everyone else zagged.
But it didn't work out that way. Instead, RDX sales lagged. So for version 2.0, Acura stuck more closely to customer expectations and has produced a roomy, smooth and luxurious mini-version of the brand's popular MDX mid-size SUV. This looks like a surer recipe for success.
Acura says it had a sporty customer in mind the first time around, but now it's targeting an older, luxury-minded driver. The difference shows, as the new RDX enjoys a visibly more opulent cabin, with rich-looking soft-touch surfaces.
Under those premium materials, the RDX packs more sound deadening and uses the stereo system for Active Sound Control (it works like noise-canceling headphones) to create a hushed environment inside. Even the window glass is thicker than before to keep out wind noise.
Comfort & Utility
The RDX's new target customers will appreciate the vehicle's increased cabin and cargo space, courtesy of a longer wheelbase for more space between the front and rear axles.
Some of that technology is invisible, like the Active Sound Control, which cancels out unwanted noise. It uses the stereo system, even when it's turned off, to cancel 10 decibels of low-frequency noise. Similarly, the RDX has active engine mounts that smooth out vibration when the V6 engine is saving gasoline by running on three or four cylinders instead of all six.
In addition to the expected leather seats and steering wheel, the rest of the cabin is finished in a combination of rich-feeling soft-touch materials and some well-concealed hard surfaces.
One-touch releases to fold the rear seatbacks provide a noticeable amount of convenience when loading bulky items in the back. The power-operated rear hatch works with tolerable speed, making it easier to load cargo with full hands.
Technology
Acura aims to make technology the brand's calling card, sort of the way safety is Volvo's hallmark. Trouble is, just as with Volvo's safety, everybody is on that bandwagon, which makes it tough for Acura to stand out with its technology. That didn't stop the company from trying, especially when the RDX is outfitted with the optional Technology package.
The RDX includes a power moonroof, a rear-view camera, Acura Premium Sound with Sirius XM satellite radio, Bluetooth connectivity and a Pandora Internet radio interface. The Technology package adds a navigation system with an eight-inch wide-screen display that shows real-time traffic and weather and a 10-speaker surround sound audio system that the company touts as having the sound quality of recording studio monitor systems. We can't argue with that assessment.
The GPS-linked, solar-sensing dual-zone climate control system seems a bit gimmicky and didn't provide any noticeable benefit to cabin comfort. Credit goes to Acura for adding the automatic three-flash lane change turn signal function to the RDX. This is a handy feature that remains uncommon among Asian vehicles, although American and European brands have long since embraced it.
Performance & Fuel Economy
Switching to a 273-hp 3.5-liter V6 engine let Acura add 33 horsepower to the RDX, which naturally improves performance. But the Active Cylinder Management cylinder deactivation system lets this engine run on six, four, or three cylinders depending on the need for power.
That puts the RDX ahead of its competitors in fuel economy, with 22 mpg in combined driving based on an EPA rating of 19 mpg city and 27 mpg highway for the all-wheel-drive test car. In a week of around-town suburban driving, our test car returned a ho-hum 20 mpg.
That's good for this class of V6-powered luxury machines, but it isn't particularly impressive for a vehicle of this size.
The six-speed automatic transmission goes about its business without notice, but if you are so inclined, you can shift gears yourself with the steering-wheel-mounted plastic shift paddles.
Safety
Acura has packed in more high-strength steel to armor the RDX for safety. Now, 65 percent of the body is made of high-strength steel, compared with 47 percent in the old model. The result is a 24 percent improvement in torsional rigidity, for an extra-strong body shell. Extra reinforcement was added to the rear and to the roof pillars with the aim of better scores in new government tests for rear impact and roof crush strength.
Knee bolsters under the dashboard help keep occupants in optimal position so the numerous airbags and air curtains can do their jobs in the event of a crash.
Driving Impressions
It's often a knock to say that a car feels bigger than it is, because this usually means that it feels clumsy and ponderous. But in the case of the RDX, it means that the car has the steady smoothness you'd find in a bigger class of vehicle, like the MDX. Too often, small SUVs are just bouncy and rough.
The taut, accurate steering provides uncommon feel and feedback for a luxury-class vehicle, especially one that isn't German. Acceleration from the V6 is quiet and strong, with the six-speed automatic transmission gliding smoothly through its gears.
Lexus established itself as the player to beat in the premium compact SUV market with its slick, quiet, luxurious RX350. The RDX now enjoys all of those same attributes, so it should be very appealing to customers who want to be bathed in an atmosphere of luxury while driving a smaller SUV. The RDX adds the benefit of responsive handling and a communicative steering feel, so the driver not only feels coddled, but also feels involved with the activity of driving rather than disconnected from it.
Other Cars to Consider
BMW X3- BMW has gone the opposite direction from Acura, replacing a 6-cylinder engine with a turbocharged 4-cylinder. Because BMW is already on people's shopping lists, it is a risk the brand can take, even though the new TwinPower turbo engine delivers exactly the same horsepower as that in the previous Acura RDX turbo.
Mercedes-Benz GLK- Mercedes' refreshed 2013 GLK improves the quality of materials and upgrades the information and entertainment systems. A fuel-sipper diesel is planned for calendar year 2013.
Audi Q5- Audi has quickly made itself the understated favorite in many vehicle categories, and the Q5 certainly qualifies. It has the curb presence and visible quality to state its case.
AutoTrader Recommends
Although SUVs are thought of as four-wheel-drive off-roaders, most of us do fine with the cheaper, more fuel-efficient front-wheel-drive versions, especially when they're equipped with modern traction and stability control systems. So it makes sense to save money on the purchase and to save gas while you own it by choosing the front-wheel-drive version. The RDX packs plenty of electronic gadgets and an excellent sound system even without the Technology package. You can save $5,000 by choosing the base RDX for $34,320 rather than the all-wheel-drive model with Tech package, which costs $39,420.
What do you think of the new Acura RDX? Let us know in the comments below.