Car Review
2013 Chevrolet Suburban: New Car Review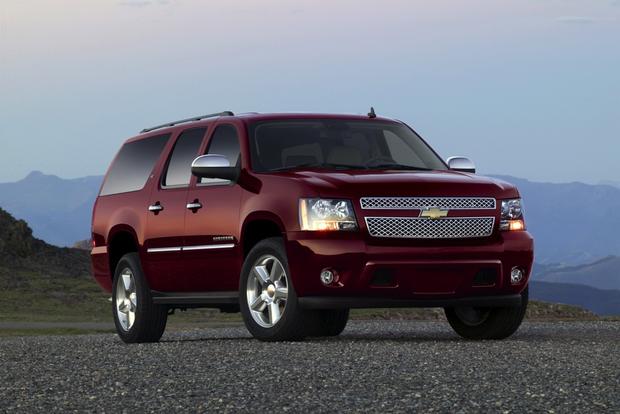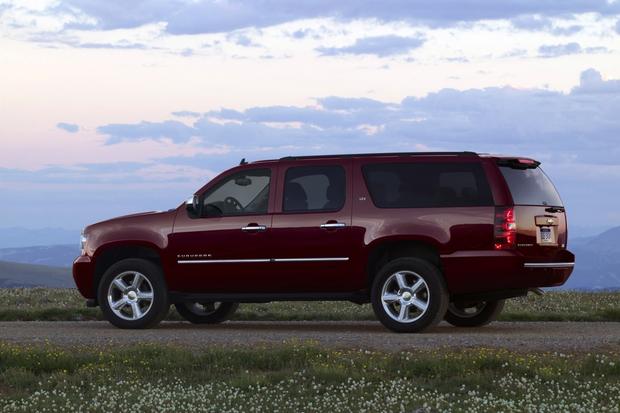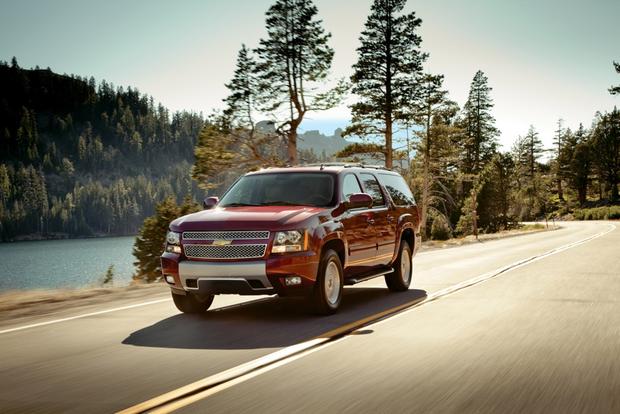 Pros: 9-passenger seating; up to 9,600-lb plus tow limit; huge cargo space; comfortable ride; abundance of amenities.
Cons: Heavy and sluggish off the line; abundant body roll; third-row seat is difficult to stow; low city fuel economy; hard to maneuver in parking lots.
What's New: Powertrain braking in normal transmission mode; three new exterior colors.
The 2013 Chevrolet Suburban, by some accounts, is the ultimate full-size traditional SUV. It can seat nine people, tow a 9,600-lb boat and carry more cargo than any other utility out there. The question is, who actually needs all this capability? The answer to that question is simple: Anyone who needs to transport nine people, tow a 9,600-lb boat, or haul a mother lode of stuff. For those needing anything less, there are plenty of other large SUVs and crossovers to choose from.
In addition to its obvious talents, the Suburban serves as a very comfortable, near-luxury people mover. Its combination of plush ride and premium amenities makes it an ideal choice for affluent families who want to go hit the open road. In fact, a fully equipped Suburban might even make you forget it's a Chevy.
But like most good things, the truck-based Suburban has its share of drawbacks. Its low city fuel economy will deter some from driving around town as freely as they'd like. Also, the Suburban's driving characteristics cannot mask its massive size. For that reason, it's best to avoid narrow city streets and crowded parking lots.
For 2013, the Suburban remains mostly unchanged. Powertrain grade braking is now available in the normal transmission mode. That function, which slows the vehicle on descents using the engine's torque, was previously available only with the transmission in tow/haul mode.
Most American families will probably never need all that the 2013 Suburban has to offer, but for the few that do, this massive body-on-frame vessel amply delivers.
Comfort & Utility
The Suburban's interior is simple yet attractive. The instrument panel is very straightforward, with easy-to-read gauges and easy-to-use switchgear. However, some lower-quality interior materials have made their way onto the base model. Upper-level trims are infused with more soft-touch surfaces and less hard plastic.
The Suburban is available in 7-, 8- and 9-passenger configurations. Most will opt for the two front bucket seats as opposed to the 40/20/40 split-folding front bench required for 9-passenger seating. Either way, the front seats are large and chunky, almost furniture like. They also benefit from a high position, maximizing visibility through the Suburban's expansive windshield.
The second row comes as either a pair of bucket seats on the uplevel LTZ or a wide and spacious 3-passenger bench with a useful fold-and-tumble feature. This clever mechanism makes for easy access to the third row, which is a 3-passenger, 50/50 split-folding seat. This third row seating area is cramped, especially in shoulder room. In fact, the middle passenger in the third row has to sit on the split of the bench.
With respect to cargo, the Suburban tops every other large SUV and crossover. Maximum storage space is a voluminous 137 cu-ft. But to create all of this room, the third row must be completely removed from the vehicle, since it does not fold flush into the floor--a cumbersome and difficult process at best.
The 2013 Suburban is available in two models: 1500 and 2500. The 1500 is offered in LS, LT and LTZ trim levels, while the 2500 is limited to LS and LT. Standard convenience features on the LS include 17-inch alloy wheels, tri-zone climate control, power mirrors and a 6-speaker stereo. The midlevel LT features remote ignition, rear parking sensors, leather upholstery, heated seats, power-adjustable pedals and an upgraded audio system. The range-topping LTZ adds a power liftgate, a heated steering wheel, heated second-row seats, navigation and a premium 10-speaker stereo.
Technology
Depending on the individual trim level, technology for the Suburban includes a USB/iPod interface, Bluetooth connectivity, rear parking sensors and a backup-camera system. Other advanced electronic features are a rear dual-screen DVD system and hard-drive-based navigation. But compared to higher-end SUVs and crossovers, the Suburban falls short on advanced driver assistance technologies, like adaptive cruise control, for example.
Performance & Fuel Economy
The Suburban offers a choice of two engines. The 1500 comes equipped with a 5.3-liter V8 producing 320 horsepower and 335 lb-ft of torque, while the heavy-duty 2500 is outfitted with a 6.0-liter V8 generating 352 hp and 382 lb-ft of torque. Both engines are managed by a 6-speed automatic transmission and send energy to the rear axle only or to all four wheels. 4-wheel-drive models utilize either a 2-speed transfer case or a less traditional single-speed module.
Although both engines feel powerful, the 1500 might show signs of strain on steeper grades when loaded down with passengers and cargo or towing a heavy object. Such is not the case with the Suburban 2500. Its 30 extra horses and 50 extra lb-ft of torque appear to make all the difference in the world.
Fuel economy for the 2013 Chevy Suburban 1500 is 15 mpg city/21 mpg highway in both rear- and 4-wheel drive. The 2500 returns fuel economy ratings of 10/16 mpg in 2-wheel drive and an even more abysmal 10/15 mpg in 4-wheel drive.
Safety
The Suburban's standard safety equipment includes ABS, 4-wheel disc brakes, stability control, OnStar telematics and six airbags, including 3-row head curtains with a rollover sensor. In addition, the LTZ trim level benefits from a standard blind spot warning system.
Driving Impressions
The 2013 Chevrolet Suburban is very large and very heavy. For that reason, handling can be bit cumbersome, with body roll sometimes rearing its ugly head. Take caution in corners and crowded parking lots (rear sensors are a must). The ride, however, is civilized if not supple, and benefits especially from the LTZ's Autoride suspension. To boot, the Suburban's cabin is pleasantly quiet, even a highway speeds.
Helping the Suburban's all-terrain, all-weather attributes are its wheels. Sizes range from large 17s to massive 22-inchers. These, combined with 4-wheel drive, make the Suburban unstoppable on a variety of road surfaces. But the Suburban's long wheelbase and relatively low angles of approach and departure limit its off-road capability.
Other Cars to Consider
Cadillac Escalade ESV - It's not as capable or as spacious as the Suburban, but the Escalade offers more in the way of style, creature comfort and premium technology.
Chevrolet Traverse - The Traverse can tow only about half as much as the Suburban, and it has a maximum passenger capacity of eight compared with the Suburban's nine. But the Traverse wins when it comes to fuel efficiency, ride and handling, interior flexibility and even features.
GMC Yukon XL - The Yukon is the GMC counterpart to the Suburban. The two vehicles are very much the same, although the Yukon has more upscale styling and wider array of available features.
Infiniti QX56 - The QX is certainly big, but it's not as spacious as the Suburban. The Infiniti has richer content and delivers a more sophisticated drive.
Toyota Sequoia - The Sequoia is more powerful than the Suburban but relatively short on interior volume.
AutoTrader Recommends
We think the best Suburban is the 1500 LT. Why the 1500? Because most people don't need more capability than what the 1500 offers. Why LT? Because this is an extremely well-equipped package that doesn't have an inflated price due to a bunch of unnecessary upgrades (like power retractable running boards or a heated steering wheel). We would suggest those in cold climates opt for the 4-wheel-drive system, but we'll leave the transfer case preference up to you. Lastly, an optional sunroof is always a pleasant extra, and the DVD rear entertainment feature is a must for making those long trip miles pass quickly and quietly.