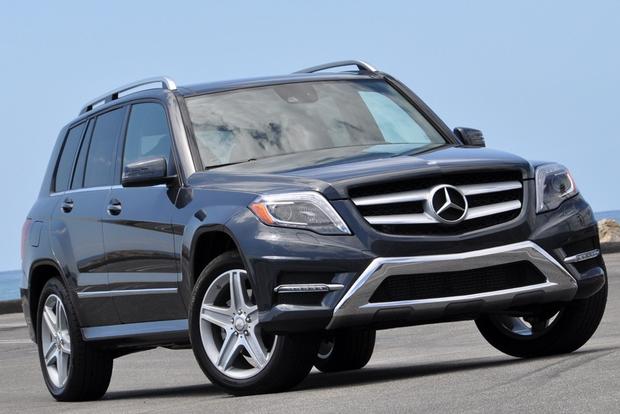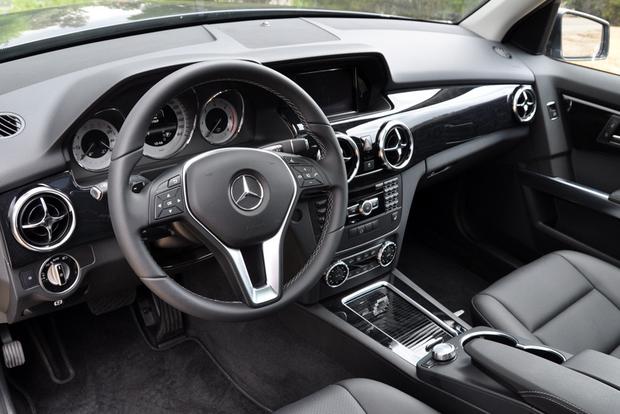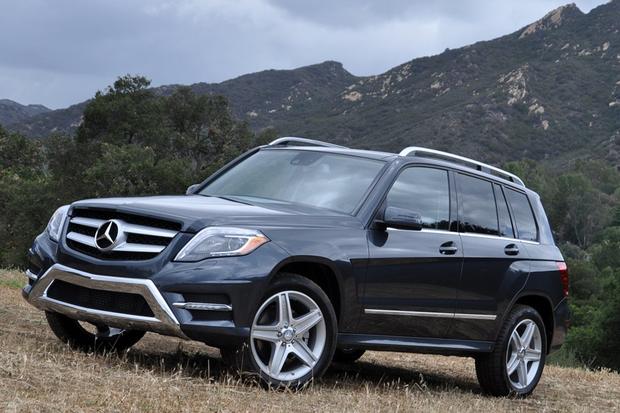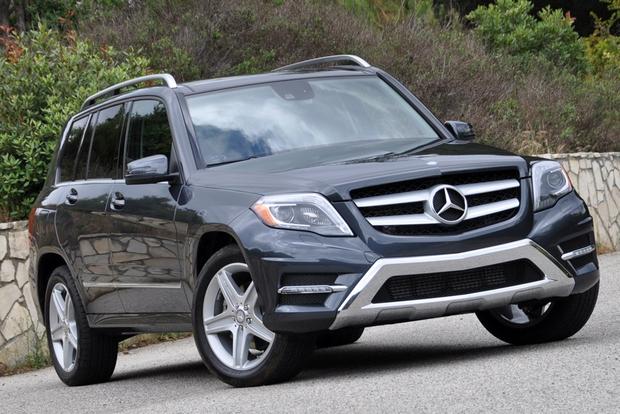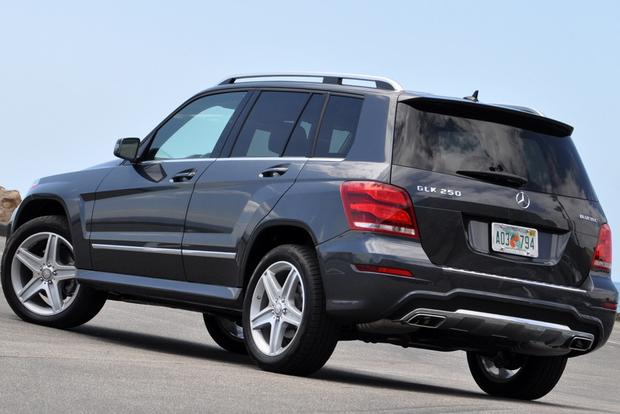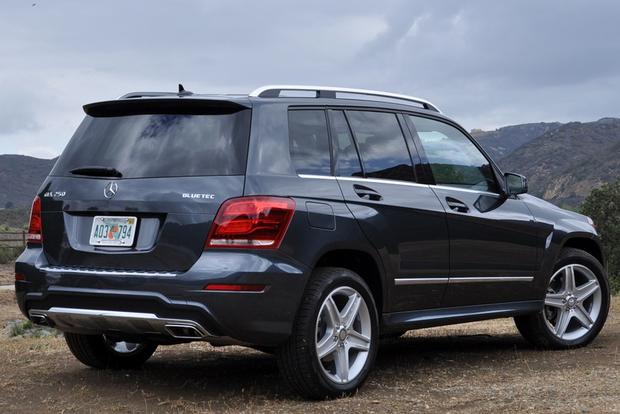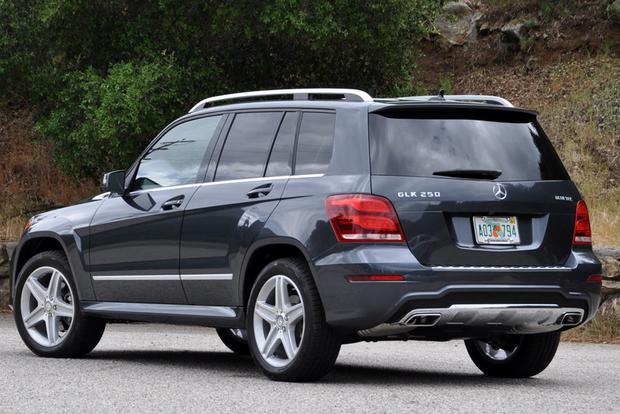 The V6-powered 2013 Mercedes-Benz GLK350 accelerates to 60 mph in 6.5 seconds. But the 2013 Mercedes-Benz GLK250 BlueTEC does it in 7.9 seconds. If speediness is a requirement in your next compact luxury SUV, choose the lighter and quicker GLK350. Most consumers claim that fuel economy is a primary consideration when selecting a new vehicle, and the 200-horsepower GLK250 BlueTEC delivers better fuel economy than any other luxury SUV equipped with 4-wheel drive, except for the hybrid Lexus RX 450h.
Intrigued, we headed to Santa Monica, Calif., to sample the new Mercedes GLK250 BlueTEC.
No Price Penalty for Choosing Diesel
Before we discuss driving impressions, let's cover the important details. The 2013 Mercedes-Benz GLK250 BlueTEC is priced at $39,495 (including the $905 transportation charge) and includes 4Matic 4-wheel drive as standard equipment. That's $500 less than the GLK350 4Matic, so there's no price penalty for choosing the twin-turbocharged clean-diesel engine. Instead, there is a price advantage, one that expands over time due to the GLK250 BlueTEC's superior fuel economy — depending on fluctuations in the price of diesel vs. unleaded gasoline, of course.
Both versions of this Benz SUV are equipped with 19-inch aluminum wheels, MB Tex leatherette seats, a 10-way power adjustable driver's seat, a power tilt/telescopic steering wheel, dual-zone automatic climate control and rain-sensing wipers. The standard 6-speaker stereo includes HD Radio, Bluetooth with audio streaming capability, a USB port and an auxiliary audio input jack. Every 2013 GLK includes a free trial subscription to new cloud-based Mbrace2 connectivity and services technology.
What Is Mbrace2?
Mbrace2 is Mercedes-Benz's suite of in-car connected tech, and includes personal concierge services, real-time traffic and weather reporting, turn-by-turn route assistance and the ability to set alerts if the GLK is driven too fast or too far by, say, a teenage member of the household. In all, there are three separate Mbrace2 packages.
The automaker also offers Mercedes-Benz Apps, an in-car Internet connection that allows drivers to browse online, perform Google local search, update their Facebook status and more. This service is also included for the first three months of ownership. For all three connectivity packages, a monthly subscription fee applies after the free trial period expires.
Though the 2013 Mercedes GLK250 BlueTEC starts at just under $40,000, there is a long list of optional packages and equipment that can balloon the window sticker to nearly $60,000 — and that's before adding any dealer accessories, Mbrace subscription extensions or prepaid maintenance plans. For example, to buy a GLK250 BlueTEC with leather, heated front seats, a navigation system, a panoramic sunroof, a premium audio system, push-button ignition, a reversing camera, Blind Spot Assist and Lane Keeping Assist, you've got to spend $50,895.
If you want to spend even more, you can get metallic paint, upgraded wheels, active bi-xenon headlights with automatic high-beam headlights, adaptive cruise control, active versions of the blind spot and lane-keeping assist systems, Parktronic Active Parking Assist system, an AMG body kit and more.
Twin-Turbocharged Clean Diesel
Let's talk about what makes the new GLK250 BlueTEC special. This compact luxury SUV is equipped with a twin-turbocharged, 2.1-liter 4-cylinder clean diesel engine that generates 200 hp. But the GLK250 BlueTEC feels more powerful because it has a lot of power right away. That instant power is called torque, something diesel engines have more of than gasoline-powered cars. With the GLK250, the number is 369 lb-ft of torque.
Mercedes says the GLK250 BlueTEC returns 24 miles per gallon in the city and 33 mpg on the highway — credible fuel economy estimates based on the 28.2-mpg result we achieved over the course of about 50 miles. According to the automaker, these figures give the SUV a cruising range of nearly 515 miles between gas stops.
If rain or snow is falling, don't worry. The GLK250 BlueTEC is equipped with standard 4Matic 4-wheel drive and a 7-speed automatic transmission, which delivers 45 percent of engine output to the front wheels and 55 percent to the rear wheels under normal operating conditions. Efficiency and Sport modes modify the GLK250 BlueTEC's responsiveness, and paddle shifters give the driver control over gear changes, when desirable.
Mercedes GLK Diesel Test Drive Impressions
Don't let images of black-smoke-spewing diesels keep the GLK250 BlueTEC off your shopping list. This SUV is remarkably quiet, quick and clean, meeting tough emissions standards in the strictest state in the nation, California.
On the road, the 4,321-pound SUV feels substantial, secure and surefooted even on pockmarked pavement and the winding canyon road leading to the San Fernando Valley. Though heavy, the GLK250 BlueTEC proved lively and responsive in this urban environment.
There is a discernible difference between the GLK250 BlueTEC's Efficiency and Sport powertrain settings. The Sport setting makes the SUV feel quick, while the Efficiency setting aims to maximize mileage. Unlike some automakers, Mercedes hasn't anesthetized the engine's responsiveness when the GLK250 BlueTEC is driven in Efficiency mode.
In Efficiency mode, the fuel economy picture rapidly improved, despite sustained 75-mph cruising. Our exit was a cloverleaf-style ramp, dumping us onto a wide boulevard. It was here, in Efficiency mode, that we first noticed anything resembling turbo lag during our drive. It was the only time we noticed this.
The remainder of our route took us across the mountains on 2-lane roads and along the beach on the Pacific Coast Highway. Spotty rain showers precluded our ability to give the GLK250 BlueTEC a normal workout to explore how well it handled. Aside from the sticky and unpleasant brake pedal, the SUV gave no indications that it was anything but competent. And by the time we returned it to Mercedes, the trip computer showed an average of 28.2 mpg.
Matters of Comfort, Cargo and Convenience
According to Mercedes, 75 percent of GLK owners don't have kids. That's not surprising, given how small it is inside. There's plenty of room up front, and models equipped with the Leather Package add a 10-way power front passenger's seat to the standard 10-way power driver's seat. In combination with the power tilt/telescopic steering wheel (included on every 2013 GLK), it's easy for most people to find a comfortable driving position. Those with long legs may find themselves wishing for greater thigh support.
Tall people won't be happy in the GLK250 BlueTEC's back seat. Legroom is tight and the front seat backs are hard, which presents a double whammy to kneecaps and shins. If you do have children, either before or after buying a GLK, Mercedes offers a range of child safety seats designed specifically for it's models. Just be prepared endure tiny feet kicking the front seat backs.
Also be prepared to fill the 23.3 cu-ft cargo area without trying too hard. That sounds like plenty of space, but remember that it's measured to the roof. About half that volume is available under the cargo cover. Fold the 60/40-split rear seat backs down and the GLK supplies 54.7 cu-ft of volume, which is on the small side among compact SUVs.
Mercedes says the 2013 GLK's interior is "completely redesigned," but people familiar with the model will spot similarities with the 2012 model. That said, the new GLK looks much more modern and upscale on the inside, thanks to a broad swath of burl walnut wood trim, four large retro-style air vents, new instrumentation and new steering wheel design.
According to Mercedes, just 6 percent of its U.S. sales are comprised of diesel-powered vehicles. With the introduction of the 2013 GLK250 BlueTEC, and the planned installation of this engine in the 2014 Sprinter van and 2014 Mercedes E250 BlueTEC Sedan, the safe bet is that number is going to rise.