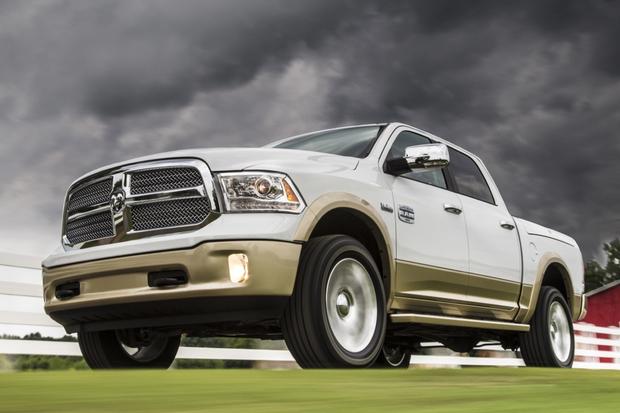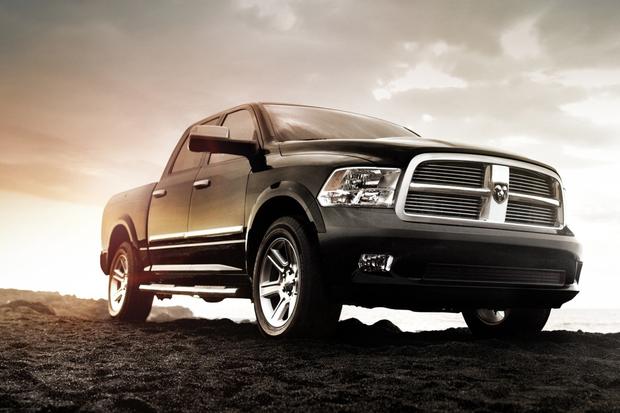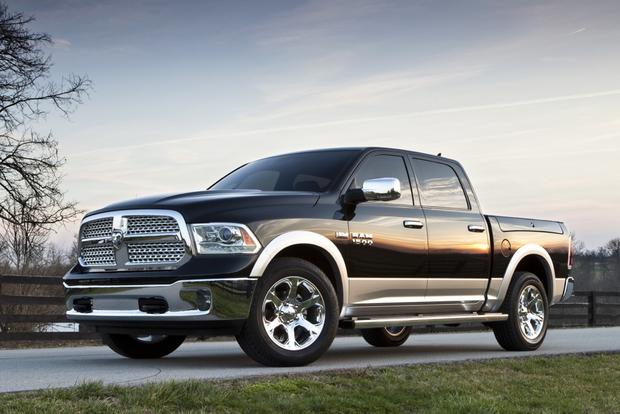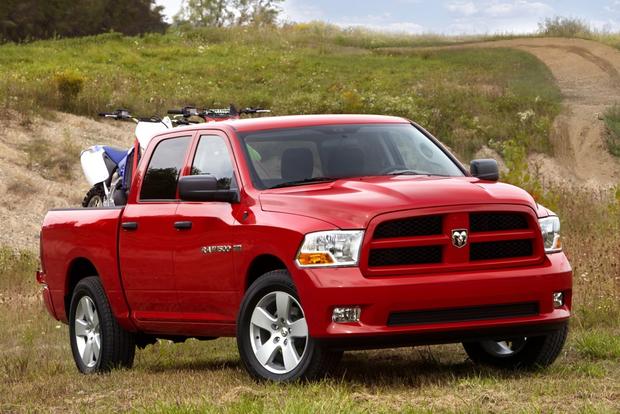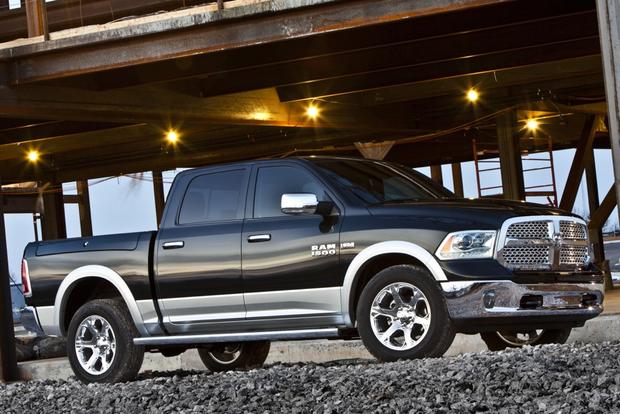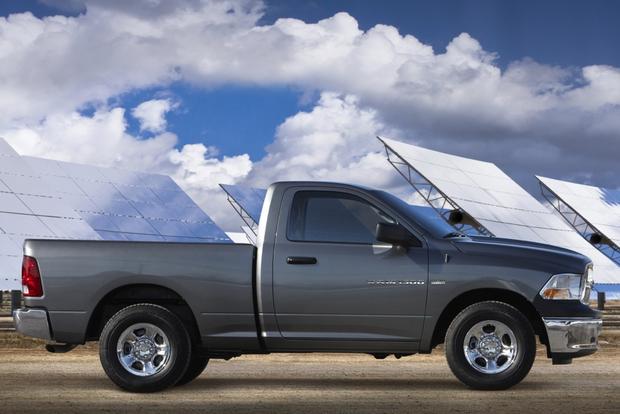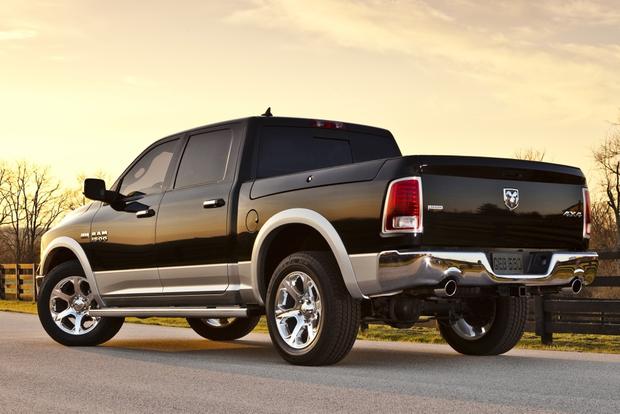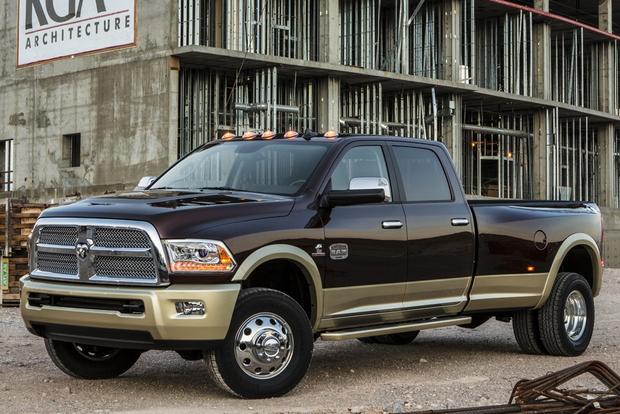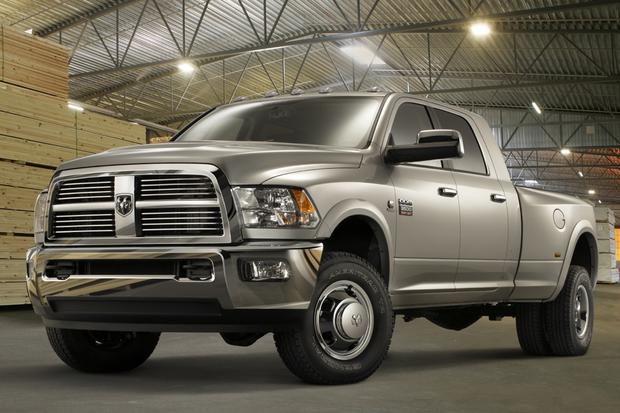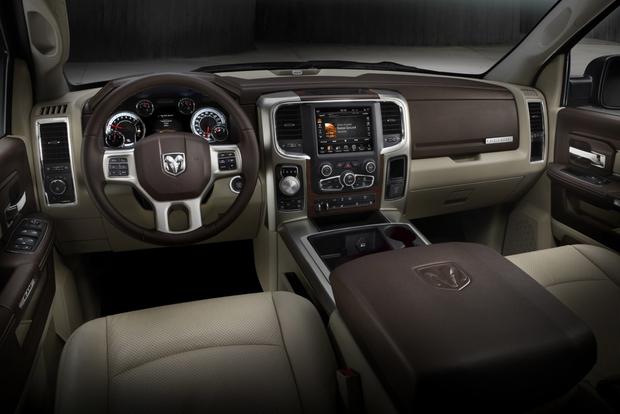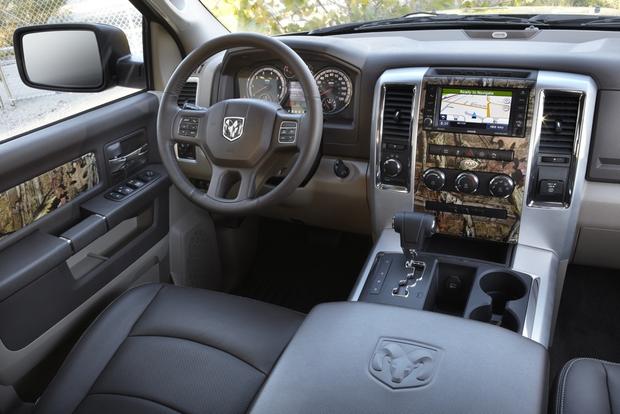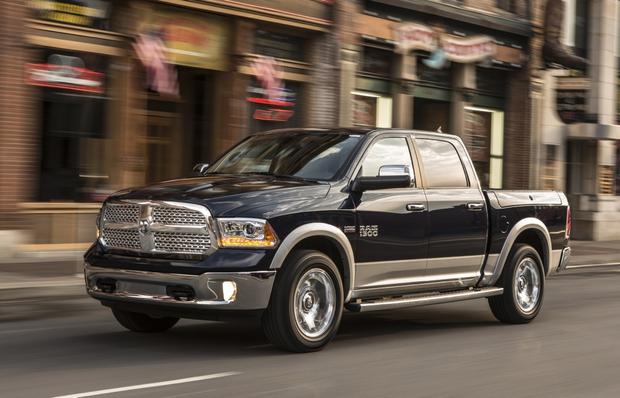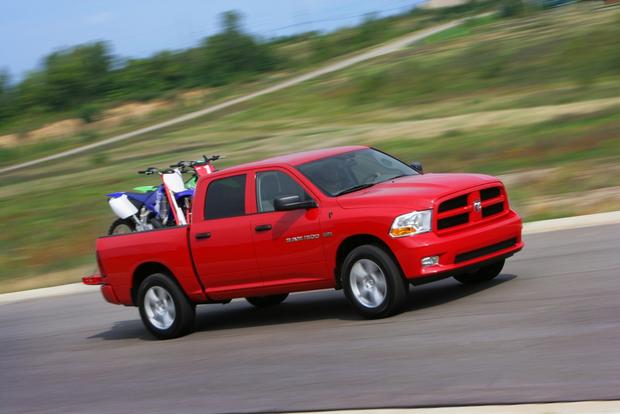 Introduction
The revamped 2013 RAM Trucks lineup, composed of the light-duty 2013 RAM 1500 and heavy-duty RAM 2500 and RAM 3500 models, is substantially updated this year. Based on appearances, though, this might not seem to be the case. Under the 2013 RAM's lightly revised skin, this pickup truck offers new or updated powertrains, a reengineered frame, new technologies and expanded comfort and convenience features.
These changes would suggest that truck buyers considering a RAM pickup-- either an outgoing 2012 model or a used example--might want to wait for the new 2013 RAM to arrive on dealer lots before making a final decision. Is the new RAM pickup worth waiting for in light of zero-interest financing and rebates of up to $4,500 on the outgoing 2012 model? Is it worth paying so much extra for a new 2013 RAM compared to a used 2009-2011 RAM model?
That's what we aim to find out in this installment of New vs. Old.
Fuel Economy
Though 2013 RAM Trucks look almost identical to 2009-2012 models, major changes have occurred under the slightly more aerodynamic skin.
The standard engine in the RAM 1500 is now a 4.7-liter V8 engine making 310 horsepower at 5,650 rpm and 330 lb-ft of torque at 3,950 rpm. The V8 replaces last year's standard 3.7-liter V6, which was good for 215 hp and 235 lb-ft of torque. Not only do 2013 RAM buyers get an extra 95 hp and 95 lb-ft of torque compared to last year, but the new standard V8 engine's fuel economy figures are also identical to the previous V6 powerplant. The Environmental Protection Agency (EPA) rates the RAM's 4.7-liter V8 at 16 mpg in combined driving, regardless of whether it has 2-wheel or 4-wheel drive.
The big news for the 2013 RAM 1500 is the new 3.6-liter Pentastar V6 engine option. With 305 hp at 6,400 rpm and 269 lb-ft of torque at 4,175 rpm, this new V6 isn't as gutsy as the standard V8, but when properly equipped, it offers a maximum payload rating of 1,800 lb, which is 189 lb greater than the highest payload offered by 2012 RAM models.
Plus, the EPA says the new 3.6-liter V6 engine gets far better fuel economy, rating the RAM 1500 V6 at 17 mpg in the city, 25 mpg on the highway and 20 mpg in combined driving. With 4-wheel drive, the numbers are 16 mpg city, 23 mpg highway and 19 mpg combined.
To make these impressive increases in fuel economy, the 2013 RAM features aerodynamic styling enhancements, including a re-styled front bumper and air dam; active grille shutters; a new side step rail design; and an available air suspension that lowers the truck on the highway to improve mileage. The new RAM 1500's V6 engine is also paired with a new 8-speed automatic transmission, an automatic stop/start system that shuts the engine off when idling at an intersection or a traffic light, and electric steering.
For maximum towing capacity, select the updated 5.7-liter V8 engine with Fuel Saver technology, which shuts down half of the engine's cylinders under low load or coasting conditions. Fuel economy ratings are identical to last year, at 16 mpg in combined driving with 2-wheel-drive, and 15 mpg in combined driving with 4-wheel drive. This engine tows 400 lb more for 2013, topping out at 10,450 lb when properly equipped.
The EPA does not rate the RAM Heavy-Duty models for fuel economy. A 5.7-liter V8 engine is standard on the RAM 2500 and RAM 3500, with a trio of Cummins turbodiesel 6-cylinder engines available as options. It's instructive to mention that a new Cummins high-output turbodiesel is available for 2013, providing 385 hp at 2,800 rpm and 850 lb-ft of torque at 1,600 rpm. The RAM Heavy-Duty boasts a maximum tow rating of 17,000 lb with an 1,800-lb trailer tongue weight. Compare that to the maximum tow rating of 13,400 lb in 2012. Final payload ratings for the 2013 RAM Heavy Duty models are forthcoming.
Given the RAM 1500's added standard horsepower and torque; the optional V6 engine and 25-mpg highway fuel economy rating; and added towing and payload capacities for all RAM models, we think truck buyers would do well to consider the upgraded 2013 trucks.
Safety
In addition to the usual array of airbags, standard anti-lock brakes with brake assist and a stability control system with trailer sway control and hill start assist, certain versions of the 2012 RAM can be optioned with a reversing camera and rear parking sensors.
Unfortunately, these safety features didn't help to improve the RAM's crash test performance. In testing conducted by the Insurance Institute for Highway Safety (IIHS), the RAM 1500 received the highest possible rating of Good for its protection levels in the moderate overlap frontal-impact test and the rear impact injury prevention test. It also earned a Marginal rating for side impact protection and roof crush strength.
In tests conducted by the National Highway Traffic Safety Administration (NHTSA), the 2011 and 2012 RAM 1500 regular cab models received a 3-star overall rating, while the Quad Cab and Crew Cab models scored 4 stars. NHTSA also tested a RAM 2500 Crew Cab, which earned a 3-star overall crash test rating.
In all three evaluations, the 2011 and 2012 RAM performed poorly in the side-impact pole rating, with crash test dummies indicating spinal injuries in the 1500 models, and thoracic and abdominal rib injuries in the 2500 model. In terms of rollover resistance, the RAM 1500 and 2500 4-wheel-drive models received a 3-star rating, while 2-wheel-drive models received a 4-star rating.
Prior to 2011, when NHTSA strengthened crash test requirements and made it more difficult to score a top 5-star rating, the 2009 and 2010 Dodge RAM 1500 received 5-star frontal impact crash test scores for the driver and front seat passenger. The RAM 1500 was not tested for side impact safety during these model years, and the RAM Heavy Duty models were never tested under the old NHTSA program.
With the new 2013 RAM models just now rolling down assembly lines as this article is written, it's not surprising to learn that this truck, with its new frame, hasn't been crash tested yet. But given the mediocre performance of the RAM that came before it, the 2013 model has nowhere to go but up in terms of ratings. In addition to the reversing camera and rear parking sensor options of the previous RAM, the new 2013 model is available with rain-sensing wipers, auto-dimming high-beam headlights and Uconnect telematics with an emergency services connection.
When it comes to safety, we're betting on the new 2013 RAM.
Reliability
According to Consumer Reports, the RAM pickup has exhibited below average reliability since its last redesign in the 2009 model year. Most reported issues, however, pertain to nonmechanical parts of the vehicle (except for suspension trouble in 2009 models). Mechanically, and based on the data, a used RAM pickup is fairly sound.
Nevertheless, given this unimpressive track record, we recommend buying the new 2013 RAM, with which you will receive the best warranty, and for which you will have full knowledge of the maintenance and repair history.
Value
Because final pricing for the new 2013 RAM models is not available yet, we'll take a look at the 2012 models to get a sense of how expensive these trucks are when they're new. In 2012, prices ranged from $23,115 for the RAM 1500 ST regular cab with 2-wheel drive to $59,800 for a RAM 3500 Laramie Limited Crew Cab with 4-wheel drive and all the options.
Compare that range to the certified pre-owned (CPO) Dodge RAM trucks on sale as this article is written. The least expensive model is a 2009 RAM 1500 ST regular cab for $12,995, while the most expensive model is a 2011 RAM 3500 Laramie Longhorn Crew Cab with a Cummins turbodiesel and dual rear wheels for $52,600.
Chrysler's CPO program includes a 125-point vehicle inspection, a CARFAX vehicle history report, and three months of free satellite radio. The powertrain warranty extends to 7 years or 100,000 miles (6 years/80,000 miles for the 2009 model), and each CPO truck includes a 3-month/3,000-mile Maximum Care limited warranty with 24-hour roadside assistance and a car rental allowance.
Choose a brand new RAM truck and you'll get a 5-year/100,000-mile powertrain warranty, and a 3-year/36,000-mile bumper-to-bumper warranty with free roadside assistance.
Given that Consumer Reports indicates that a used RAM truck's mechanical parts are reasonably trouble free and that the problems are with other vehicle systems, that CPO warranty doesn't look very promising. Thus, the advantage goes to the 2013 model.
You could also buy a brand new leftover 2012 RAM. Special offers now include 0 percent financing for up to 60 months plus a $500 rebate, or up to $4,500 in rebate cash for the 1500 models and $3,000 for the 2500 and 3500 models.
If you're thinking about buying a 2013 RAM with one of the engines that carries over from last year, and if you don't mind living with slightly reduced towing and hauling capabilities of the 2012 model, the deals on the 2012 RAM Trucks are compelling--and they include the same new vehicle warranty as the 2013 model.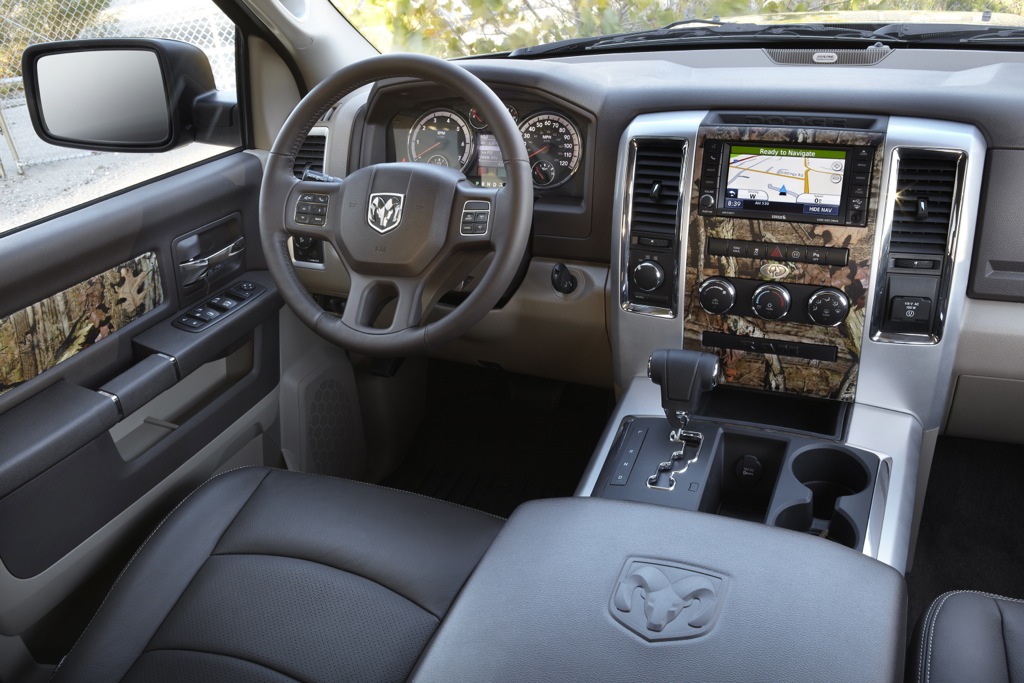 Technology
In addition to the 2013 RAM's active grille shutters, available automatic start/stop engine feature and optional air suspension, the truck is available with a new 8.4-in Uconnect touchscreen infotainment system equipped with Uconnect emergency services technology and the ability to transform a RAM pickup into a mobile Wi-Fi hotspot. Plus, the RAM's Uconnect system offers HD Radio and a new roster of Latino channels.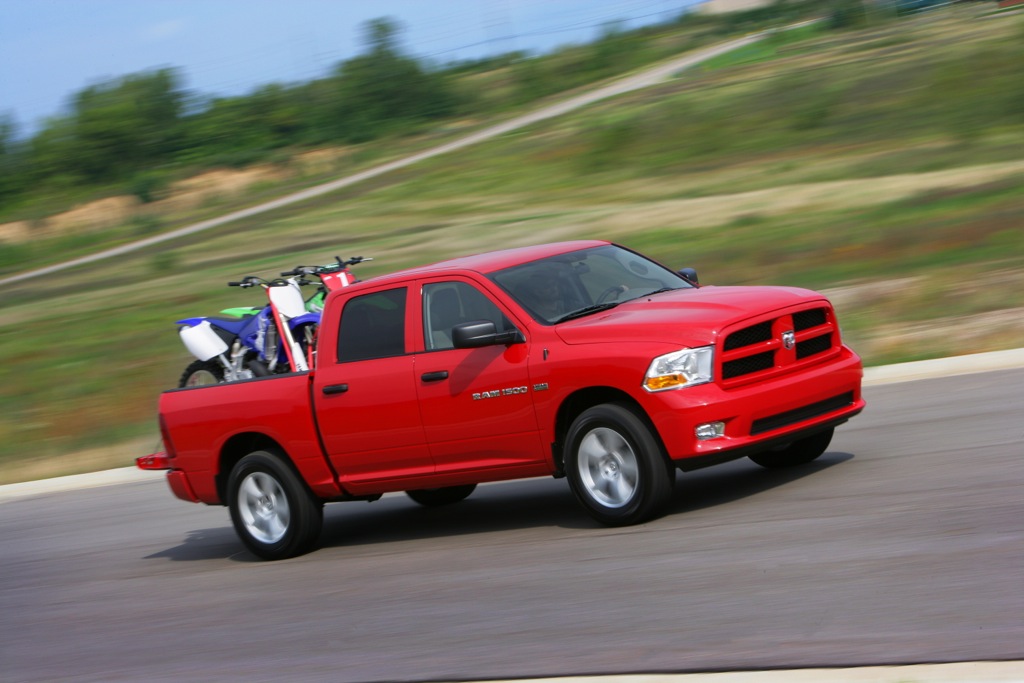 AutoTrader's Recommendation
Unless you're taking advantage of zero-interest financing or a big rebate on a brand-new leftover 2012 RAM truck, forget about the old RAM and focus on the revamped 2013 model. Depending on your model and powertrain, the 2013 RAM is much more powerful, much more fuel-efficient, can haul more payload, can tow more weight, offers better safety and infotainment features and comes with a new-truck warranty.
Whether it proves safer than the old RAM is unknown until NHTSA and IIHS perform crash tests. Our bet is that it won't rate any worse than the old model. And if it does, you should probably skip the RAM for a different truck from a different manufacturer.