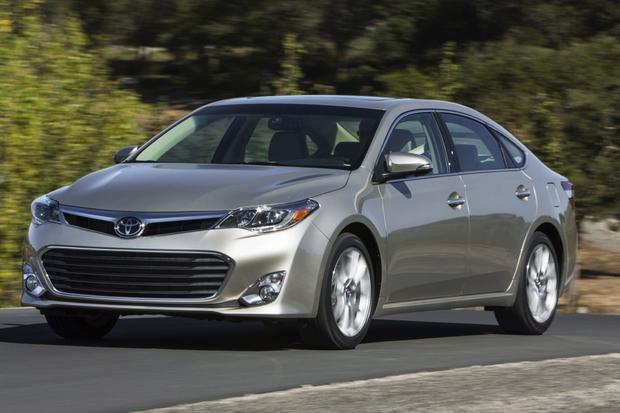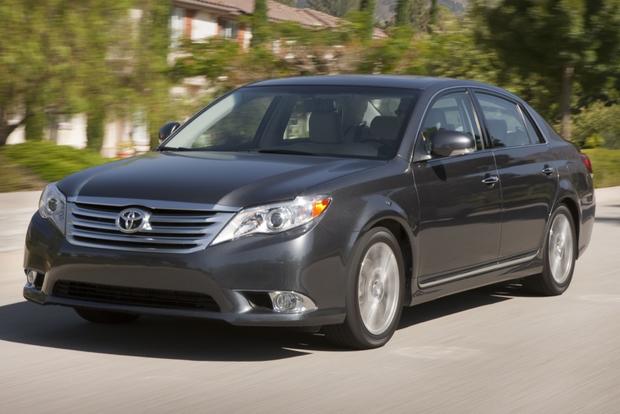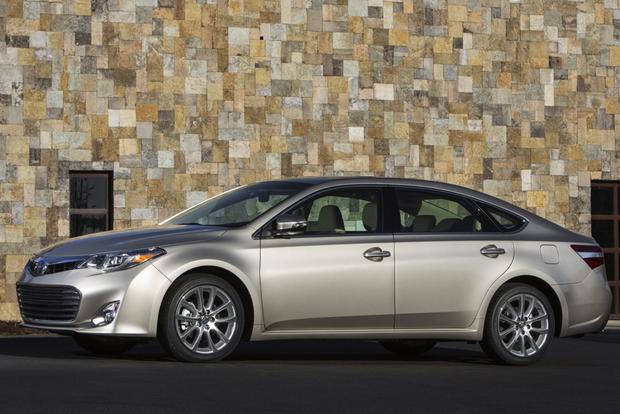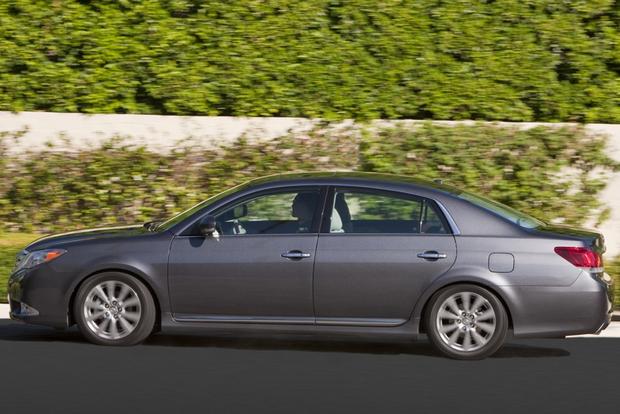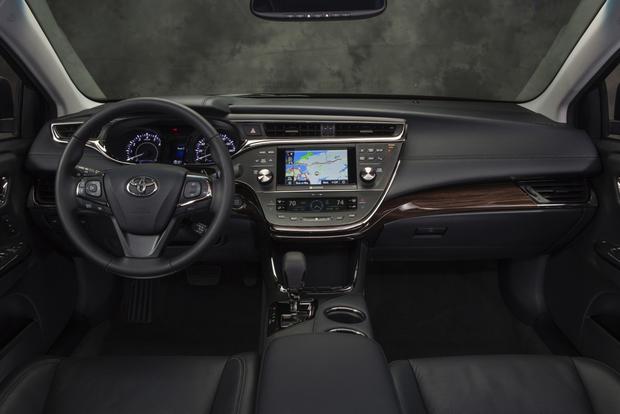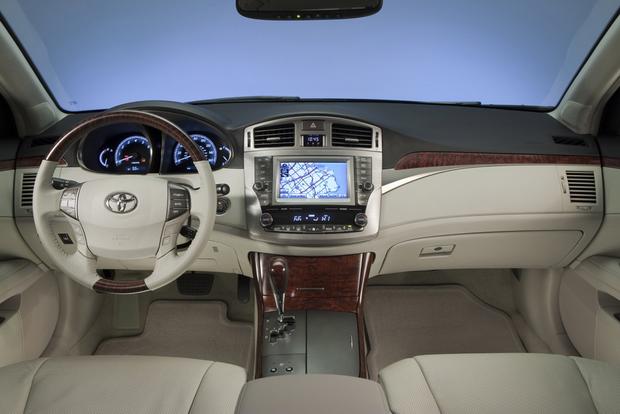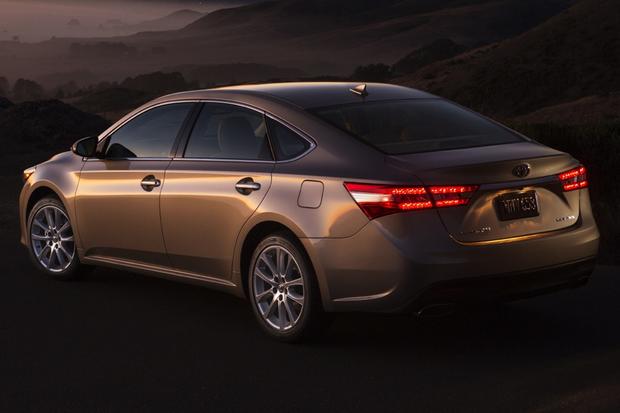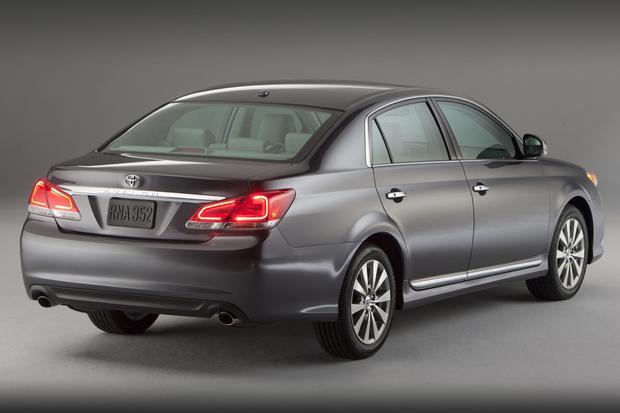 Introduction:
The full-size Toyota Avalon sedan has long served in anonymity, lurking in the shadows of the midsize Toyota Camry sedan's success. For every 15.3 Camry models sold in the U.S., Toyota dealers send a single Avalon into an American driveway. Toyota intends to improve this ratio with the redesigned 2013 Avalon.
The new 2013 Toyota Avalon replaces a model that debuted for the 2005 model year. With a chiseled appearance, an architectural interior, a cavernous backseat that reclined for additional comfort and an available Touring trim level designed to provide a modicum of extra handling capability, the previous generation Avalon gave full-size car buyers a good reason to consider visiting a Toyota dealership.
Evidently, the 2005-2010 Avalon's approach was deemed unsuccessful. A 2011 refresh eliminated the design elements that made the car unique, even if the Avalon simultaneously received the necessary fuel economy, technology and equipment updates required to keep it competitive.
The redesigned 2013 Toyota Avalon supplants a safe, dependable and even luxurious model with a car offering sleek design, modern technology and a new hybrid powertrain to complement the standard V6 engine. Will traditional full-size sedan buyers warm to the new Avalon's styling, advanced technology and optional gas-electric drivetrain? Let's dive into the details.
Fuel Economy:
Since 2005, a 3.5-liter V6 engine has been installed beneath the Toyota Avalon's hood, and in the previous-generation model's final year it was rated to generate 268 horsepower and 248 lb-ft of torque. The 2012 Avalon has a 6-speed automatic transmission delivering power to the front wheels, and the Environmental Protection Agency (EPA) estimates the car will return 19 miles per gallon in city driving, 28 mpg for highway driving and 23 mpg in combined driving.
Fans of that 3.5-liter V6 engine will be pleased to know it carries over for 2013, offering the same amount of horsepower and torque, a 6-speed automatic transmission and front-wheel drive. The difference is that EPA fuel economy ratings improve to 21 mpg city/31 mpg hwy, and 25 mpg in combined driving (24 mpg when the 2013 Avalon is equipped with the optional 18-inch wheels).
How does the new Avalon improve fuel economy using the same engine as last year's car? The 2013 Avalon is lighter than the old model, shedding 111 pounds in the redesign. It is also more aerodynamic with a 0.28 coefficient of drag, and when buyers upgrade to a higher trim level, the powertrain offers three driving modes: Eco, Normal, and Sport. New electric steering and a revised transmission final drive ratio also contribute to the 2013 Avalon's gain in fuel economy.
If the carryover 3.5-liter V6 engine's improvements aren't compelling, perhaps the 2013 Avalon Hybrid will impress. It is equipped with the same gas-electric hybrid powertrain as the Camry Hybrid, an Atkinson-cycle 2.5-liter 4-cylinder engine paired with a 105-kW electric motor, a 244.8-volt sealed nickel-metal hydride battery pack and a continuously variable transmission. The combined net horsepower rating is 200, and Toyota claims the Avalon Hybrid accelerates to 60 miles per hour in eight seconds while returning 40 mpg city/39 mpg hwy, and 40 mpg combined.
Advantage (and a clear one): 2013 Avalon.

Safety:
The previous-generation Toyota Avalon is a safe car, earning top crash test ratings for frontal impact and side impact evaluations from both the National Highway Traffic Safety Administration (NHTSA) and the Insurance Institute for Highway Safety (IIHS).
From 2005 to 2010, the NHTSA gave the Avalon a 5-star rating, the best possible, for all crash test assessments except rollover resistance, for which the car received a 4-star rating. When Toyota restyled the Avalon for 2011, the same year in which the NHTSA strengthened its crash test parameters, the federal agency did not retest the vehicle.
The IIHS has rated the Avalon every year since 2005. From 2005 to 2012, the Avalon received the highest rating of Good in the offset frontal impact crash test and in the side impact crash test. In 2011, the IIHS also examined the Avalon's roof crush strength, and deemed it Good. However, used Avalon buyers should know that from 2005 to 2008 the car received a Poor rating for its ability to prevent rear impact injury. Changes allowed the 2009 to 2012 Avalon models to achieve a Good rating in this regard, and the previous-generation Avalon was a Top Safety Pick in 2009, 2011 and 2012.
In its final year, the Avalon offered seven standard air bags, including a knee air bag for the driver. Active front seat head restraints, anti-lock brakes with brake assist, a traction and stability control system and a Smart Stop brake override system were also included on every Avalon. A reversing camera was standard on both the base and Limited models, while Limited models also included rain-sensing wipers.
The new 2013 Avalon has 10 air bags, but the reversing camera is no longer standard (it is included on all models except the base XLE V6). A Blind Spot Monitor and Rear Cross Traffic Alert are standard on XLE Touring and Limited models, and the Limited models also have rain-sensing wipers and Safety Connect telematics, which can help speed rescuers to the Avalon's exact location following an air bag deployment. Dynamic Radar Cruise Control with a Pre-Collision System is optional for the Limited models.
The IIHS has performed crash tests on the 2013 Avalon, and calls the car a Top Safety Pick. However, the new Avalon has not been subjected to the IIHS organization's new small overlap frontal impact test at the time this article was written.
Shoppers trying to decide if an old Avalon will be as safe as a new Avalon can rest easy knowing that the 2009 to 2012 models were highly rated for crash protection. Prior to 2009, however, the Avalon did a poor job of protecting front seat passengers in rear impact collisions. With that in mind, and in consideration of the additional safety technologies offered for the redesigned Avalon, we'll give the new 2013 model the nod for safety.
Reliability:
The Toyota Avalon is a reliable vehicle. When examining its reliability history, according to Consumer Reports, only three of 102 evaluation points covering the past six models years rate below average. That's impressive. And there is little reason to believe this track record won't continue with the redesigned 2013 Avalon.
The new 2013 Avalon is equipped with a 3-year/36,000-mile bumper-to-bumper warranty, a 5-year/60,000-mile powertrain warranty and a ToyotaCare program providing free roadside assistance and complimentary scheduled maintenance for two years or 25,000 miles. Any new 2012 Avalon models remaining on dealer lots include the same coverage.
A used Avalon sold under Toyota's Certified Pre-Owned (CPO) program is equipped with a 7-year/100,000-mile powertrain warranty and either the balance of the original bumper-to-bumper warranty or a 12-month/12,000-mile warranty covering items other than the powertrain. Each CPO Avalon also receives one free year of roadside assistance, a 160-point vehicle inspection and a free CarFax vehicle history report.
Considering how trouble free the previous-generation Avalon has proven, a pre-owned model covered by Toyota's CPO program is compelling. Let's call this one a tie.
Value:
An AutoTrader search for certified pre-owned Avalon models produced 737 vehicles available nationwide, ranging in price and mileage from a 2007 Avalon Touring with 70,000 miles listed for $14,300 to a 2012 Avalon Limited with 13,750 miles priced at $37,000.
The redesigned 2013 Avalon is offered in XLE (V6 only), XLE Premium, XLE Touring and Limited trim levels. The XLE V6 model starts at $31,785, and the Limited V6 costs $40,445. The XLE Premium Hybrid has a base price of $36,350 while the Limited Hybrid is priced at $42,195.
Choosing an older, high-mileage CPO Avalon cuts as much as 55 percent off the sticker price of a redesigned 2013 Avalon XLE V6. However, the savings offered by a newer CPO Avalon aren't substantial in comparison to the price tag of the more stylish and fuel-efficient 2013 Avalon.
Considering the redesigned Avalon's upgrades, its standard ToyotaCare program and the fact that it isn't much more expensive than a 2012 Avalon sold under Toyota's CPO program, it's clear that the new car offers significant value in comparison to older models. Advantage: 2013 Avalon.

Technology:
Typically, a redesigned vehicle offers improvements in terms of available technology, and that is the case with the 2013 Avalon.
The previous-generation Avalon could be equipped with a touchscreen navigation system with real-time traffic reporting, Bluetooth streaming audio, a power rear window sunshade, a JBL premium audio system, ventilated front seats and a Smart Key passive entry system with push-button starting.
The new 2013 Avalon is equipped with Smart Key as standard equipment, as well as a 6.1-in Display Audio system. Options include those offered for the 2012 model, plus Entune smart phone connectivity and services, Safety Connect telematics, triple-zone climate control, heated rear seats, IntelliTouch capacitive switch gear and a Thin Film Transistor (TFT) in-dash color display screen. Additionally, the new Avalon can be upgraded with high-intensity discharge Quadrabeam headlights, a Blind Spot Monitor, Rear Cross Traffic Alert and Dynamic Radar Cruise Control with a Pre-Collision System.
As might be expected, the technological advantage goes to the redesigned 2013 Avalon.
AutoTrader's Recommendation:
While the previous-generation Avalon is certainly a good car -- reliable, safe and relatively fuel-efficient -- the redesigned 2013 Avalon has the potential to be a great car, combining these attributes with genuine value, gains in fuel economy and upgrades in technology. Plus, the new Avalon is attractive, sleek and much more engaging even in everyday driving situations. The 2013 Avalon is modern in a way the old Avalon most certainly is not.
Though the purchase of either model would represent sound judgment, we're voting in favor of the new 2013 Avalon.
What do you think of the new Avalon? Let us know in the comments below.