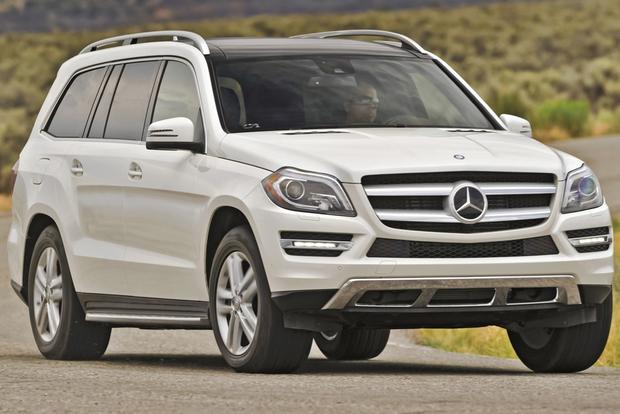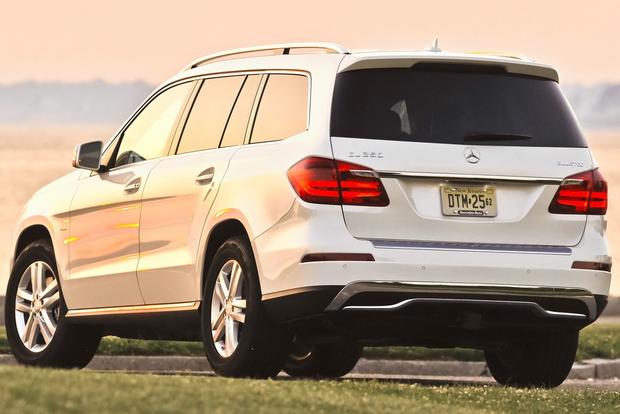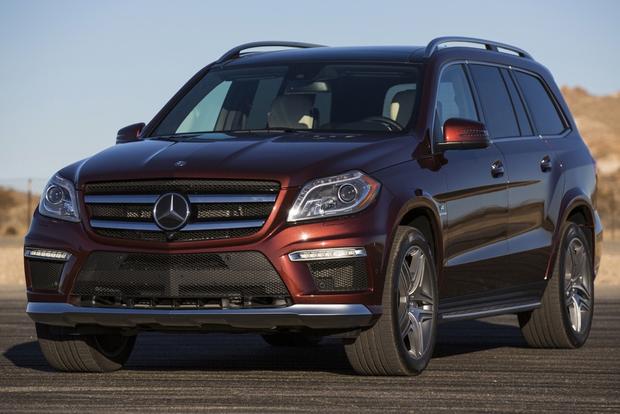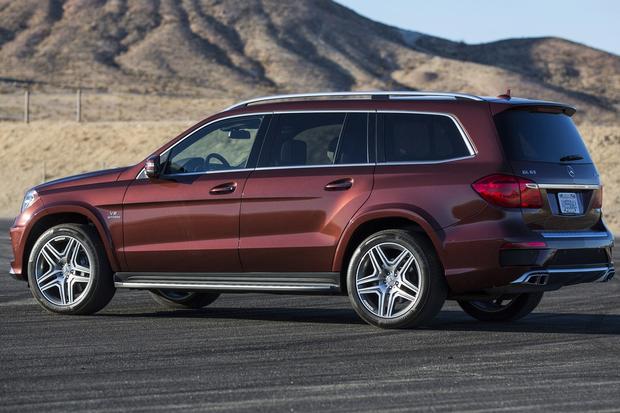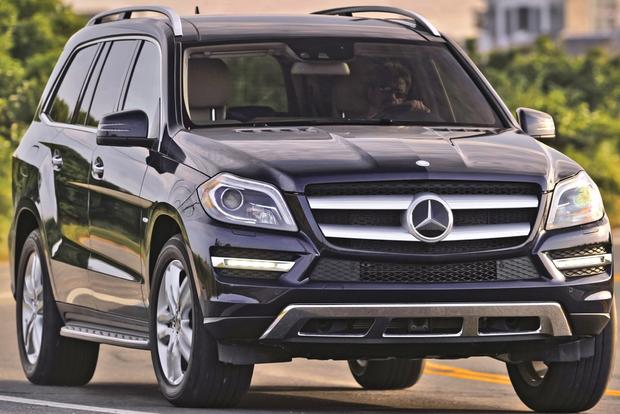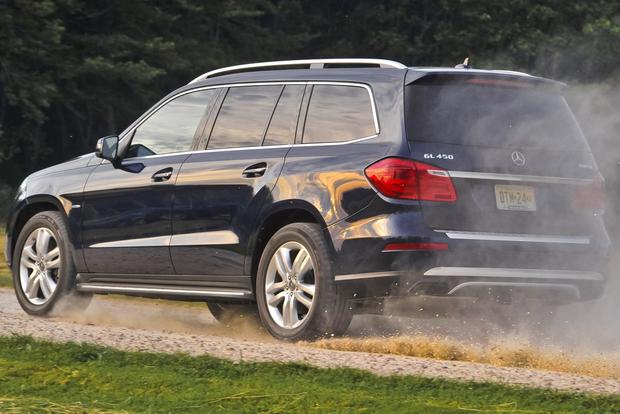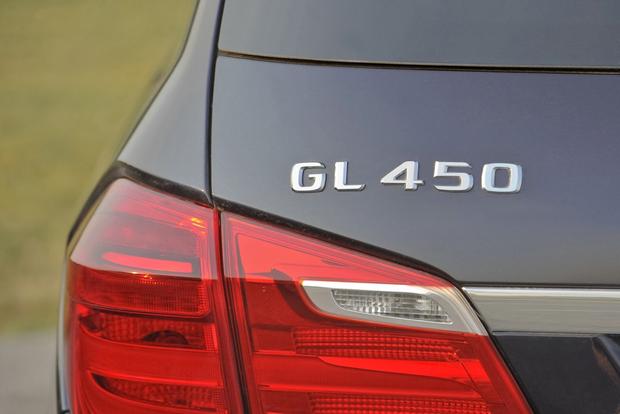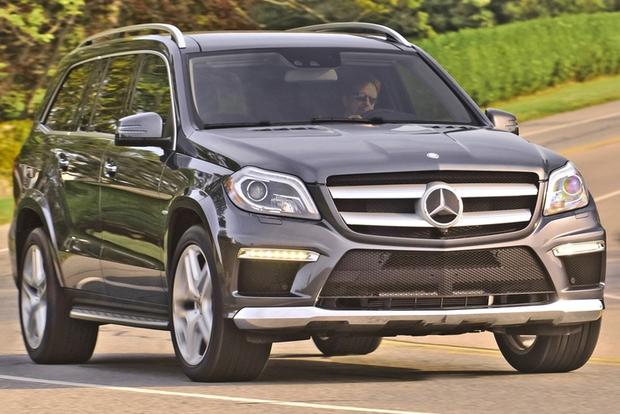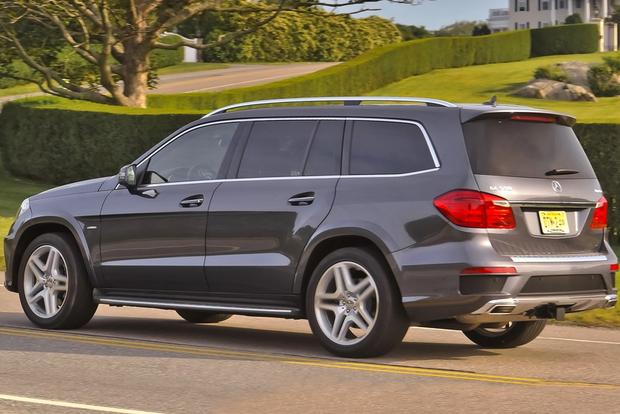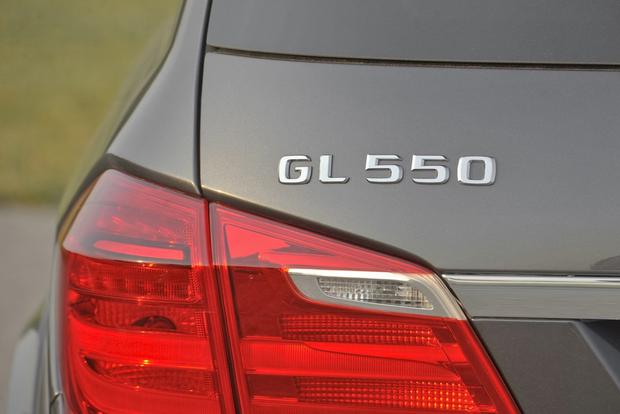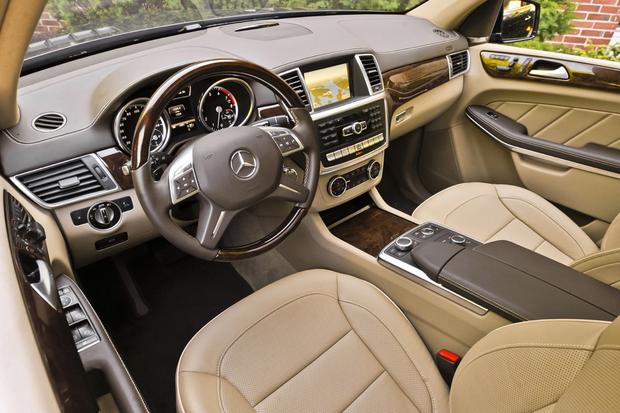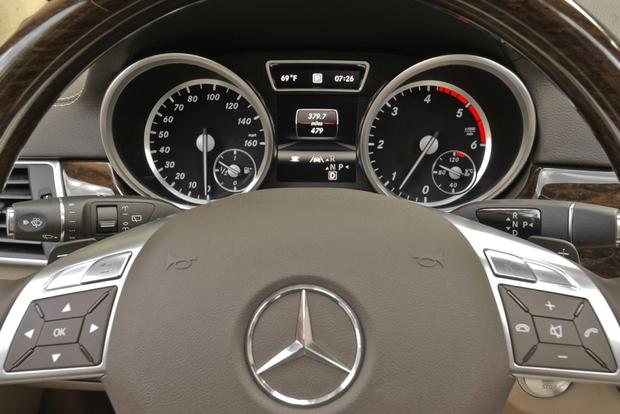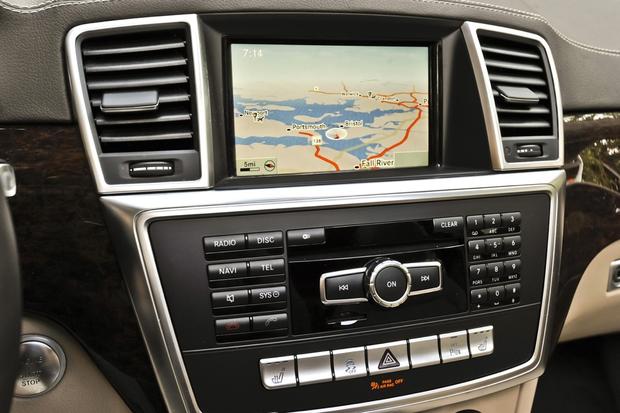 Not too long ago, the 2014 Mercedes-Benz GL-Class would have been unimaginable among the Stuttgart brain trust. The carmaker offered the military-derived G-Class for SUV customers, of course. But Mercedes families drove station wagons with rear-facing third-row seats, and that's just the way it was.
Fast-forward to America in 2014, however, and it's obvious that wagons have been superseded by high-riding 3-row crossovers. Indeed, Mercedes already conceded this point with the first-generation GL-Class. But they've really taken the gloves off this time around, bidding a decisive auf Wiedersehen to the good old days with the second-generation 2014 Mercedes-Benz GL-Class.
It's hard to exaggerate the epic scale of this vehicle. The 7-seat GL has the passenger space of a minivan, the ride of an S-Class luxury sedan and the acceleration of a sports car. It has every techno-gadget in the book. There's even a completely absurd AMG version that makes 550 horsepower.
Not for the faint of heart, this Benz.
But then, that's kind of the point. Truth be told, the new GL is less a modern Mercedes wagon than it is a Cadillac Escalade with a thick layer of German performance, refinement and quality on top.
It may not be what Stuttgart traditionalists would prefer, but there's no denying the excellence of the automaker's latest crossover creation.
What's New for 2014?
Following the GL-Class model's complete update for the 2013 model year, the 2014 lineup carries over with only minor packaging and color/trim changes.
What We Like
Outstanding gas and diesel engines; sumptuous interior with all the toys; adult-friendly third row; excellent highway manners
What We Don't
Desirable option packages inflate cost; massive size isn't for everyone; items such as keyless go, which are standard on lesser cars, cost extra
How Much?
$63,000-$118,160
Fuel Economy
The GL350 BlueTEC is powered by a 3.0-liter turbodiesel inline 6-cylinder that cranks out 240 hp and a beastly 455 lb-ft of torque. This is truthfully our favorite GL engine, as it whisks the nearly 3-ton crossover around effortlessly while returning an impressive 19 miles per gallon city/26 mpg hwy.
The GL450 switches to a gasoline-powered, twin-turbocharged 4.7-liter V8 rated at 362 hp and 406 lb-ft of torque. You get more outright speed with the 450, and the twin-turbo V8 is amazingly refined, but fuel economy dips precipitously to 14 mpg city/19 mpg hwy.
If you want a gasoline engine, you may as well go all-out and get the GL550, which cranks up the turbo boost on that 4.7-liter V8 to the tune of 429 hp and 516 lb-ft. Fuel economy is barely affected at 13 mpg city/18 mpg hwy.
Finally, if you simply can't abide with less than 500 hp, the GL63 AMG will save the day with a 5.5-liter twin-turbo V8 that pumps out 550 hp and 560 lb-ft of torque. The AMG version's fuel economy is nearly identical to that of the GL550, at 13 mpg city/17 mpg hwy.
Standard Features & Options
The 2014 Mercedes-Benz GL-Class comes in four variants, from a (relatively) modest clean diesel model to an over-the-top high-performance AMG version.
The GL350 BlueTEC ($63,000) has a 240-hp 3.0-liter turbodiesel V6 that produces an impressive 455 lb-ft of torque. Exterior options include a lighting package ($1,390) with adaptive bi-xenon headlamps, a panorama roof ($1,090) and illuminated running boards ($670), as well as several wheel/tire combinations. The Premium 1 package ($3,680) offers a long list of extras, including an 80-gig navigation system, a 10-gig music hard drive, SiriusXM audio with traffic and weather, voice control, a 14-way adjustable driver seat, a power-adjustable steering column, power-folding mirrors, heated and cooled cup holders and a 115-volt rear power outlet. Additional comfort and convenience options include multicontour front seats ($1,100), ventilated front seats ($570), heated second-row seats ($620), a Harman Kardon sound system ($850), a rear entertainment system ($1,950), keyless go ($650) and rear side window sunshades ($380). Though the GL-Class has a comprehensive list of standard safety features, options include a Driver Assistance Package ($2,800) with adaptive cruise control, blind spot and lane-keeping assists, a Lane Tracking Package ($875) with blind spot and lane-keeping assists, a self-parking Parking Assist Package ($1,290) with surround view and a la carte Parktronic ($970).
Opt for the GL450 ($65,475) and you'll get a gasoline-powered, twin-turbocharged 4.6-liter V8 variant with more horsepower (362 hp) but less torque (406 lb-ft) compared to the entry-level GL350 BlueTEC diesel model. An Appearance Package ($1,340) adds 20-inch wheels, illuminated running boards and chrome exhaust tips, while the aforementioned Lighting Package ($1,390) is also available. The same interior comfort and convenience package options are available as on the GL350, and the safety options are, too.
The GL550 ($88,600) goes for brawnier performance with a twin-turbo 4.6-liter V8 that's tuned to produce 429 hp and 516 lb-ft of torque. The GL550's more generous standard items make the only major exterior option, on top of the usual wheel/tire combos, a panorama roof ($1,090). Inside, the Premium 1 package comes standard, while options include heated second-row seats ($620), a rear entertainment system ($1,950) and rear side-window sunshades ($380). A driver-assistance package ($1,950) adds adaptive cruise control and blind spot and lane-keeping assists.
The top-line GL63 AMG ($118,160) packages even more standard items along with an outrageous 550 hp 560 lb-ft twin-turbocharged 5.5-liter V8. A wood and leather steering wheel can be added for $1,050, or a more modern-looking AMG performance steering wheel runs $500. The AMG model offers an available Bang & Olufsen sound system ($5,400) and several of the rear comfort items available in lesser GL variants.
Safety
The 2014 Mercedes-Benz GL-Class comes with standard stability control, 4-wheel anti-lock disc brakes and no fewer than 13 airbags, as well as a list of available driver aids, including active blind spot assist and lane-keeping assist.
Neither the National Highway Traffic Safety Administration nor the Insurance Institute for Highway Safety has crash-tested the current Mercedes-Benz GL-Class.
Behind the Wheel
By all rights, the GL-Class should drive like a school bus, because that's approximately how large this crossover is. But Mercedes has worked some magic with the GL's driving character, employing a light yet accurate steering system to great effect. We're not saying the GL is nimble -- far from it -- but it's not intimidating to drive either, and that's the important thing.
As for cruising comfort, well, this is where the GL really excels. The standard air suspension takes the bumps out of almost any surface, and the cabin remains library-quiet at speed. Off-road, meanwhile, the new dual-range transfer case makes the GL a legitimate 3-row Range Rover alternative for more adventurous families.
Not surprisingly, upgrading to the V8-powered GL450 or GL550 will deliver commensurately more satisfying acceleration, but the ultimate expression of big crossover performance comes with the GL63 AMG, which offers positively mental levels of performance from this plus-sized sport 'ute.
Other Cars to Consider
Cadillac Escalade -- Think of the $67,970 Escalade as the GL's boisterous American cousin. It's a relatively cheap date, and you'll have a lot of fun inside its plush, well-appointed cabin.
Infiniti QX80-- Based on the capable Nissan Patrol SUV produced for overseas markets, the $62,550 QX80 is a legitimate off-roader with a luxurious interior, clad with distinctive (and controversial) exterior styling.
Lexus LX 570 -- The $81,780 LX 570 is getting on in years, but it still brings a wonderful V8 and spacious 3-row seating to the table, bundled with pricing that fuels its status as an exclusive, low-volume product.
AutoTrader's Advice
The impressive breadth of powertrains within the Mercedes-Benz GL lineup makes this a big crossover with something for (nearly) every person seeking a premium sport 'ute. While there's something tempting about the big power of the GL550 and GL63 AMG versions, real-world demands make the GL350 BlueTEC's impressive torque and surprising fuel economy figures of 19 mpg city/26 mpg hwy the one we'd order. Tick the Premium Package box and add a few other extras and you have a spacious, comfortable and luxurious 7-passenger car that's ready for almost anything.