Editor's note: You may want to read more of Autotrader's model vs. model comparison car reviews as well as the 2015 FIAT 500 review, the 2015 Mini Cooper review and Buying a Used MINI Cooper: Everything You Need to Know.
If you're looking for a city-friendly hatchback with standout styling and notable performance, the 2015 FIAT 500 and the 2015 Mini Cooper are undoubtedly on your shopping list. In fact, these two unique models may be the only cars on your shopping list, as there aren't many cars out there like them. But which one is better? We've created a close comparison between both models to answer exactly that. But first, let's see what's new with the 500 and the Mini Cooper for the latest model year.
2015 FIAT 500
The 500's biggest change for 2015 is the addition of a new automatic transmission in the 500 Turbo and the sporty 500 Abarth models. Otherwise, revisions are limited to an upgraded instrument cluster, new Bluetooth audio streaming and an enhanced center console. See all 2015 Fiat 500 models available near you
2015 Mini Cooper
After a full redesign for 2014, the Cooper has two major changes for 2015: the addition of a new 4-door body style, and the addition of a sporty John Cooper Works model, which had been absent since 2013. Finally, heated mirrors and automatic climate control are now standard on all Mini Cooper models. See all 2015 Mini Cooper models available near you
Reliability
Although early Mini models were plagued with issues, reliability experts at J.D. Power have good things to say about newer models — so much so that they awarded the latest Mini Cooper with a reliability rating of above average. Unfortunately, J.D. Power has yet to weigh in on the FIAT 500. As for warranty length, these two models offer identical coverage: four years or 50,000 miles of bumper-to-bumper protection.
While we can't award this category to either model without J.D. Power ratings for the FIAT, based on what we know so far, we suspect that the Mini has a slight advantage.
Fuel Economy
The FIAT 500 offers three different engines — though they're really three different versions of the same engine. Base models use a 101-horsepower 1.4-liter turbocharged 4-cylinder engine, which returns up to 31 miles per gallon in the city and 40 mpg on the highway. The 500 Turbo uses a 135-hp version of that engine, which touts 28 mpg city/34 mpg hwy. Finally, the sporty 500 Abarth offers a 160-hp version of the same engine, which produces the same gas mileage ratings as the Turbo but has a more enjoyable driving experience.
Meanwhile, the Mini Cooper also offers three powertrains. Base models use a 134-hp turbocharged 3-cylinder engine, which touts an impressive 29 mpg city and 40 mpg hwy. The exciting Cooper S uses a 189-hp 2.0-liter turbocharged 4-cylinder engine, which boasts 24 mpg city and 34 mpg hwy. Finally, the high-performance John Cooper Works model offers an excellent 228 hp and gas mileage ratings that reach as high as 25 mpg city and 31 mpg hwy.
So which one is better? When it comes to gas mileage, the 500 has a slight advantage that's largely due to its smaller size and smaller engines. As for performance, the Cooper has an advantage over its FIAT rival.
Safety
In crash tests by the National Highway Traffic Safety Administration, both the 2015 FIAT 500 and the 2015 Mini Cooper earned four out of five stars overall. While the latest Mini Cooper hasn't yet completed all crash tests carried out by the nonprofit Insurance Institute for Highway Safety, the FIAT 500 earned strong ratings except for a troubling Poor score in the firm's small-overlap front crash test.
As for safety features, both the FIAT 500 and the Mini Cooper offer everything you need — such as standard side-curtain airbags, stability and traction control and anti-lock brakes. But neither model offers any of today's latest safety gadgets, including forward-collision warning, blind spot monitoring or lane-departure warning. While these items aren't as important for these hatchbacks as they're on family SUVs and sedans, we still wouldn't mind seeing at least a few of them on the options list. Still, for now, these two models tie when it comes to safety.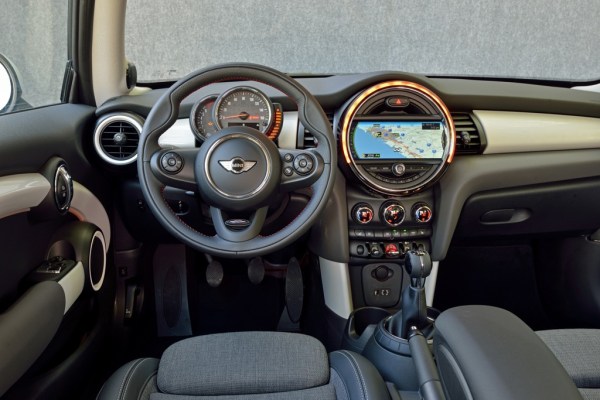 Technology
Despite its lack of safety features, the MINI Cooper offers an impressive array of gadgets and features that outshine the available equipment on the FIAT 500.
For example, there's a huge 8.8-inch center touchscreen in the Mini, compared to a tiny screen in the FIAT. The Mini also offers an available navigation system (it's a TomTom in the FIAT), a 10-speaker stereo (the FIAT only offers 6), a heads-up display, an automated parking system, an infotainment system with smartphone app integration, a back-up camera, power-folding mirrors and xenon headlights — none of which you can get in the FIAT. Simply put, if you're a technophile, the Mini holds a distinct advantage over the 500.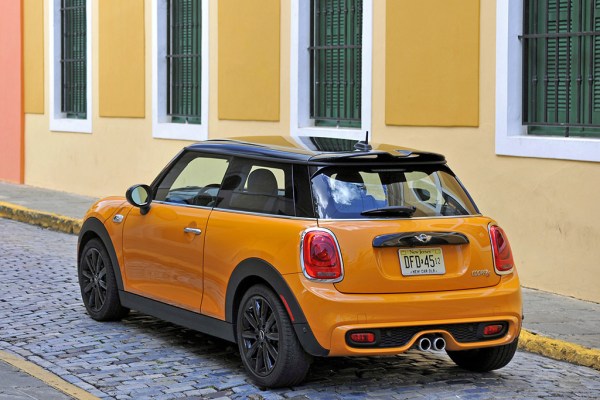 Value
Although there are some major similarities between the FIAT 500 and the MINI Cooper, the two cars differ substantially in one area: price. While the FIAT 500 starts at just $17,900, the MINI is $21,700 before options — a 20 percent difference at this level. In fact, you could opt for the high-performance 500 Abarth ($23,500) for the price of a very modestly equipped base-level Mini Cooper.
So does the Mini justify its price increase over the FIAT? It depends on what you want. Base-level versions of the FIAT feel like economy cars, with only the nicest models offering generous performance and a few upscale features. Meanwhile, every Mini offers impressive performance and a high-quality interior feel. So if it's luxury you're after, the Mini wins the value game — largely because it offers more equipment and a nicer cabin than any 500. But if you want a cheap, cute city car at a low price, you can't beat the 500.
Autotrader's Advice
Despite sharing sizing, unique styling and hatchback body styles, the FIAT 500 and the Mini Cooper are actually surprisingly different. While the 500 is basically a subcompact car with an upscale performance version, every Mini model offers luxury, performance and a well-crafted cabin. So which one is better?
If you're looking for performance, the Mini is hard to beat — especially the sporty Cooper S and John Cooper Works models, which offer go-kart-like handling and excellent power. The 500 Abarth comes close, but it isn't quite on the same level. Luxury also goes to the Mini, which offers more equipment, more room and a nicer cabin than the 500. The FIAT only beats out the Mini if you want a budget-priced hatchback that differs from the stylistic norm because the MINI's starting price and expensive options list ensures that it will never really qualify as "budget-priced."