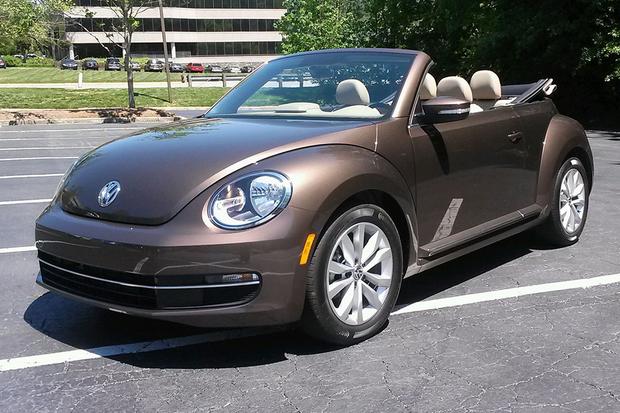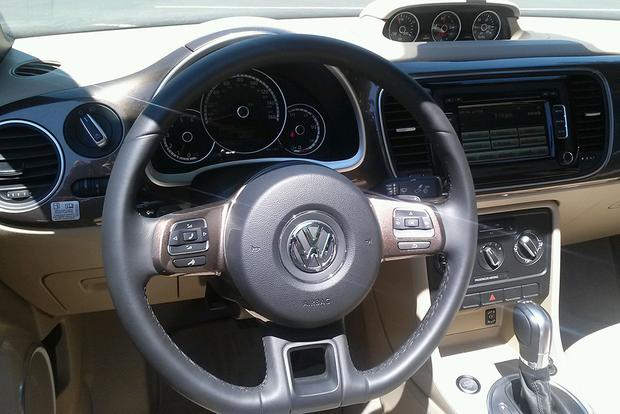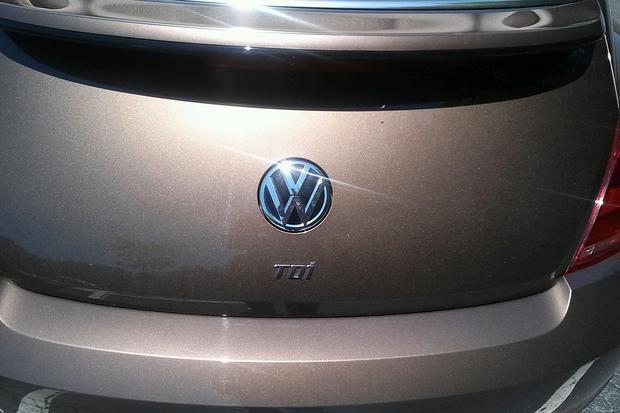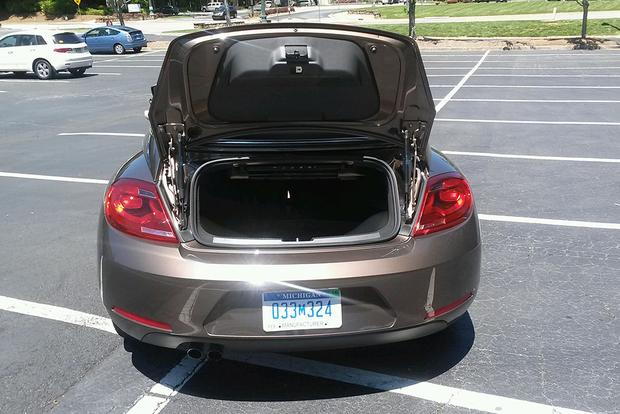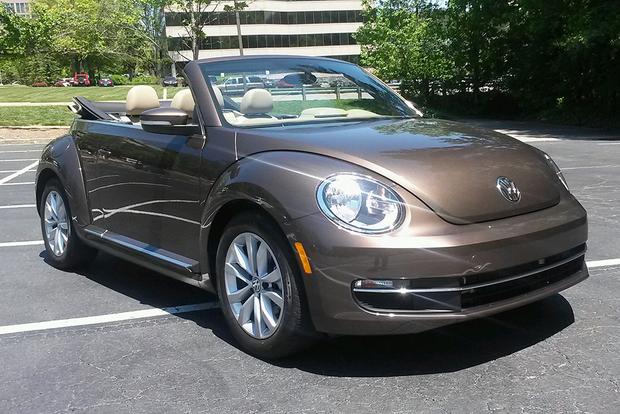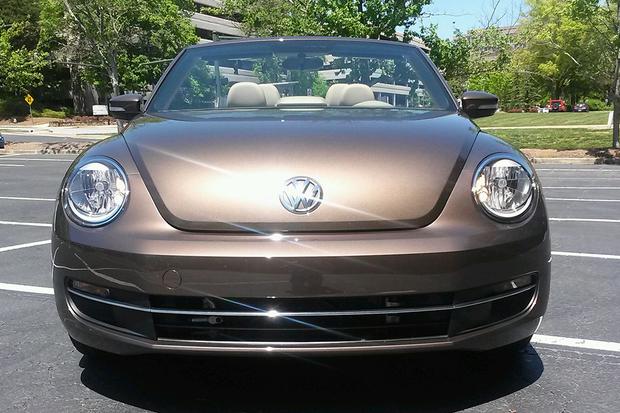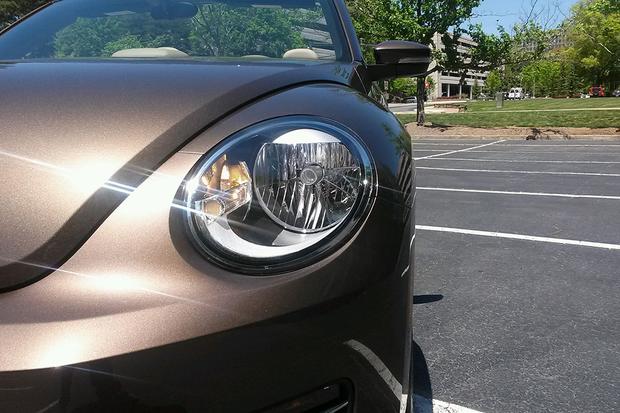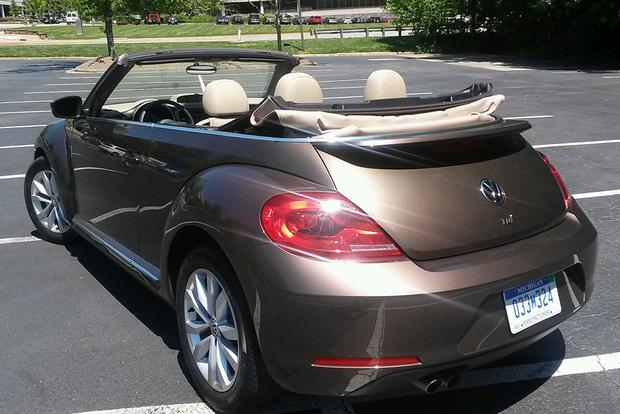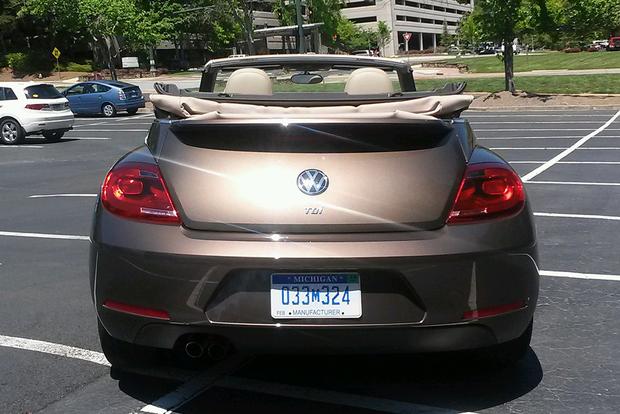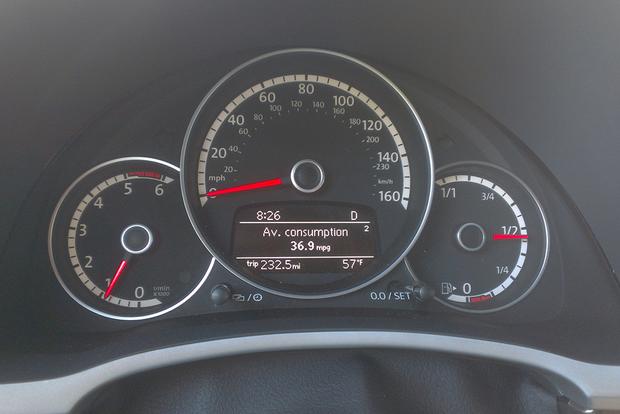 Few cars claim to offer everything that the 2015 Volkswagen Beetle TDI Convertible does. Not only does it tout stylish exterior design and unique "Beetle" looks, but the Beetle TDI Convertible boasts top-down driving pleasure thanks to its power-folding soft-top. And while there are a lot of bold, stylish convertibles on the market, only the Beetle TDI offers a fuel-saving turbodiesel engine, which can beat 40 miles per gallon on the highway. So how does it all go together? We spent a week behind the wheel of the Beetle TDI Convertible to find out exactly that, and here's what we think.
Cool Outside, Simple Inside
When it comes to exterior design, the Beetle is a love-it-or-hate-it kind of car, so we won't talk much about its styling. We will say that most of us were fans of our press car's toffee brown metallic exterior color that was paired with a beige top. It stands out from most typical convertibles and most convertible Beetles, which are usually finished in a lighter color with a black top. One staffer, however, didn't really care for the brown color and felt strongly that a sportier shade would have been a better choice.
Opinions about the interior quality were mixed. While everyone thought things seemed pretty solid (save for the driver's seat, which, worryingly, moved around a little due to a loose bolt), not everyone appreciated the simplistic nature of the center control stack. We find it odd that a car so stylish and inviting on the outside could have such a somber, no-frills interior. Materials have improved significantly over the outgoing Beetle, but we almost prefer the old model's more unusual dashboard, with its unique gauge cluster, round air vents and standard flower vase.
Simple Technology
There are some benefits to simplicity, however. We like how easy it is to pair your phone with the Bluetooth system: Just turn on your phone's Bluetooth, find "VW Phone" in your phone's settings, and you're ready to go. There's no annoying code or complicated setup that involves a lot of searching.
Another benefit is that the infotainment system is simple to use. It offers no major breakthroughs, but has many simple controls that won't divert your eyes from the road. We also like the fact that it retains traditional knobs for volume and station searching, unlike some other models, and we appreciate the old-school radio dial you see when you're searching for a station -- a feature we also like in Mercedes-Benz models.
But are things a little too simple? Maybe so. For instance, our test car didn't have a backup camera, which has become an absolute necessity in a convertible. This is especially true in the Beetle Convertible, which has some huge blind spots with the top up.
We were also surprised to learn that Volkswagen decided to break up the Beetle TDI Convertible lineup into two models: the regular TDI and one with an optional Sound and Navigation trim, which adds a navigation system and an improved sound system. Given that the Sound and Navigation model is only $1,400 more expensive (from a base price of around $30,500 with shipping) than the standard model, we wonder if all Beetle TDI Convertibles should simply include sound and navigation from the beginning. We certainly would have appreciated these features in our test car.
On the Road
Like most Volkswagen models, the Beetle TDI Convertible received positive feedback for its road manners. Our drivers noted very little cowl shake, which is a common issue in convertibles, and a generally composed driving experience with secure handling and direct steering. In other words, despite the Beetle's "cute" looks, Volkswagen hasn't compromised its usual class-leading driving dynamics. With that said, we did hear some complaints about road noise, though our testers admitted that it could relate to our model's tires.
Interestingly, acceleration isn't so bad. The Beetle Convertible is a small car, so its 150 horsepower and 236 lb-ft of torque is actually more than adequate for scooting around town. It simultaneously returns more than 30 mpg in combined city and highway driving (we averaged around 36 mpg). The diesel engine is especially zippy when mated to our test car's dual-clutch automatic. We really like this VW TDI and can't help but think any car that has this engine would be fun to drive. No, it isn't fast, but that's the trade-off for such good gas mileage, and it's a big improvement over diesel-powered Volkswagen models of just a few years ago.
Our Take
The 2015 Volkswagen Beetle TDI Convertible promises a stylish car, top-down driving fun and impressive fuel economy -- and it delivers. Yes, we'd love to see a little more style in the interior, and "driving fun" is hampered by the diesel engine, which is adequate but hardly explosive. However, not everyone agrees that the diesel engine detracts from the fun. It's true, the TDI doesn't have as much horsepower as other gasoline powered cars, but the TDI's torque, the power that initially gets the car moving, is more than adequate. In fact, some here at Autotrader actually think the TDI version of all Volkswagen cars and SUVs are more fun to drive and provide a more engaging driving experience compared to other similarly priced vehicles. No matter what you think, there's still no feeling in the world like cruising around with three friends with the top down on a summer evening and getting 40 mpg in the process.