Editor's note: You may want to read more of Autotrader's model vs. model comparison car reviews as well as the 2017 Focus RS review.
The regular Ford Focus has lost much of its luster as new and improved rivals have stolen its spotlight. Yet at the top of its range lie a pair of sparkling jewels that remain just as appealing today as they did when they came out, and will likely continue to be just as lustworthy in the future. The 2017 Ford Focus ST and Ford Focus RS are truly special, high-performance hot hatchbacks that deserve a place on the shopping list of anyone seeking such a blend of high power, affordability and practicality.
So, what's the difference between them? Well, in short, think of the ST as jalapeno and the RS as habanero. Would you like spicy or very spicy? Metaphor not detailed enough? Well, read on!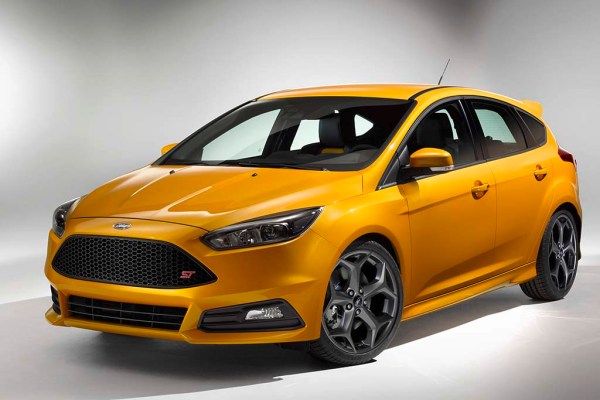 Exterior
Compared to the regular, civilian-grade Focus, the ST boasts a resculpted front end featuring a more prominent 3-slot lower air dam and an enlarged grille filled with gloss black mesh. It also has enlarged body-color rocker panels, special 18-inch wheels and, around back, a unique lower bumper valance, a central exhaust outlet and a rear spoiler. Both the ST and RS are available only as 4-door hatchbacks.
The RS effectively exaggerates all those ST elements. Its lower airdam and front bumper are bulked up, the grille is filled with a chunky trim piece, the mirrors are blacked out and the wheels are 19 inches, blacked out and filled with bigger brakes and blue-painted calipers. At the rear, the enlarged lower bumper features a rear diffuser and a pair of beefy exhaust ports, while the upper spoiler grows big enough to be deemed a wing.
Interior
For a compact sedan, the Focus' interior design and quality are still pretty good, despite being on the market for several years without a complete redesign. The addition of Ford's new SYNC 3 tech interface has also corrected one of the primary points of contention. However, in cars like the ST and RS, which can cost $30,000 and $40,000, respectively, that same design and quality is ultimately questionable. Though it bests the Subaru WRX and STI, it trails the Honda Civic Si and Type R and the Volkswagen GTI and Golf R.
The ST stands out in three key ways. First, a there's a trio of extra gauges mounted atop the dash. Second, there's a flat-bottom, leather-wrapped sport steering wheel. And third, there are standard Recaro sport seats with slightly bigger bolsters than what's found in the standard Focus. These can be further upgraded with optional Recaro sport seats that feature even more pronounced bolsters that hold you in place better, but which will be constricting for larger folks.
The RS gets those same elements, but the racier Recaro seats are standard, covered in Alcantara, trimmed with blue stitching and have RS badges instead of ST ones (obviously). Dual-zone automatic climate control and a Sony audio system are also standard, whereas they're optional on the ST.
Mechanics
Here's where the real differences lie. The ST features a 2.0-liter turbocharged 4-cylinder engine that produces 252 horsepower and 270 lb-ft of torque. It sends that to the front wheels via a standard 6-speed manual transmission (no automatic option is available on either fast Ford). That's a lot of thrust to be going to the front wheels only, and although Ford has done a tremendous job of cutting down on torque steer (the sensation of the wheel sawing back and forth under a heavy foot), the ST can still feel like a wild ride at times. Expect a 0-to-60 mph time of around 6.3 seconds.
The fun additions don't stop there. Ford upgraded the ST's steering, outfitted a sport-tuned suspension and better brakes, slapped on some summer tires and generally tuned the car to be a sharp, driver-pleasing performance machine. Yes, it's front drive, but it's also one of the best front-drive cars ever created. Enhancements to the suspension two years ago also yielded a less choppy ride without harming this handling.
No such luck with the RS, which has a firm ride that many will find unforgiving (your local pavement quality will play a big role here). Nevertheless, that's the only area where the RS falls short dynamically. For starters, it has nearly 100 more horsepower. Its 2.3-liter turbo four cranks out 350 hp and 350 lb-ft of torque, then sends it to all four wheels through an advanced all-wheel-drive system. This not only aids straight-line acceleration (expect a 0-to-60 time of around 4.7 seconds and zero torque steer), but it can also send much of its power rearward in a special "Drift mode" that effectively turns this hot hatch into a rear-wheel-drive hooligan. Sample at your own peril.
However, that all-wheel-drive system also aids handling thanks to a "torque vectoring" capability that sends power side-to-side. This, along with an adjustable race-tuned suspension, makes the RS one of the finest-handling cars money can buy. Its immense grip and driver-friendly neutrality make it almost too easy to drive way too fast. Again, sample at your own peril.
Features & Technology
Ford's latest SYNC 3 touchscreen infotainment system is an option on the ST, part of the ST2 package and standard on the RS. This capacitive screen (you can pinch and swipe it like a smartphone) features a simple menu structure and easily pressed virtual buttons, along with standard Apple CarPlay, Android Auto, remote vehicle controls, voice control integration of smartphones and media players, and internet radio control apps. There's also automatic post-collision 911-calling should Drift Mode go awry.
Driving Experience
When we think back to some of the most enjoyable, grin-inducing cars we've driven in the past five years or so, both the Focus ST and Focus RS readily come to mind. With their ample power, compact dimensions, razor-sharp steering and rewarding manual transmissions, they keep you engaged like few other cars, period. They're also a little more raw than their main Volkswagen competitors, which may appeal to some and put off others.
The RS is of course the more hardcore choice, both in terms of its eye-popping acceleration and corner-taking abilities, but also the sacrifices to comfort you must make for them. It certainly isn't for everyone, and it's also less appealing than an everyday driver — you might get tired of being beaten up every day. The ST is far friendlier on the daily grind, and if you don't live particularly close to winding back roads, it'll probably provide more than enough thrills.
Safety
Both the ST and Focus come standard with traction and stability control, anti-lock brakes, front-side airbags, full-length side-curtain airbags and a driver-knee airbag. SYNC 3 also includes an automatic post-collision 911-calling feature that utilizes your smartphone. The blind spot monitoring and lane-keeping assist systems available on the regular Focus are not available.
The Focus ST received perfect 5-star crash ratings in the government's overall, frontal and side crash tests. The RS differed with a 4-star frontal test result.
Conclusions
Given its lofty price tag, which easily tops $40,000 when equipped with the popular RS2 package, the Focus RS will definitely appeal to a more dedicated sort who value its particular array of talents. The 2017 Ford Focus ST starts at just under $25,000 and only just tops $31,000 when fully loaded. That's a pretty big performance bargain, and given that the ST is also a more livable car, we think it'll ultimately be more appealing to more people. With either, however, you're going to have a lot of fun.