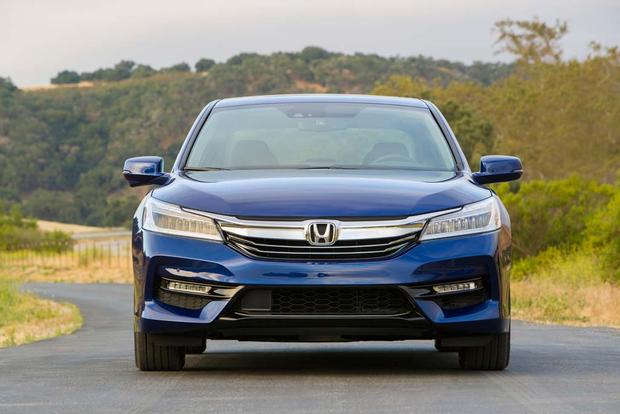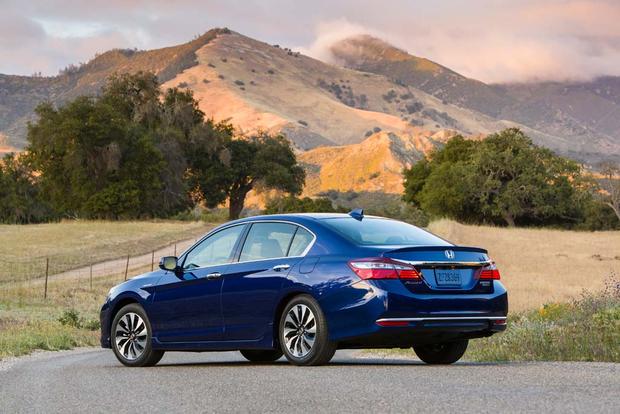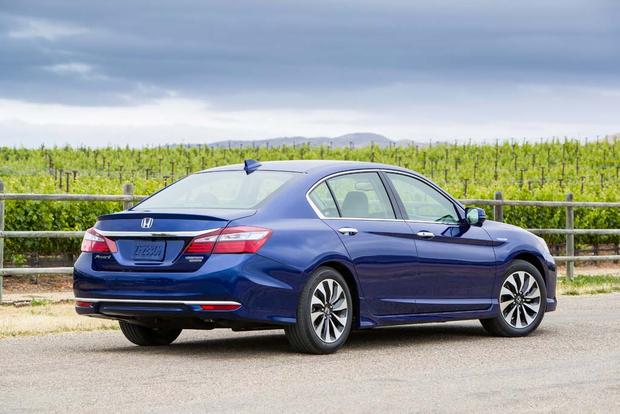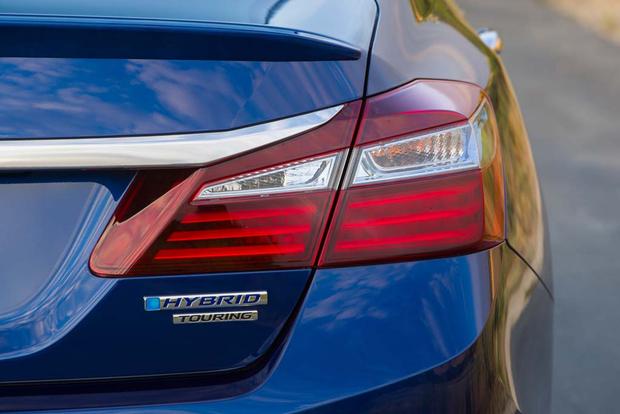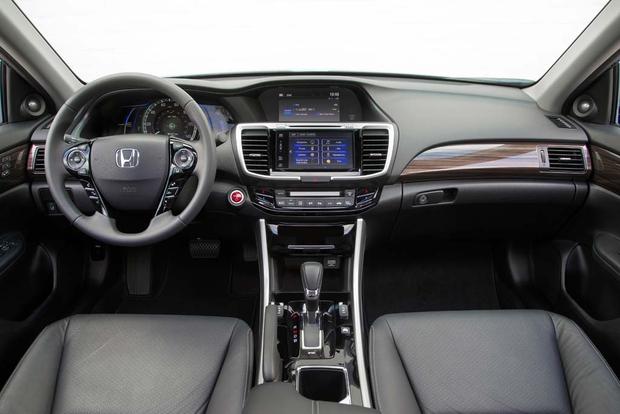 After a yearlong time-out in 2016 to relocate manufacturing from Ohio to Japan, the 2017 Honda Accord Hybrid sails back on the scene with segment-topping fuel economy and horsepower.
The truth of the matter is that getting all revved up over a hybrid is still a little tough for us. We're car people, after all, who still think about cars first and foremost in terms of performance based on handling, responsiveness and hp. To become enthusiastic over a hybrid, we must force ourselves to refocus on fuel economy and tail pipe emissions. It's like sitting down in front of a $70 steak dinner and swooning over the steamed mixed vegetables rather than the perfectly grilled filet.
With the refreshed Accord Hybrid, however, making that philosophical jump is not as much of a reach as with some other hybrids. As the conventional Accord has evolved into a much more engaging car to drive, its performance traits have carried over to the hybrid version. That the Accord Hybrid is the top dog within the Accord family shouldn't be a surprise, but the fact that it leads its segment in a couple of key measurements probably is.
What's New for 2017?
The gasoline-powered Accord sported a noticeable facelift for 2016, and most of these exterior enhancements -- such as the new grille, aluminum hood, fog lights, front and rear fascias, and rear LED taillights -- highlight the 2017 Hybrid's wrapper. Another notable addition is the inclusion of the suite of safety and driver-assistance technologies lumped together as Honda Sensing, which comes standard on all Hybrid grades.
What We Like
Updated exterior styling; best-in-segment fuel economy; Honda Sensing standard on all trim levels; torquey hybrid powertrain; regenerative braking system feels much like conventional braking
What We Don't
Costs lots more than a gasoline-powered 4-cylinder Accord model
How Much?
$30,440-$36,790
Fuel Economy
While moving production to Japan in 2016, Honda used the downtime to tweak the 2-motor Intelligent Multi-Mode Drive (i-MMD) hybrid drive system. The result is a 16-hp boost to a combined 212 hp, as well as better fuel efficiency to maintain the Accord Hybrid's mileage lead in the segment, despite a change in the way the Environmental Protection Agency (EPA) measures fuel economy. For 2017, the Hybrid's EPA-estimated mileage is 49 miles per gallon in the city and 47 mpg on the highway. A glance at the 2015 Hybrid's stats versus the 2017's reveals a 1-mpg drop in city fuel economy from 50 mpg, but this, says Honda, is due to those new EPA testing procedures.
Using two electric motors and a 4-cylinder Atkinson engine, i-MMD provides three operating modes: EV (electric-only), Hybrid and Engine Drive. For moderate and low speeds, one of the electric motors actually turns the wheels, with the gasoline engine jumping in to generate electricity in Hybrid mode when required. At higher speeds over 55 or 60 miles per hour, the engine does the heavy lifting. Because an electric motor is directly connected with the front wheels, there is no brief path to explaining the transmission, but think of it as a virtual continuously variable transmission (CVT).
Standard Features and Options
Honda offers the Accord Hybrid in three no-option grades: Hybrid, EX-L and Touring.
The Hybrid ($30,440) arrives standard with Honda Sensing, adaptive cruise control, dual-zone automatic climate control, push-button starting, a 10-way power adjustable driver's seat, Bluetooth connectivity, a 7.7-inch display, a rearview camera and a 6-speaker audio system with a USB port.
The EX-L ($33,740) builds on the Hybrid's content with a power moonroof, a leather-wrapped steering wheel, an auto-dimming rearview mirror, a 4-way power adjustable passenger seat, leather-trimmed seats, heated front seats, a 7-in audio display, Apple CarPlay/Android Auto and a 7-speaker audio system with a subwoofer.
The Touring ($36,790) adds to the EX-L with front and rear parking sensors, auto on/off headlights, rear heated seats, a navigation system with voice recognition and auto high-beam headlights.
Safety
The standard array of six airbags provides some passive passenger protection in a crash.
Along with a rearview camera that's standard on every Accord Hybrid -- as well as the front and rear parking sensors standard on the Touring trim -- all Hybrids come with Honda Sensing, which includes forward-collision warning, forward-emergency braking, lane-departure warning, lane-keep assist, road-departure mitigation and adaptive cruise control.
Behind the Wheel
Despite being less fuel-thirsty than the 4-cylinder gasoline-powered Accord, the Accord Hybrid accelerates more like the V6-armed version. This aggressiveness results from the hybrid system's combined 232 lb-ft of peak torque. Acceleration isn't neck-snapping, but it is surprisingly spirited for a 4-cylinder hybrid.
For all intents and purposes, the hybrid system is the primary differentiator between the conventional Accord and its environmentally friendly sibling. Although the CVT-like transmission setup encourages some unpleasant engine sounds as the system gains speed, it's no worse than that of some vehicles equipped with a regular CVT.
As with the conventional Accord, the Hybrid's handling is pleasant -- it's actually fun to drive. Honda seems to have worked some magic with the regenerative braking system that eliminates much of the drag usually associated with systems that recover some electric power during braking. We noticed it immediately.
Other Cars to Consider
2017 Ford Fusion Hybrid -- Getting a mild refresh for 2017, the Fusion Hybrid is a terrific blend of sleek styling, an upscale interior and better-than-expected performance. It doesn't approach the Accord Hybrid's fuel economy numbers, but it's fuel efficient nonetheless.
2016 Hyundai Sonata Hybrid -- Enjoying a complete redesign for 2016, the Sonata Hybrid boasts improved fuel economy numbers that don't rival the Accord Hybrid but do put it in the midsize-hybrid-sedan hunt. Its cabin is not only a bit roomier but more refined, as well.
2017 Toyota Camry Hybrid -- While it delivers fuel economy similar to competitors such as the Fusion Hybrid and Sonata Hybrid, the Camry Hybrid scores well for interior space, passenger comfort and respectable handling. Checking off all the boxes, it does just about everything well.
Autotrader's Advice
If you need a midsize sedan and want to do your part in saving fossil fuel while reducing your carbon footprint, why not do it with the hybrid sedan that leads its segment in both fuel economy and power output? Hybrids are a tougher sell with gas prices as low as they currently are -- it'll take longer to recoup the extra $7,000 or so you'll pay for it. But for some buyers, it's about more than money. If you share that sense of activism, the 2017 Honda Accord Hybrid is a solid choice.