Editor's note: You may want to read more of Autotrader's model vs. model comparison car reviews as well as the 2018 Jeep Cherokee review and the 2018 Jeep Compass review.
If any company has license to sell multiple SUVs of a similar size, it's the company that invented the SUV in the first place. With the 2018 Jeep Cherokee and the completely redesigned 2018 Jeep Compass, you have two models that are remarkably similar in many ways, yet diverge in key areas that make one more appealing than the other. Let's look at those differences to see which one is the better compact SUV for you.
Exterior
Both the 2018 Cherokee and 2018 Compass are considered "compact" SUVs, and indeed, they aren't that different on the outside. The Cherokee is a bit bigger, with nine extra inches of overall length and 2.5 inches of extra wheelbase. It's also 1.6 inches taller. However, as we'll see in the Interior section, the Cherokee's greater size outside doesn't actually translate to greater space inside. Quite the opposite, in fact.
For now, at least, it's fairly easy to tell the Cherokee and Compass apart. The Cherokee's distinctive lighting is its defining characteristic with narrow slits of LED accent lights residing above headlights that are effectively hidden within darkened trim below. Other distinguishing characteristics include the unique rearward bend in its 7-slat Jeep grille and, at the rear, the license plate located below the liftgate.
However, this unique, if controversial look is actually going away for 2019 in favor of a face that looks a lot more like the new Compass, which in turn resembles a shrunken version of Jeep's handsome Grand Cherokee. There will still be visual differences (the grille in particular maintains that bend), but telling them apart will nevertheless be harder.
Interior
As we alluded to, the Cherokee may be larger on the outside, but the Compass actually has some advantages inside. Chief among those is cargo capacity, where the Compass possesses 59.8 cu ft. of maximum space, while the Cherokee has 54.9 cu ft. With the seats up, it's 27.2 cu ft. in favor of the Compass versus the Cherokee's 24.6 cu ft. All those figures are actually on the small side for a compact SUV, but it's a difference you really notice in person, as the Compass' cargo area is noticeably wider and more usable. You can slide the Cherokee's back seat forward to gain cargo space, something not possible in the Compass, but doing so reduces rear legroom.
As for that legroom, the spec sheet says the Cherokee has two more inches, but we didn't find that in person. If anything, the Cherokee's chunkier seats might actually result in less room when taller drivers are up front. Rear shoulder and head room are also identical in both SUVs.
In terms of design, features and quality, the two SUVs are very similar inside — it's actually pretty tough to tell them apart. There's really only one significant area of difference: The Cherokee's front center console is wider ,and the small bin intended to hold smartphones is actually functional (it really isn't in the Compass). Besides that, you get the same buttons and switches, the same perfectly acceptable materials quality, and the same somewhat flimsy construction in places. Really, with the exception of the range-topping Cherokee Overland (which we found tough to recommend), there's not much reason inside to choose the Cherokee over the Compass.
Mechanicals
The Compass and Cherokee come standard with the same engine: a 2.4-liter 4-cylinder engine good for 184 horsepower and 171 lb-ft of torque. From there, things diverge. A 6-speed manual is standard on the Compass Sport trim, with a 6-speed automatic optional with front-wheel drive and a 9-speed automatic optional with all-wheel drive. That 9-speed is standard on all other Compass trims and every Cherokee. Frankly, we're not fans of this powertrain combination, as it's consistently slow to respond and frequently finds itself in a too-high gear. Putting your foot to the floor, which is often necessary given the engine's insufficient power, is met with an excruciating pause followed by a big kick down, a whole lot of noise and not much thrust.
Unfortunately, there is no way to avoid this unappealing powertrain in the Compass. The Cherokee, on the other hand, offers a compelling alternative: a 3.2-liter V6 good for 271 hp and 239 lb-ft of torque. Despite this dramatic increase in power (made even more important given the Cherokee's heftier weight), the fuel economy difference between the 4- and 6-cylinder Cherokee is only one mile per gallon in combined driving. The difference in the Compass is greater, but not so much that your budget will see a significant dent. Now, the V6 is also paired to that 9-speed, which suffers from similar issues in this pairing. But with more power at its disposal, the problems are at least mitigated.
Both SUVs come standard with front-wheel drive, but offer multiple all-wheel drive systems. The Active Drive system found on both is a reactive system that automatically engages the rear wheels when the front wheels slip. The Compass' Active Drive Low system adds a low-speed crawl ratio that enables you to better tackle rugged terrain. The Cherokee has a more advanced upgrade, however. Its Active Drive II system is more comparable to a 4-wheel-drive system with a low and neutral range. The Trailhawk trim goes a step further with its Active Drive Lock system that adds a locking rear differential.
The Selec-Terrain system is included with every all-wheel-drive Compass and Cherokee. It automatically programs various mechanical elements to best meet a set selection of low-traction scenarios. Both Jeeps are also available in Trailhawk trim levels that feature the most advanced Active Drive system available, extra ground clearance, more rugged tires, tougher styling and a Selec-Terrain Rock mode.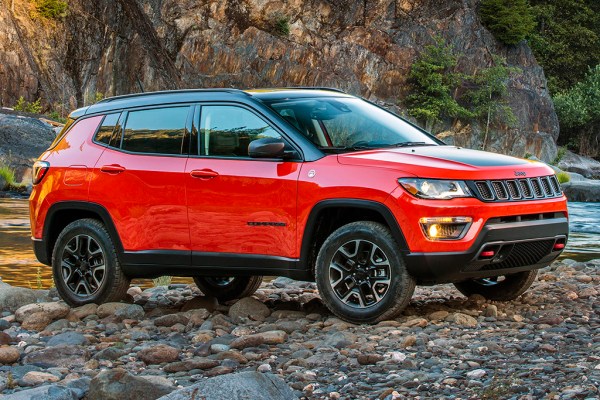 Features & Technology
For the most part, every feature available on the Cherokee is also available on the Compass. Exceptions are really only found in the Cherokee's range-topping Overland trim level with its leather-wrapped dashboard, ventilated seats, power passenger seat and wood trim. Otherwise, you'll find these Jeeps are available with a competitive amount of equipment for the money.
They are also blessed with easy-to-use touchscreen tech interfaces. The standard 5-in screen in both is perfectly pleasant, if a bit limited in its content. The Compass is also available with a 7-in touchscreen that brings with it Apple CarPlay, Android Auto and a general increase in functionality. There's also a further upgrade available: An even better, 8.4-in touchscreen that's the lone upgrade in the Cherokee.
Driving Experience
The Cherokee's available V6 engine provides it with a fundamental advantage over the Compass when it comes to driving experience. If you're looking for more power than what the 2.4-liter provides — and we would suggest that you probably should — then the Cherokee may be an obvious choice. See the 2018 Jeep Cherokee models for sale near you
It should also be said that regardless of engine choice, the Cherokee has a more substantial and refined feel to the way it goes down the road. It generally seems a bit plusher. The Compass feels a bit tinny by comparison, and indeed, more like the smaller, mechanically-related Renegade. However, there is also a somewhat more responsive and spry nature to it. See the 2018 Jeep Compass models for sale near you
It should also be noted that the Cherokee is more capable off-road, though both are generally better than other compact SUVs in this area — especially in regard to their Trailhawk trim levels.
Safety
Both the Cherokee and Compass come standard with front, front-side, side-curtain and driver knee airbags, along with a rearview camera. The Cherokee also has a passenger-side knee airbag. Optional on both are blind-spot and rear cross-traffic warning systems, full-speed forward-collision warning and lane-departure warning, but the Compass goes further by adding automatic emergency braking and lane-keeping assistance for an added layer of safety.
Both Jeeps received a 4-star overall crash rating from the government, along with 4-star frontal and 5-star side crash ratings. The Compass, however, got a lower 3-star rollover rating. The Cherokee got 4 stars. In testing by the non-profit Insurance Institute for Highway Safety, the Compass did better than the Cherokee with top Good marks in all crash ratings and Superior rating for its accident avoidance tech. The Cherokee got a slightly lower tech score and a disappointing Marginal rating in the driver-side small overlap crash test. It did, however, get better scores for its headlights and child seat anchor ease-of-use.
Conclusions
It all comes down to driving experience and price here. The Cherokee is more comfortable, refined, and with the V6 engine, considerably more powerful. It's also more capable off-road. However, if you're looking to save some money, the Compass would be the better choice. Not only does it have a lower price tag, but its considerably lighter weight means the 2.4-liter engine has less to lug around. You also won't be giving up any interior space or quality. Find a Jeep Cherokee for sale or Find a Jeep Compass for sale