All-new 2019 Nissan Altima.
An 8-in touchscreen is standard on all versions.
New VC-Turbo engine delivers 248 horsepower.
It's easy to dismiss sedan sales as being irrelevant, Americans are gradually migrating toward SUVs in all shapes and sizes. However, there are still enough people buying 4-door cars to make them worth checking out. Cars like the Honda Accord, the Nissan Altima and the Toyota Camry are still near the top of the best sellers list each year alongside many well-known trucks and SUVs. At the same time, virtually every popular compact to midsize sedans has recently been updated — that includes the Nissan Altima.
Why We Got It
The 2019 Altima redesign is exactly why we thought it was the right time to spend some quality time with the 2019 Nissan Altima. We have plenty of real-world experience with Nissan SUVs (like the Pathfinder) and trucks and find them, in general, to be a good value new or used. But the Altima isn't just a new skin, it's a whole new car with new tech and new features.
Of the top-selling midsize sedans, the newly re-worked Altima is the one that looks the most like the previous version, but is the one with the most dramatic changes. Both the Honda Accord and the Nissan Altima have dropped their V6 engines, a big change that breaks from roughly 25 years of tradition. But the new Altima adds some fairly groundbreaking tech with its new VC-Turbo engine. Through the use of sensors and software, the Altima's VC-Turbo engine offers the acceleration of a high-performance turbocharged 4-cylinder with the fuel efficiency of a smaller engine.
The VC-Turbo is a 2.0-liter 4-cylinder engine that makes 248 horsepower. This engine varies the compression ratio from 8.0 to 1 to 14.0 to 1. Gearheads will know that high-compression engines are generally more performance oriented as they get more of a powerful bang out of the air and fuel mixture all gasoline powered cars use to make power. We're looking forward to experiencing this new technology on an everyday basis.
The new Altima is also a bit nicer inside. All versions of the Altima come with an 8-in touchscreen and both Android Auto and Apple CarPlay. The textures and materials are also a step up from the previous version, although this is most noticeable in the Platinum trim. All-wheel drive is now an option with the Nissan Altima, something that was not previously offered.
Our Altima
If you're buying a new Altima, there are a few little details to keep in mind. Ultimately, these little things steered us toward a specific car. Although the 2019 Altima starts at under $25,000 we opted for the $35,000 Platinum version with front-wheel drive. The first thing to know — you cannot combine the AWD model with the new high-tech turbo engine. Nissan's tried and true 2.5-liter 4-cylinder engine is standard on the lower trim levels and the AWD versions. Also, there are three different "Platinum" versions of the 2019 Altima. There's both FWD and AWD in the Platinum trim as well as a "VC-Turbo Platinum" version. The other trim option that uses the fancy turbo is the SR VC-Turbo, which is the sportiest version of the new Altima. We opted not to get this one as we value everyday comfort over sporty handling. Executive Editor Brian Moody says "In the long run, I think this is the right choice. Our perfect car is a VC-Turbo Platinum with AWD. That isn't a car you can get from Nissan right now. Buyers who want a good balance of performance and comfort will be best served by the front-wheel drive Platinum version of the new Altima."
That being said, the Platinum version we have includes many standard features, so much so that there are no additional packages available unless you want accessories like 19-inch wheels. LED headlights and fog lights, a power sunroof/moonroof, chrome exhaust tips, dual-zone climate control, push-button start, Bose premium audio, active noise cancelling, two USB ports and two USB-C ports plus Sirius XM traffic and travel link with a 3-month subscription are all included.
Initial Impressions
The thing we're watching most closely is the engine and how different staff members respond to the new turbo. We've only had the car a few days and can already feel the extra kick in everyday driving. It is fun to drive, but also remarkably quiet and super smooth, even on the highway. Will we miss the V6? Too soon to tell. Find a Nissan Altima for sale
---
Ownership Update – 8/21/19
by Brian Moody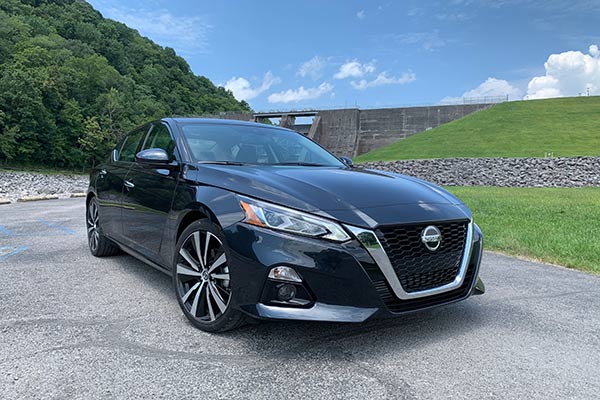 Road Trips
A lot of buyers may be thinking of a minivan when it comes to family trips, but the 2019 Nissan Altima handles the long haul really well. The interior is spacious for a midsize sedan and the seats are very comfortable — plus the Bose audio system sounds really good, which is something we can't say about every application of Bose in-car sound systems. We have the top of the line Platinum trim so there's a nice big touchscreen, that Bose audio system with 9-speakers and Apple CarPlay/Android Auto. One obvious omission given the price and top trim-level are cooled seats. I'd like to see cooled front seats on the Altima Platinum, especially on the more driver-focused VC-Turbo version.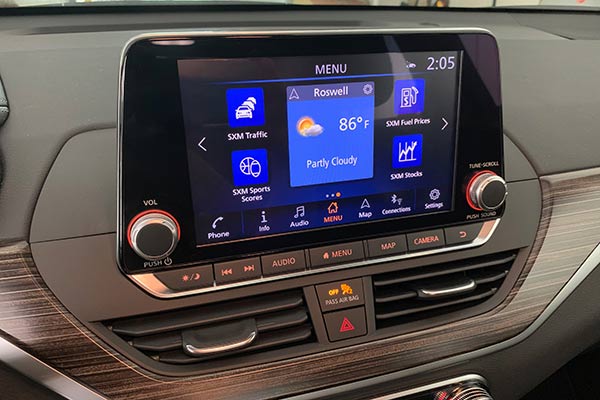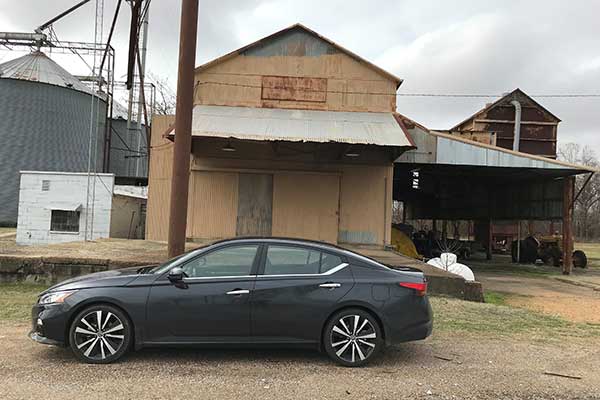 Nissan's Pro-Pilot driver assist feature is a lot like the new Nissan Altima itself. At first, it seems fairly average. However, look a little closer and it's impressive.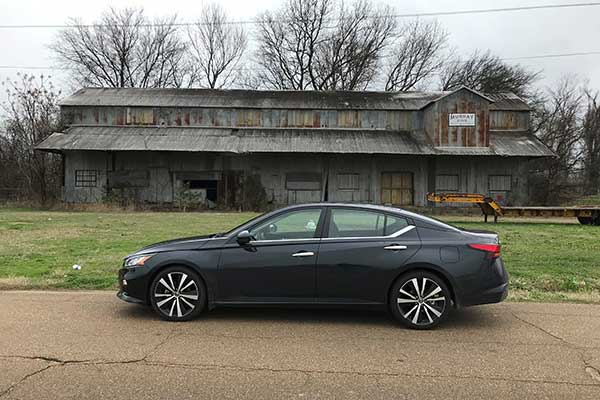 The Pro Pilot system is both simple and complex at the same time. Compared to other driver-assist features (Pro-Pilot seems most similar to Volvo's Pilot Assist; even the names are similar), Nissan's is comprehensive and easy to use. Simply press the blue button on the steering wheel and the system works like adaptive cruise control, emergency braking and steering assist feature all in one package. You can turn the automated steering feature off and you can set the cruise control distance to your liking. Nissan, like other automakers, has made it pretty clear that this is not a self-driving system, it simply aids the driver in making long trips a little less tiring. Pro-Pilot keeps you in the center of your lane even as the freeway curves through the mountains. Pro-Pilot allows you to see how a Nissan in the future will drive itself — the pieces are already there. I suspect a slight software modification would allow the Altima to drive un-aided for many miles on a stretch of freeway without obstacles. For now, take your hands off the wheel for too long and you get a warning.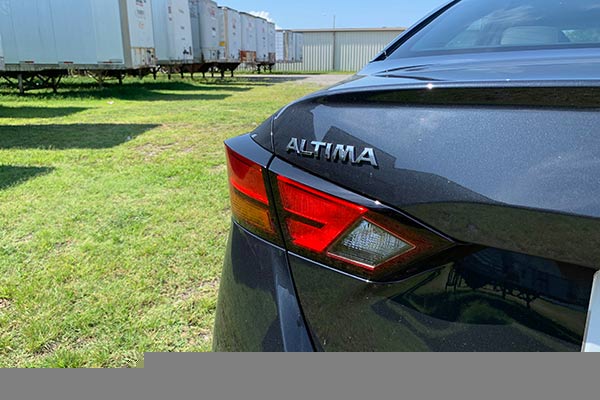 Real World Fuel-Economy
The VC-Turbo engine delivers excellent power even up steep mountain roads and when passing. This engine is really great and we hope Nissan adds it to more cars. Even with lots of power (enough power to be fun), we still got 41 miles per gallon on a recent trip from Atlanta to Nashville. That's really impressive. Not too long ago, you'd have to get a hybrid or a diesel to get that kind of mpg. Find a Nissan Altima for sale
---
Ownership Update – 9/18/19
by Brian Moody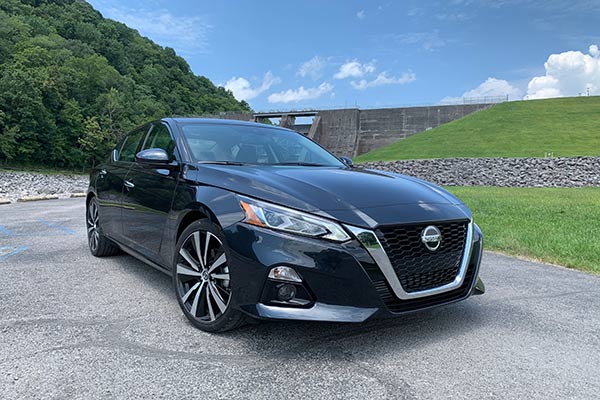 There's a lot to like about the 2019 Nissan Altima. When driving the car (we have the new VC turbo version) it has very high-quality feel overall. The ride, handling and noise levels are better than any other Altima before. We like the interior materials — all the surfaces and buttons feel like they're engineered to a higher level than a similar car like the Toyota Camry. We like the touch screen as well and the faux wood trim — usually not the case with woodgrain "look" type materials.
When you look at older Altima models versus the new 2019 version, the new car is clearly better looking. In fact, several neighbors have said how attractive this Altima is. However, the look doesn't go far enough. We think the VC Turbo Altima is more rewarding to drive than the new Camry, but we have to admit that the Camry is more attractive, with a more dramatic design inside and out.
Pro Pilot Assist is great on long trips and traffic-jammed commutes — we just wish we could take our hands off the wheel for a few extra seconds before getting a warning.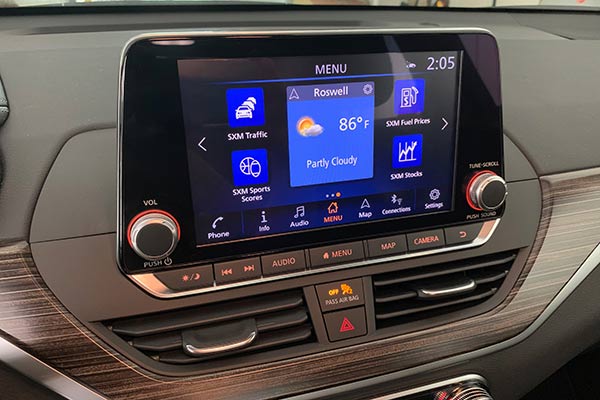 We also think the Altima's seats are incredibly comfortable. A few of our team members have been behind the wheel for hours at a time and we've never had to stop to stretch our legs. Find a Nissan Altima for sale
---
Ownership Update – 1/22/20
by Tommy Flanagan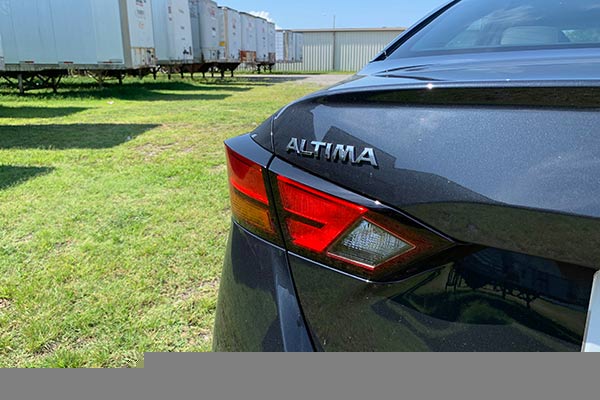 For my yearly road trip home for Christmas, I was given the keys to our long-term 2019 Nissan Altima. I've driven it around Atlanta a couple times but haven't had a chance to put it through its paces on a long road trip. After packing up the trunk with enough gear to last a week and several Christmas presents, I hit the road before daybreak on a rainy Sunday to beat the holiday traffic rush.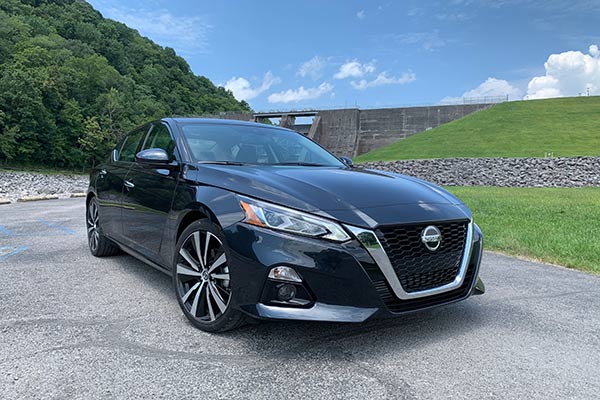 Road Manners
One of the things I find hard to do without on a long road trip is adaptive cruise control. Our Altima comes standard with Nissan's ProPilot and intelligent cruise control systems. This system takes adaptive cruise control to another level by combining a lane-keeping system to help you stay centered in your lane. It works well for the most part, but in some tight curves, I found the system needed a nudge of the steering wheel to stay centered.
Our 2019 Nissan Altima Platinum features a 2.0-liter variable compression turbo 4-cylinder engine with a CVT transmission. It's quite spirited with 236 horsepower and 267 lb.-ft. of torque when filling up on regular gasoline. And speaking of gasoline, I averaged a surprising 37.6 miles per gallon in the Altima. This is far better than the Environmental Protection Agency's 34 mpg highway rating. Even though most of my driving was on the interstate and four-lane highways, I was surprised to get this high of an mpg rating from the Altima.
Even without all-wheel drive, the Altima held its own during all the downpours I experienced on the way home. The 19-in wheels with 19-in all-season tires provided plenty of grip and felt pretty surefooted on the waterlogged roads.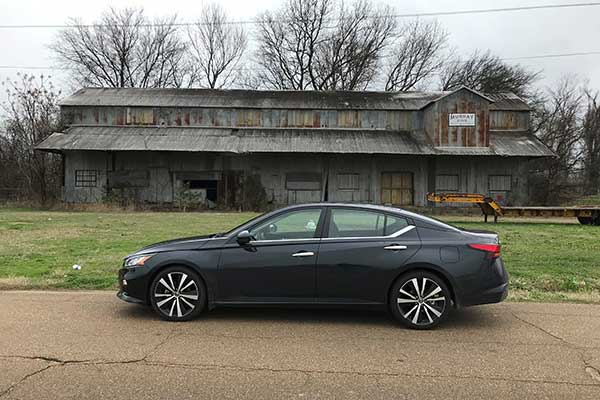 Great Interior
As much as I like the all-new Altima's exterior styling, it's the Altima's interior that most impresses me. I now see what all the fuss is about with Nissan's Zero Gravity seats. They're extremely comfortable and feature 8-way adjustability with driver seat power lumbar support. Even during the long drive, my back didn't feel bunched up and my legs never felt tired. Exterior visibility is good thanks to the low beltline, though rear visibility is somewhat hampered due to the high rear decklid. Also, audio, navigation and HVAC controls are within easy reach of the driver.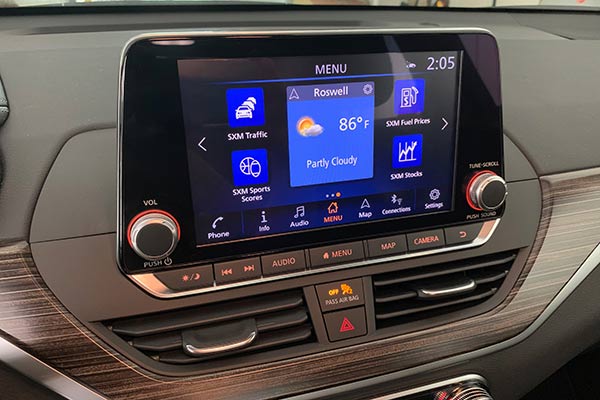 A Few Woes
There have been a few bumps in the road with our Nissan Altima. Before starting my trip, the Altima had to be taken to the local dealer to replace a broken seat track. Also, while at the dealership, the mechanic discovered a leaky radiator hose and waiting for the replacement hose added an extra day in the shop. Another annoyance during the trip was Apple CarPlay connectivity issues. At times, I had to unplug and reconnect the phone cable multiple times to get the system to activate. In addition, road noise is also quite noticeable at highway speeds on rougher roadways.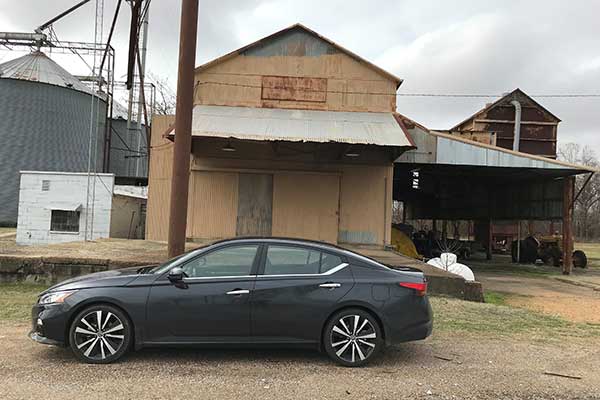 The Verdict
All in all, I would say our long-term 2019 Nissan Altima Ultimate is a pretty solid performer. With Apple CarPlay, forward collision warning and Easy-Fill Tire Alert standard, it offers several amenities that its competition doesn't or charges extra for. I didn't expect to like the Altima this much, so now I'm grabbing the keys every chance I get for my everyday commute. Find a Nissan Altima for sale
---
Ownership Update – 2/19/20
by Brian Moody
The freshly redesigned Nissan Altima is one of those cars that does most everything really well but doesn't particularly stand out in parking lot. I like the car quite a bit and am consistently impressed by the variable compression turbo's performance. It's a 2.0-liter engine that makes 236 hp which is impressive for the size. However, the fuel economy is really good too. On a recent road trip, we got nearly 38 miles per gallon which is 3+ mpg better than the EPA estimate. For the Altima 2.0 turbo, the EPA estimate is 25 mpg city/34 mpg highway. That's a really good city number and an OK highway estimate. However, this is the performance option within the Altima model line. There is another (less expensive) engine choice, which is a non-turbo 2.5-liter engine with an EPA highway estimate of 39 mpg. Depending on your driving style, more than 40 mpg is a reasonable expectation. The truth is, it's the turbocharged 2.0-liter engine that gives the Altima real personality. It's quick and fun without being overwhelming. Find a Nissan Altima for sale