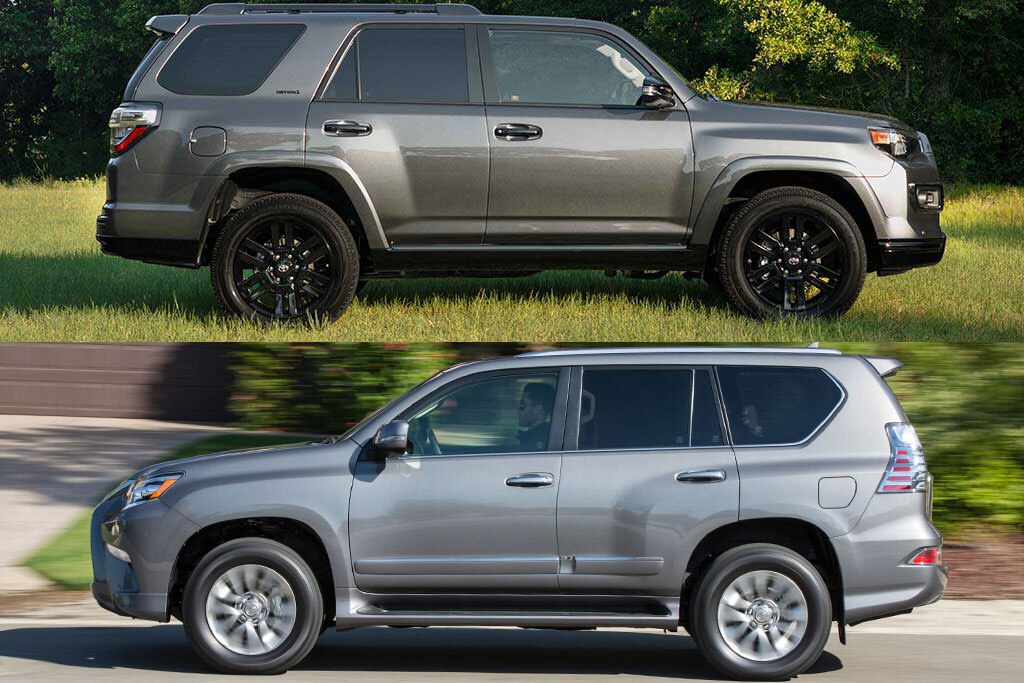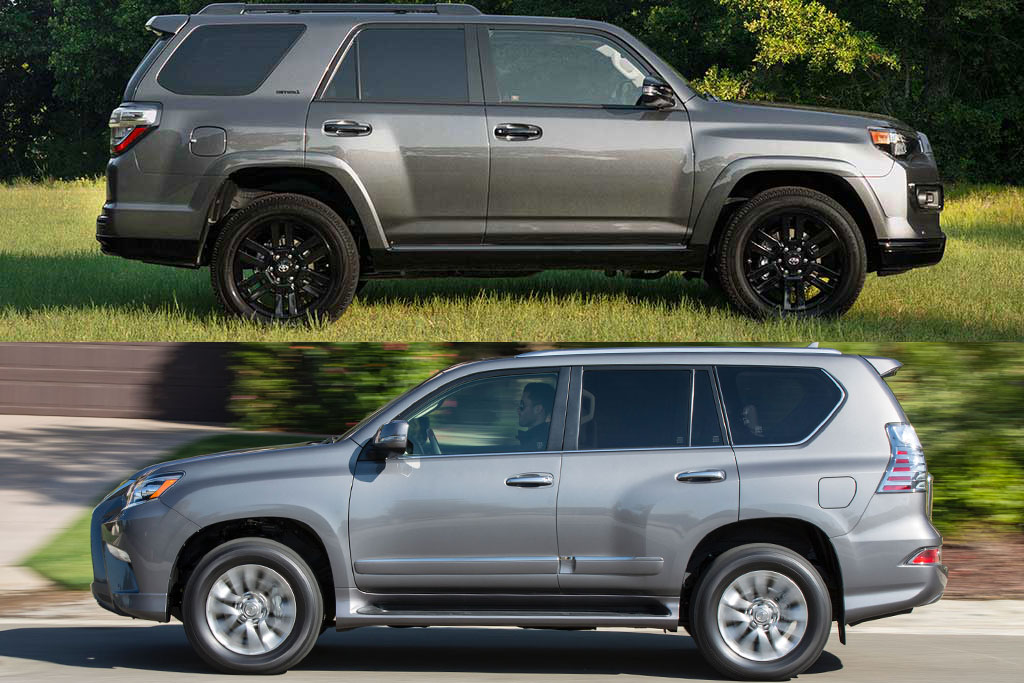 2020 Toyota 4Runner and Lexus GX 460 are old-school body-on-frame SUVs built by Toyota
Either vehicle comes with great capability and a number of off-road features.
Both vehicles have been on sale since the 2010 model year without a redesign.
While you may not realize it, the Toyota 4Runner and Lexus GX 460 are arguably more alike than they are different. Both are rugged, body-on-frame SUVs with serious off-road capability, made possible by their favorable approach and departure angles, solid rear axles and myriad driver selectable off-road features. The Lexus GX isn't just a luxury version of the 4Runner, though. It's actually a Lexus version of the Toyota Land Cruiser Prado, a vehicle similar to the 4Runner but sold in markets outside of North America. Either way, in the areas that count, the 4Runner and GX fill a similar role in the modern SUV landscape, albeit the 4Runner is more mainstream, while the GX competes in the luxury space. Below, we'll compare and contrast the 4Runner and GX in a number of areas to help give you a better idea of how they match up.
Exterior
Both of these vehicles are rugged and old-school in their demeanors, and this is evident in their respective exterior designs. Both have tall greenhouses with squared-off front and rear ends. That said, the GX 460 has significantly more body cladding than the 4Runner, which serves to neuter it to a degree when it comes to off-road geometry. Its front fascia hangs down low, its running boards are integrated into the rocker panels and therefore aren't removable and low-hanging aero bits front and rear seem out of place for a vehicle whose main selling point is off-road capability. The 4Runner, on the other hand, keeps all of its bodywork tucked up high. It isn't nearly as easy to damage a 4Runner off-road as it is a GX 460. We hope Lexus rectifies this strange design blunder on the next-generation GX, which should debut in the next year or so.
One of the 4Runner's coolest features is its power retractable rear window. The glass in the 4Runner's hatch rolls down just like each of its side windows, which is great for accessing the cargo area without opening the actual hatch or for just airing out the cabin on a hot day. See the 2020 Toyota 4Runner models for sale near you
Something unique to the GX is its side-hinged rear door. Given that it's based on the Toyota Land Cruiser Prado, a vehicle designed for both right- and left-hand drive use, not only is the door awkward to use, but it's hinged on the passenger side, making it very difficult to unload items when parallel parked. Altogether, there are far more drawbacks to the GX's rear door design than there are benefits. Luckily, the glass in the GX's rear door can open independently of the door itself, making it easy to load and unload small items, although the 4Runner's retractable rear window is still more functional. See the 2020 Lexus GX models for sale near you
Interior
As they are on the outside, both the 4Runner and Lexus GX 460 are pretty utilitarian on the inside. Given that it's a more mainstream offering, the 4Runner's interior is dominated by black and silver plastic, while the GX incorporates leather and wood. Both vehicles come with an old-school mechanical gear lever and a center infotainment screen, although the 4Runner's is far more modern than that on the GX. In terms of seating capacity, the 4Runner offers room for up to five passengers on most trims, although SR5 and Limited models can be optioned with a small third-row seat that increases seating capacity to seven, at least in theory. The GX's third row is standard, and seating capacity is either seven or six if you opt for second-row captain's chairs. Leather is optional on the 4Runner starting with its middle trims and standard on the GX. With their second-row seats in place, the GX and 4Runner both offer about 47 cu ft. of cargo volume. Fold their second rows, though, and the 4Runner's space swells to about 89 cu ft., while the GX's grows to only 65 cu ft.
Mechanical
Every 2020 Toyota 4Runner comes powered by a 4.0-liter V6 engine making 270 horsepower and 278 lb-ft of torque and mated to a very old 5-speed automatic transmission. Fuel economy for 4-wheel drive 4Runners is an underwhelming 17 miles per gallon in the city, 20 mpg on the highway and 18 mpg combined. The 4Runner is rated to tow up to 5,000 pounds.
The Lexus GX 460 uses a very inefficient 4.6-liter V8 that makes just 301 hp and 329 lb-ft of torque. This is paired to a 6-speed automatic transmission — better than the 4Runner's 5-speed but still years behind the competition, which has mostly moved to eight gears or more. Fuel economy for the GX is even worse than the 4Runner, with every 2020 Lexus GX 460 rated at just 15 mpg city/18 mpg hwy/16 mpg combined. The GX 460's towing capacity is 6,500 pounds.
While the GX's 4.6-liter V8 is neither powerful nor efficient, it'll likely last for a couple of hundred thousand miles before it needs major mechanical attention. The same can also be said for the 4Runner's V6.
Features & Technology
Neither of these vehicles is exactly loaded with features. Perhaps surprisingly, the 4Runner's infotainment system, which is all-new for 2020, is lightyears ahead of the dated unit in the GX. Think iPhone 9 vs. Blackberry Storm. The 4Runner comes standard with an 8-in screen running an updated version of Toyota's infotainment software but also offering Android Auto and Apple CarPlay capability. The GX uses an 8-in touchscreen as well, but it's a much lower resolution than the newer unit found in the 4Runner, projects only dull and muted colors and is slow to respond to inputs. It doesn't offer Android Auto or Apple CarPlay. You haven't read this wrong — this is a very strange instance where the luxury vehicle offers a much lower-tech experience than its mainstream counterpart.
In terms of off-road capability, both of these vehicles offer loads of technology and other cool features that'll get you as far from civilization as possible. In its two off-road trims, the TRD Off-Road and TRD Pro, the 4Runner comes with driver-selectable 4-wheel drive activated by an old-school lever, a locking rear differential, Toyota's Active Traction Control system and Toyota's Multi-Terrain Select and Crawl Control systems. Additionally, the 4Runner TRD Off-Road is available with Toyota's clever Kinetic Dynamic Suspension System, better known as KDSS, which automatically adjusts sway bar stiffness depending on whether you're driving on- or off-road. The 4Runner TRD Pro strangely lacks KDSS but makes up for this to a degree by offering Fox internal-bypass shock absorbers, an aluminum front skid plate, mild all-terrain tires, black wheels, a sport exhaust and a unique roof rack.
The Lexus GX presents its off-road features in what Toyota likely views as a more sophisticated package, but in reality it makes the vehicle a little awkward, given that its bodywork cancels out the benefits of some of these features. The GX comes with full-time 4-wheel drive. This is a little different than the part-time system in the 4Runner TRD Off-Road and TRD Pro. The GX comes with a locking center differential (not quite as functional as the 4Runner's locking rear diff), Multi-Terrain Select and Crawl Control, KDSS and a hill assist feature. There's also an optional air suspension, but it's only for the rear wheels. This means it'll raise up the rear, which improves breakover and departure angles, but if we know anything about geometry, we know this comes at the expense of approach angle. The main benefit of the rear air suspension is that the vehicle will automatically level itself out when towing. Finally, the GX has a trail camera feature that'll show you what's underneath the front of the vehicle, although it uses such low-resolution cameras that it's not as helpful as it could be.
Pricing
The price of a base-model 2020 Toyota 4Runner SR5 comes in at $37,240, while a loaded TRD Pro model has an MSRP of $50,985, factoring in destination fees. The 2020 Lexus GX starts at just over $54,000 and tops out at about $72,000 in fully-loaded form, again factoring in those unavoidable extra fees.
Conclusions
Both of these vehicles are pretty old by modern standards. They use underpowered engines paired with old transmissions and return regrettable fuel economy. But thanks to some smart updates over the years in the areas that count, the 4Runner is still a fun, exciting off-roader, while the GX just feels overpriced and overdue for a redesign. Don't get us wrong: The GX is still one of the most unique vehicles on sale today and offers a genuine luxury car experience with high-quality interior materials and a comfortable, refined ride. But with an obsolete infotainment system, especially bad fuel economy and awkward features, it's just hard to find the value in the GX 460 when compared to the alternatives. The 4Runner has flaws of its own, for sure, but it remains in large part the fun and capable SUV it's always been. Either way, it shouldn't be left unsaid that both of these vehicles will offer world-leading reliability, which in large part is where their value comes from. Find a Toyota 4Runner for sale or Find a Lexus GX for sale