If you're interested in buying a car, you've probably heard that it's best to focus on the total price of a car first, and then worry about the payment.
But why is this? Why not focus on the amount you're going to pay every month? It's a good question, and we have the answer.
Use Monthly Payments to Your Advantage
Traditional auto-buying wisdom says to focus on a total price first rather than a monthly payment because a monthly payment can become problematic if the dealer learns your budget.
For example, if you want to keep your new car payment to $400 per month, the dealer might easily get your payments within your budget. But to do so, they may have to spread out the payments over a long term, such as 72 or 84 months. The result is that the car will be a lot more expensive in the end.
In the example we've given, a car payment of $400 per month for five years (60 months) equates to $24,000. But the same $400 per month spread out over six years (72 months) is $28,800, while it's $33,600 over seven years (84 months). If you solely focus on payment, these might all seem like the same $400 per month, but if you focus on the sum of all those payments, you'll see that there are significant differences between these figures.
Still, a car payment is a critical consideration for most shoppers interested in buying a vehicle due to budget needs or constraints.
You can find out what your budget is by using our MyWallet tool found on the dollar sign icon in the upper right-hand corner of the Autotrader website.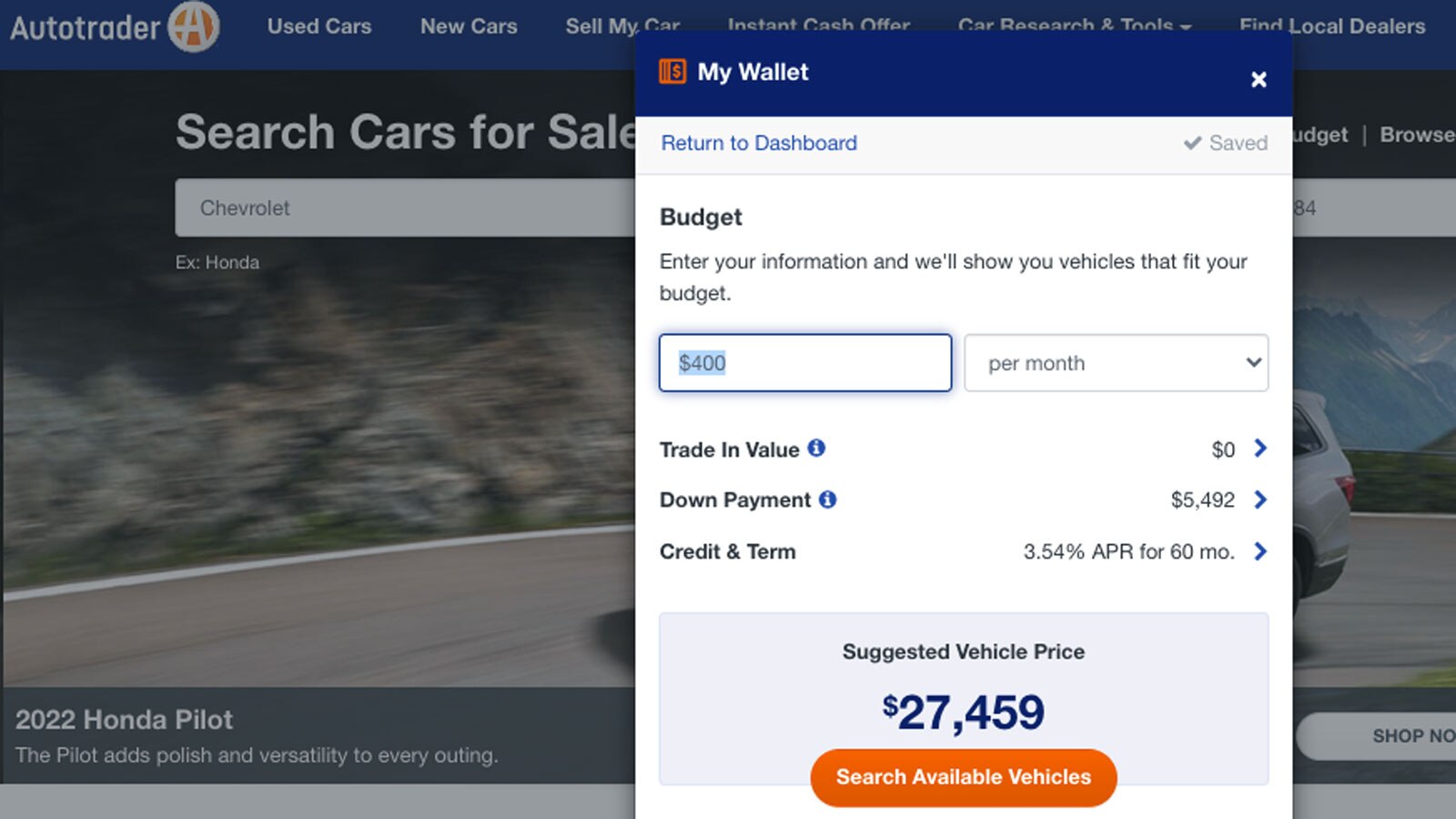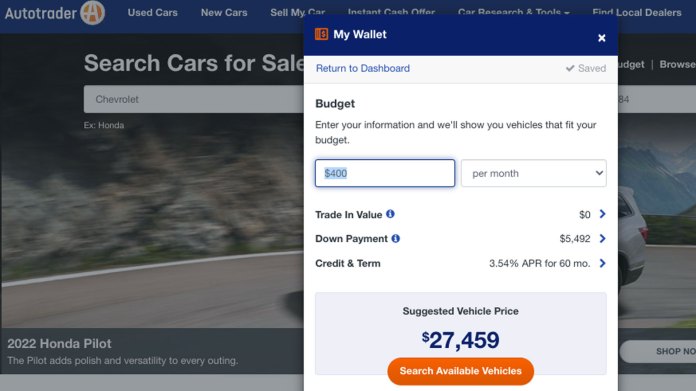 Using the tool, you can plug in your monthly budget for a car and add your car trade-in value, if applicable. Then, add your down payment amount and credit terms, or let the tool find loans for you based on your credit score range.
The tool provides a suggested vehicle price to you and then you can search and shop available vehicles in your price range.
That way, your vehicle search starts within your budget and you can locate cars you can afford while filtering results by new and/or used, body style, fuel type, and more.
Remember, when you shop this way, you're in the driver's seat.
Focus on the Total Price, Too
At the dealership, just remember that the dealer can increase the loan term to make a car's monthly payment fit into your budget. But there's no way to do that with the total price. Since the total price is final, there aren't any tricks to make it seem lower than its actual cost.
So remember, do your homework first. Determine the total price you can afford by plugging in your parameters to determine a monthly payment that you can afford using the payment terms you want at a pre-determined interest rate you want to shop for at the dealership.
That way, you'll pay exactly what you want to spend, or less. And you'll be in charge, not the dealer.
Related Car Financing Articles
Editor's Note: This article has been updated for accuracy since it was originally published.