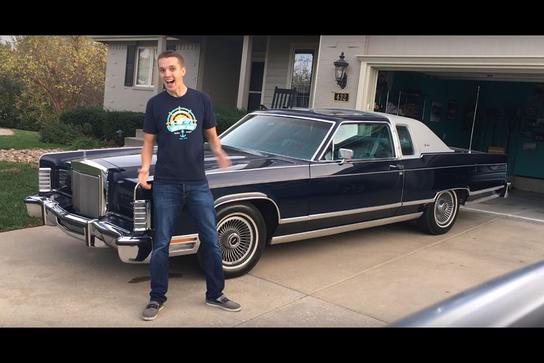 Ahoy, Oversteer! I've always been a lover of land yachts. Part of the reason is my geographic location. I live in the Kansas flatlands, where all the roads are straight. There's no jagged coastline or mountain passes with scenic winding curves, where a tight-handling sports car would be the ideal choice. Just endless amounts of rolling prairie farmland. The only roadside entertainment where I live is when the cows look up at you as you drive past.
(EDITOR'S NOTE: This post and the accompanying video were submitted by Tyler Hoover of Wichita, Kansas, who has a (growing) fleet of bizarre automobiles. We look forward to more from him in the future.)
When I travel across the Midwest, my only concern is comfort. Namely, I want to feel like I'm in a rolling living room. No other car comes closer to this reality than my 1978 Lincoln Continental Town Coupe. Many people think a car this massive would be challenging to drive -- but really, it's easier to operate than a Prius.
At nearly 20 feet long, my '78 Lincoln is one of the longest coupes ever made. In order for it to fit in my standard-sized garage, I literally have to ram it into the wall. It's roughly the same length of two FIAT 500s or 1.7 Mazda Miatas. It's longer than my full-size, crew-cab GMC pickup. Consider that for a second.
My Lincoln is equipped with what was the largest engine put in a production car at the time, a 460-cubic-inch V8 (or in today's terms, 7.5 liters). You'd think an engine this large would be incredibly powerful -- but unfortunately, 1978 was at the height of what's known as the Malaise era. Government regulations on pollution meant American car companies were forced to choke down their engines with performance-inhibiting equipment to meet emissions standards. And since the Big Three either didn't know how or didn't care to build powerful engines that were also efficient, the 460-cubic-inch V8 in my Lincoln puts out a laughable 210 horsepower.
With the car's massive weight, choked engine and 3-speed automatic, I'm lucky to see my fuel economy creep out of the single digits. This means even with my 25-gallon fuel tank, I have to stop for gas approximately every 5 minutes.
When I pilot my land yacht, people always stare. Watching a car the size of an aircraft carrier float by is not a common sight these days. One of the most frequent questions I get from people is whether a car this large is difficult to drive. Surprisingly, however, the answer is no. Lincoln built these cars to be driven easily by little old ladies -- and in fact, they're actually better to drive than modern cars in many ways.
The first massive advantage over modern cars is the comfort level. The pillow-top seats do a fantastic impersonation of a memory-foam mattress, putting your dad's La-Z-Boy to shame. The column-mounted shifter and lack of a center console means you can set the cruise control, kick off your shoes, stretch your legs and dig your feet into the satisfying shag carpet.
As for the ride quality, here's my take: While the suspension in modern luxury cars is always struggling with the compromise between comfort and performance, there's absolutely no compromise with the '70s Continentals. Performance was never a consideration. The only engineers at Lincoln who heard of the Nuerburgring were the ones who dropped bombs on it during World War II.
Modern air-ride or magnetic-control suspension systems still can't touch the insulating ride quality of the '78 Lincoln. I could run over an elephant and not feel the slightest disturbance. That effortless sensation in the ride also translates to the steering.
Of course, the steering is vague and mushy, but a newborn baby is strong enough to turn the wheel. The power steering is so overassisted that you can drive all day long using only your pinky. I bet the old man who sold vacuums on TV by lifting them with his pinky drove an old Lincoln.
Other than being extremely comfortable and easy to drive, old people also love these cars because of their simplicity. There's no IDrive system or Microsoft Sync to fumble with. No electronic nanny telling you how to drive. It's equipped with the bare minimum of buttons and gauges that are absolutely needed to operate the car.
And it's all intuitive, meaning everything is easy to understand and operate. Modern cars are getting so confusing, with hundreds of buttons and operating systems. Even the shifters in new cars are needlessly confusing. The actor who played the chief engineer on the Starship Enterprise reportedly died because the weird, techy shifter in his Jeep didn't engage in park, rolled forward and pinned him to a wall. That's insane!
With the 1978 Lincoln, you'll never mistake what gear you're in. Nobody will ever confuse the climate-control fan speed for the radio volume and inadvertently blast the Carpenters for all the world to hear. This car was built when technology wasn't synonymous with luxury.
Instead, luxury in the 1970s meant fine Corinthian Nauga leather, opera windows and landau tops. You laugh at this style today just like you laugh at ruffled tuxedo shirts and leisure suits, but at least it was a style. Many modern luxury cars are so bland that you can't tell the difference between them. With a few exceptions, you don't see many styling risks taking place -- and the automotive designers that do take risks are often ridiculed.
The acres of chrome styling makes driving land yachts easier as well. Despite the Lincoln's titanic length, the wheelbase is actually shorter because so much metal and chrome sticks out past the wheels. So with the shorter wheelbase and easy steering, parking this Brontosaurus isn't that bad. If you do get yourself into trouble, the bumpers actually do their jobs. They bump things without shattering into a thousand pieces.
So there's no reason to feel intimidated driving a land yacht. Matthew McConaughey was onto something with those crazy Lincoln commercials, when he said -- among other crazy things -- "Sometimes, you gotta go back to move forward."