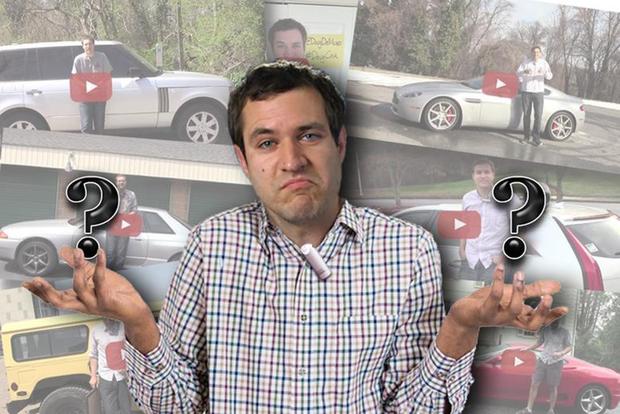 Ladies and gentlemen of Oversteer, the time has come: It's time to choose the next DougCar. For those of you who aren't up on your Oversteer lingo, that's the next car that I, Doug DeMuro, will drive, and shoot videos with, and write articles about. This car will be a big portion of your life. So now you have to recommend it.
Before I get started with the parameters for this year's DougCar suggest-a-thon, I'm going to provide a little background. The first DougCar I ever bought was a Cadillac CTS-V Wagon, back in June 2013, and I drove it across the country and back. Then I had a Ferrari 360 Modena (I strapped a television to the roof), an AM General Hummer (I used it to crush a Chrysler PT Cruiser), a Nissan Skyline GT-R (I drove it backwards through a drive-thru), an Aston Martin V8 Vantage (I drove it flat-out on the Bonneville Salt Flats) and a Dodge Viper (I taught my friend to drive stick shift in it). So it's been a good run.
Each time, I've solicited your recommendations -- and each time, I've followed what you told me. The first time, I went way over budget, but ever since then I've bought a car that was among your top 20 suggestions -- and on two occasions, I bought your number one suggestion (Dodge Viper and Nissan Skyline GT-R).
And now it's time for DougCar Number 7. So here are the rules.
RULE NUMBER 1: WHERE TO SUBMIT SUGGESTIONS
RIGHT HERE! Although I will accept suggestions on YouTube, and on Twitter (using the hashtag #DougCar), and on Facebook, and on Instagram, and on Reddit, I prefer the suggestions to come right here in the Oversteer comments. While I can't promise I will read every single suggestion on the other mediums, I guarantee I will read every single Oversteer suggestion and put them into my giant "Here are all the cars you recommended" spreadsheet. Then, in a couple of weeks, I'll total it all up, and I'll give you the details on all the cars you told me to buy. Then I'll go buy one of them.
Now, since this has caused some confusion before, here's a little clarity: Even if you see someone else has suggested the car you wanted to suggest, suggest it anyway! I will not accept posts with three "thumbs ups" as three total suggestions. Instead, make the suggestion yourself so that I can go through and total up every single post.
RULE NUMBER 2: THE BUDGET
As usual in the DougCar suggest-a-thon, the budget doesn't quite matter as much as the depreciation. While I'd like to keep the car around $70,000 or less, the most important thing is that the car you suggest WON'T LOSE VALUE in the year I have it. So, for example, I'd rather go over budget on an $80,000 vehicle that isn't going to depreciate than buy some brand-new SUV with ventilated seats and lose $15,000 in depreciation the first year alone.
Now, obviously, virtually all cars lose value -- so you don't have to find something that's literally going to remain even, or perhaps go upwards. But you absolutely must recommend a car that isn't going to get destroyed with depreciation. This generally means that you shouldn't suggest a new car, unless you find something that's reeeeeallllly going to hold its value.
RULE NUMBER 3: THE CAR
And finally, we come to the most important part: the vehicle itself.
Here's the situation, folks: The next DougCar is going to be an SUV or a pickup truck. Yes, that's right: an SUV or a pickup truck. Let me repeat myself so I'm sure you understand. You should suggest an SUV or a pickup truck. You should suggest an SUV or a pickup truck. You should suggest an SUV or a pickup truck. You should suggest an SUV or a pickup truck. You should suggest an SUV or a pickup truck. You should suggest an SUV or a pickup truck.
Just to be clear, I will tally up all of your suggestions, regardless of what vehicles you tell me to buy. But I'm not going to buy a sports car or a sedan. I've had three sports cars in a row, and I'm still going to be keeping the Viper for several more months -- so there are more sports-car antics to come. Meanwhile, I've only had one SUV or truck, and SUVs and trucks seem to be hot right now -- so the next DougCar is going to be one of those.