When it finally snuffs out the Spark subcompact later this year, Chevrolet will close Detroit's last door on subcompact hatchbacks.
That's a shame. The diminutive Spark can be a fun, practical cruiser, and it is one of the cheapest new cars. Skip all the optional extras, and a buyer can locate a 2022 Spark with a manufacturer's suggested retail price (MSRP) of $14,595. While not precisely lavish, the base Spark LS comes with air conditioning, a 7.0-inch touchscreen with Apple CarPlay and Android Auto, a Wi-Fi hotspot, and two USB ports. For basic commuting, the sub-$15,000 Spark checks a lot of boxes — and it comes with a three-year, 36,000-mile warranty.
Even in today's wild used-car market, the most expensive Spark currently listed on Autotrader is less than $25,000. That, of course, is more than the original MSRP since a new Spark with every factory option doesn't top $20,000. Such is the market these days.
The discontinuation leaves Chevrolet with just one conventional passenger car, the mid-size Malibu. But its days are also likely numbered.
The Rise and Fall of the Bowtie Brand's Entry-Level Offerings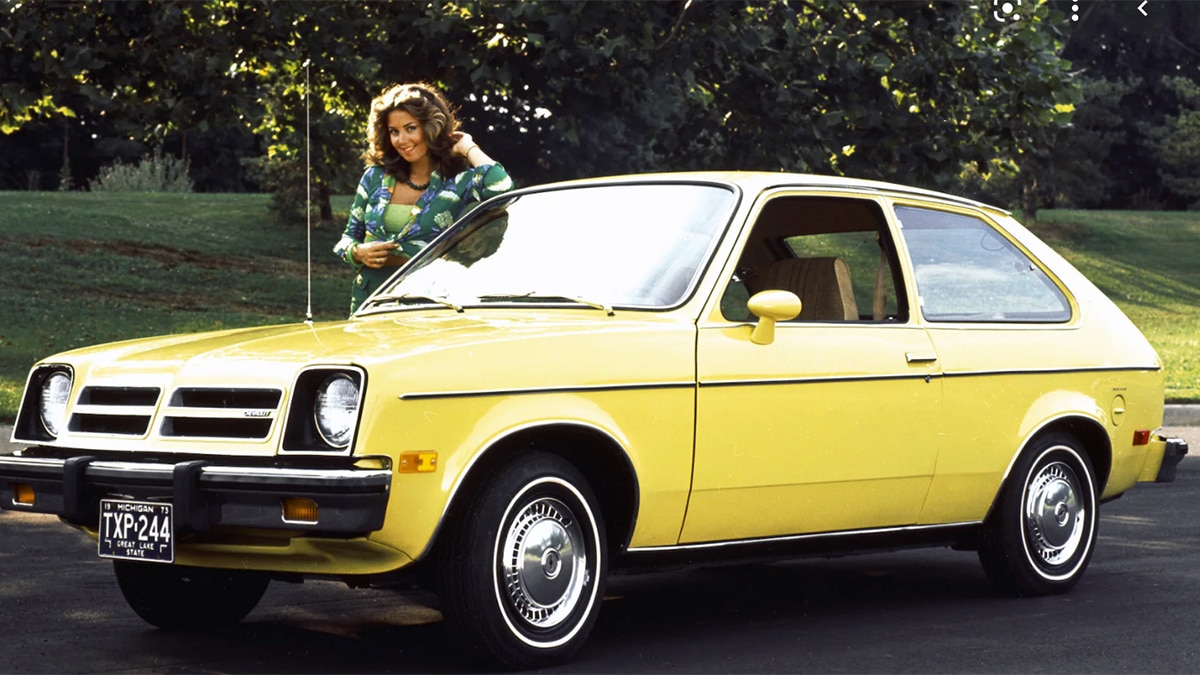 When the Spark goes, Chevy will exit the sub-$20,000 market entirely as it calls it quits on small cars.
In 1975, Chevrolet responded to the gas crisis with its first subcompact model, a rear-wheel-drive hatchback called "Chevette." Measuring 163 inches long, the Chevette was tiny by mid-1970s Detroit standards but still two feet longer than a Volkswagen Beetle. Chevy designed it explicitly to meet looming federal fuel-economy standards, and it wound up being a modest success that lasted well into the 1980s.
Stabilizing fuel prices in the 1980s meant a shift back to larger cars, so General Motors (GM) turned to its global partners for future small-car efforts. The Suzuki-designed Chevrolet Sprint replaced the Chevette, and the Sprint later evolved into the Geo Metro when that import-battling brand arrived at the dawn of the 1990s. Geo got off to a good start but never fully succeeded in luring its buyers into larger Chevy models. GM axed the brand after 1997, and the Metro became a Chevy.
Amazingly, the 1990-2001 Geo and Chevrolet Metro models have a cult following today. They weigh almost nothing and get fantastic fuel economy. While not fun in a conventional sense, these 45-mpg-plus hatchbacks are darlings of the hypermiling set.
In 2001, GM fully acquired the assets of Korean automaker Daewoo, which under various names had worked with the Detroit giant since the Korean War. GM tasked the division, eventually renamed "GM Korea," with designing small cars offered mainly to emerging markets and hatchback-friendly Western Europe.
By 2004, Chevrolet was back in the bite-size car market with a model that once again felt nothing like its Detroit brethren. The Chevy Aveo was, of course, designed by Daewoo, and its GM bits extended to little more than bowtie badges on its grille and steering wheel. Even its radio and climate controls were foreign bits not shared with other Chevy models.
Starting at about $10,000, the Aveo was cheap but not exceptionally cheerful. It was, however, a good model for the times as the world free-fell into recession in 2008. Around then, GM slapped Pontiac G3 badges on some Aveo models at the factory and earmarked them for that brand's dealers. Badge engineering was still very much a thing less than 15 years ago.
Out of nowhere, though, the Aveo's replacement arrived with a much-deserved new name. The 2012 Chevrolet Sonic had crisp styling with exposed headlight rings and a version of the two-tier grille fascia seen on other Chevy cars. Its rollerskate-like profile was fresh and modern, and its interior had enough design themes to link it to its siblings.
The Idea of a Spark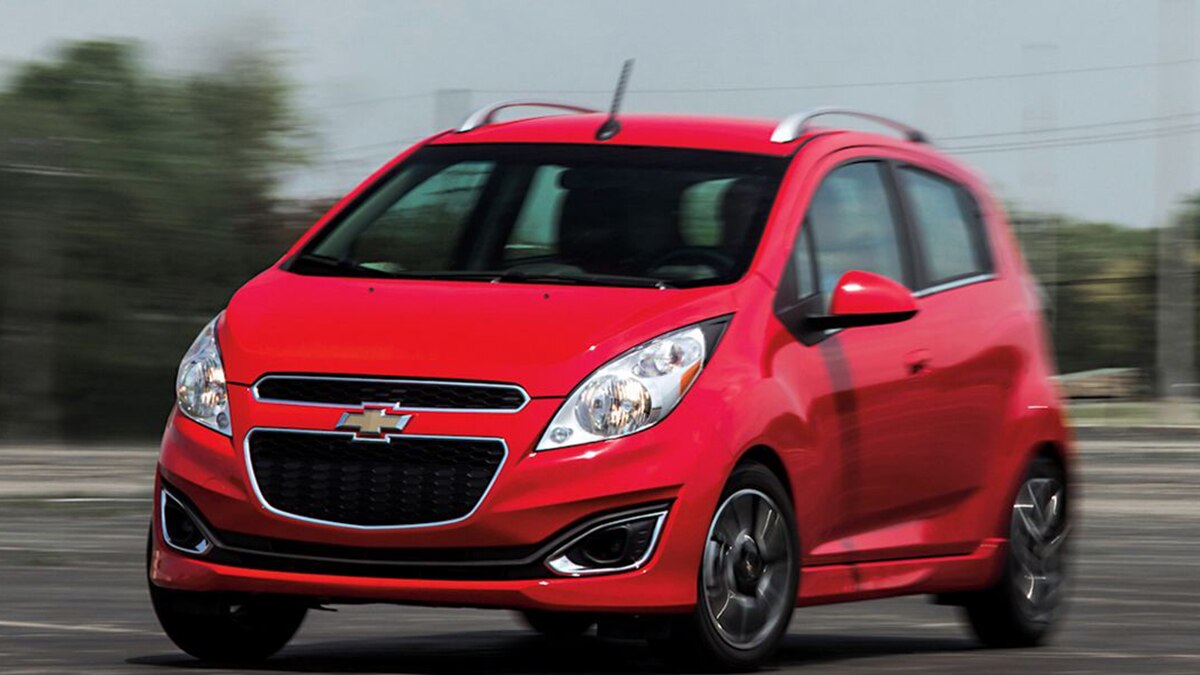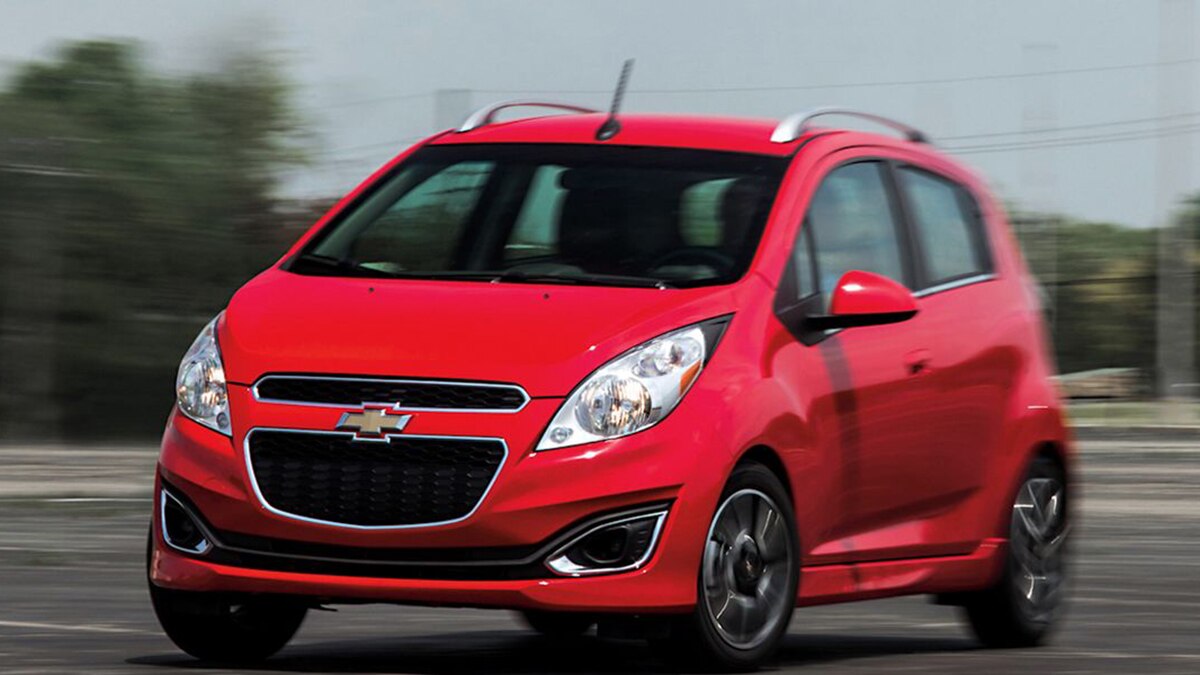 The Sonic grew up, at least a little bit, which opened room for a new, even smaller model: the Spark. Arriving for 2013, the inaugural Spark was a bit dated by the time it went on sale for about $12,000. Still, it was fun and playful thanks to innovations like a motorcycle-style floating digital instrument cluster and an optional (now standard) touchscreen featuring wild-for-the-times smartphone integration. Before Apple CarPlay and Android Auto were a thing, Chevy let users pair their phones for various apps, including an on-screen navigation system — the kind of thing people paid big money to add to far costlier cars.
An electric version arrived for 2014, boasting an 82-mile range on a full charge and a quick 7.5-second 0-60 mph sprint, according to contemporary reviewers. While those figures pale compared to today's EVs with triple or quadruple that range and better acceleration, the Spark EV bested the 2014 Nissan Leaf.
Chevrolet redesigned the Spark again for 2015, jettisoning the electric version in favor of the Bolt EV. That's not to say that Chevy relegated the new Spark to a dusty corner of showrooms, though. The new subcompact came with an impressive 10 airbags, Bluetooth, and a touchscreen now integrating Apple CarPlay and Android Auto compatibility. The 2019 model-year facelift added the SUV-looking (but not performing) Activ trim level, plus optional automatic emergency braking.
For its final year, the Spark carries over with no notable changes. When Chevy builds the last one bound for the U.S. later this year, it will leave a vacuum for budget-car shoppers — unless the $16,000-ish Mitsubishi Mirage floats your boat. (And let's hope it doesn't.)
Even though Chevy sold about 3,000 more Spark hatchbacks than Camaro coupes last year, the profit margins on its cheapest model must be tiny enough to spell its demise. It may not have been a headline-grabber, but the Spark is one subcompact that we'll miss. See Chevrolet Spark models for sale
Related Articles: