How to Make the Best Used Car Ad
Spend a little more time now, and a lot less time later.
How to take and upload photos of your car
You've taken good photos of your car that you are listing for sale on Autotrader, but you're having trouble uploading your vehicle photos. This video will provide tips on taking good photos when selling your car and give step by step directions on how to your car photos. Ads with photos typically get twice the response of ads without.
If you've gathered all the information you need to create your ad, you're ready to learn how to make your ad stand out from the crowd and get potential buyers to come out for a test drive. This guide takes you step by step through the ad creation process.
Choosing Your Ad
The first decision you'll need to make is which ad package to select. Your choices vary by market, but one of the biggest deciding factors is how long you'd like your ad to run.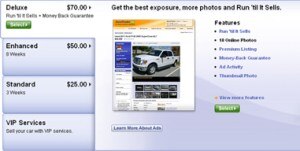 If you'd like top dollar for your vehicle, or you're concerned your car might not be in high demand, you may want to choose a "Run 'til It Sells" ad, which ensures you won't have to buy a new ad if your car doesn't sell right away. On the other hand, if you expect to get an average price for your car and you're fairly confident of a quick sale, you may want to consider running your ad for less time.
Make sure you also look at the details of what's included in your ad package. Higher priced ads usually include additional features that help your ad stand out, as well as extra run time.
Your Ad Details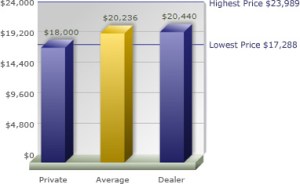 You're only required to enter your car's year, make, model, mileage, price and body style. If you haven't already used our car values page, you may want to do that now.
If you have a few extra minutes, we highly recommend entering as much information about your car as possible. Taking 20 minutes to create a better ad now often means you won't have to answer as many questions later.
"I think if you know the trim of your vehicle, include it because that also makes a difference in the value," says Keely Funkhouser, Autotrader.com Selling Adviser. Trim is a package of exterior and interior options that a car manufacturer adds to a model.
Entering more details about your car may also give you more qualified leads. Your car will have a better chance of matching buyer's searches. Be sure to check off all features of your car.
Once you've created your ad, you can always come back later to edit it.
Writing Your Ad Comments
This is where you get to focus on your car's unique selling points and remember why you bought the car in the first place. A few guidelines to keep in mind:
Use our helpful selling points.When you create your ad, we have common selling points listed for you on the Ad Details page. Simply click on the phrase that matches your car and select "add".
Explain why you're selling the car.This is one of the most common buyer questions, so be sure to answer this in your ad. "Why you're selling is a good way to start your ad description. That's one of the first things people ask you when they call, and it tells people potentially what condition the vehicle is in," Funkhouser says.
Define forms of payment.Let people know up front what forms of payment you will only accept. Don't take personal checks, and make sure you verify certified checks or money orders with the financial institution where they were issued. To learn more about acceptable payment forms, read Fraud: Protect Yourself.
Disclose prior maintenance.A well-maintained vehicle is a sought-after vehicle. Give prospective buyers added peace of mind by letting them know you took diligent care of your car; it's even better if you have the maintenance records to back up your claim.
Disclose issues that might need fixing.Don't waste your time or a buyer's time by being evasive. Honesty can help avoid souring the deal.
Put them in the car.Creating a good ad that a buyer relates to can make the difference between a quick profitable sale and just getting rid of the car.

"We know people are usually looking for low-mileage cars that are fairly new, kept clean and have had one owner," Frazier says. "You can usually sell those cars without even thinking too hard." If any of these features describe your car, make sure you mention them.
Use proper punctuation and capitalization.Capitalizing entire words or sentences is difficult to read and makes it seem like you're YELLING at people. Using slang can also drive people away from your ad.
Show off good gas mileage.If your car gets a high number of miles per gallon (MPG), be sure to mention it. Fuel-efficient vehicles are in demand.
Mention modifications.If you've added features to your car that aren't part of its standard options, be sure to mention them in your description. For example, if you've added a new stereo, an alarm or specialty tires, you may attract buyers searching for those extras.
Give warranty information.If your car is still under warranty, the warranty is transferable and you have the paperwork, list what type of coverage your car has and for how long.

If your warranty requires a transfer fee, you may also want to mention whether you're asking the buyer to cover this or if it's included in the deal. Some manufacturers don't offer the same warranty coverage for second owners, so be sure to check your documents.
Set your negotiating terms.Be sure to mention if your price is firm. Car ads commonly use the following terms for pricing: firm, obo (or best offer), negotiable or must sell.

Example
Here's an example of a good car description for a higher mileage car that isn't in perfect condition, but is in excellent mechanical shape:

Selling to get family car – just had first child. 33 MPG and runs great. All scheduled maintenance, including regular oil changes. Maintenance records and mechanical inspection report available. Highway miles. Ice cold A/C. Non-smoker. Interior in excellent shape. Scratch on right side of car from minor fender bender. No frame damage. Perfect first car. Added snow tires in 2008. Price negotiable. Wire transfer, local cashier's check or local money order only.
Photos

Ads with photos typically get twice the response of ads without. Interior and exterior photos help buyers become familiar with the car so they develop a connection with it. You can add a single photo or up to 27, depending on the ad package you select.
To learn more about photos that will help sell your car, see how to make the best used car ad.
Be sure to post quality photos. Don't frustrate buyers with pictures that are blurry or lack detail.
"If you take a photo of the car from far away and you can't see any details, sometimes buyers come out for a test drive and think, 'I never would have come out here if I knew what this car looked like,'" Funkhouser says. "So make sure your photos are accurate and show the condition of the vehicle."
Max photo size is 10MB
Ad Enhancements
One of the best things you can do to help your car sell is to make your ad stand out. Ad enhancements vary by market, but usually your choices will include:
Graphic Tiles
These color graphics help your ad stand out on shoppers' Search Results Page. You can select from the following options: price negotiable, high performance, GPS, garage kept, high mpg, warranty or one owner.
"People see graphic tiles immediately," Frazier says. "As a buyer, if I see a list of ads, and a manufacturer warranty graphic title is on one of them, that tells me this car has something the other cars don't. That ad will get more clicks than the other ads."
Extend Your Ad
You can always keep your ad running for a few more weeks or choose a "Run 'til It Sells" ad, which ensures you won't have to buy a new ad if your car doesn't sell right away.
Listing Tier
Shoppers select Premium Ads twice as much as Featured Ads. Premium Listings are the first listings to appear in buyers' Search Results.They're also the largest listings with the biggest Thumbnail Photo and the maximum vehicle details, descriptions and seller information.
Spotlight Ad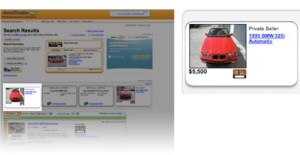 You can get twice the page views and sell up to 4 weeks faster with a Spotlight Ad. A Spotlight Ad is an extra ad that appears at the top of all shoppers' Search Results. Your vehicle is Spotlighted on a rotating basis.
"If you think your car is ordinary or you need to sell quickly, I suggest getting a Spotlight Ad," Frazier says. "Put your car up at the top of the list so people see it first."
Ad Creation Pitfalls
Now that you know what to do when you create an ad, here's what not to do:
Don't list your car for two different prices in two different places. If buyers see the price difference, they may be mistrustful of you.
Don't forget to post quality photos. "If you don't have a photo, your ad gets buried," Frazier says.
Don't overprice your car and expect it to sell the first day. "The first car I sold I priced too high and didn't get a single call," Funkhouser says. "Once I brought the price down, the phone started to ring."
Don't change your price every two days. Buyers watch ads. They may think you're not serious or your ad isn't legitimate.
Don't neglect your car's unique options, like GPS, side air bags or outstanding gas mileage.
Holly Day is a product manager at Autotrader.com.
We're here to help. Call 1-866-288-6872.