Overview
The Cadillac Escalade is big in every way: in sheer size, in style, in comfort, and in power. All-new for 2007, this latest Escalade breaks from the customized-Suburban mold of its predecessors to provide a smoother, more integrated, more sculptured look. More than anything, it looks like big money, big success, big bling.
The look is no deception. Under its imposing skin, the Escalade offers all the comfort and convenience features of a top-dollar luxury sedan, including automatic climate control, a premium Bose sound system, ultrasonic parking assist, power adjustable pedals, and heated leather seats. Navigation and DVD entertainment are available, as are a rearview camera and retractable running boards.
The Escalade is offered in three body styles: The standard Escalade is a full-size sport utility sharing the same architecture and roughly the same dimensions as the Chevy Tahoe. The Escalade ESV is a long-wheelbase version, roughly the same dimensions as the Chevy Suburban. The Escalade EXT is a sport utility/pickup combination that quickly converts from a pickup with an enclosable eight-foot bed to a five-passenger luxury SUV with a short bed; it is Cadillac's version of the Chevy Avalanche.
All three pack a high-performance, 403-hp 6.2-liter V8 mated to a six-speed automatic transmission that offers manual shift control.
Built on GM's robust full-size truck platform, the Escalade, ESV, and EXT make excellent tow vehicles. They share their platforms with the Chevy Tahoe, Suburban, and Silverado, as well as the GMC versions.
At the same time, they're roomy and luxuriously appointed, letting them haul family or friends or business associates in real comfort. The 6.2-liter V8 supplies serious power for surprisingly quick acceleration. On the road, all three Escalade versions are smooth and stable. They ride smoother than the Tahoe or Suburban; but are at the same time taut and well-controlled for surprisingly good handling by full-size SUV standards.
For 2008, both the standard Escalade and ESV come with rear-wheel drive (2WD) or optional all-wheel drive (AWD), while the EXT pickup comes with all-wheel drive as standard equipment. Late in the 2008 model year, a gas-electric hybrid version and an ultra-luxury Platinum Edition will be available. Otherwise, the 2008 Escalade is not significantly changed from last year.
Model Lineup
The Cadillac Escalade is a full-size sport utility vehicle. All models are powered by a high-output 6.2-liter V8 engine. Also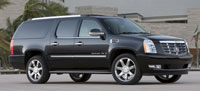 standard are a six-speed automatic transmission with manual shift control, 18-inch alloy wheels, and Autoride suspension.
The Escalade is available with rear-wheel drive ($54,740) or all-wheel drive ($57,295). Standard features include leather upholstery, leather-wrapped steering wheel with genuine wood highlights, aluminum and faux wood interior trim, Bose 5.1 Digital Surround Sound audio with AM/FM/XM/6CD, power adjustable pedals, power windows, power locks, fog lamps, remote vehicle starting, rear climate control, six-passenger seating configuration, third-row bench seat, heated first and second row seats, Ultrasonic rear park assist and heated windshield washer fluid.
The Escalade ESV is available in 2WD and AWD ($59,710). The ESV features an additional 14 inches of wheelbase and 20 more inches of overall length, greatly enhancing third-row seat legroom and cargo space. It comes with all the same standard luxuries as the shorter Escalade.
The Escalade EXT ($54,215) deletes the third-row seat in favor of a lined, lockable and enclosable pickup bed with manually folding Midgate and removable rear window. Otherwise, the EXT is equipped the same as the standard-length Escalade.
Options on all Escalade models include retractable assist steps ($1,095); a power tilt-and-slide sunroof ($995); rear-seat DVD entertainment ($1,295); engine block heater ($75); chromed 18-inch wheels ($795); and an Ultra Luxury Collection ($7,735) that combines navigation, a rearview camera, IntelliBeam headlamps, heated and cooled seats, heated steering wheel, and 22-inch wheels. On the ESV, the DVD entertainment system ($1,895) includes an additional flip-down screen for third-row passengers, plus an additional set of headphones. On the EXT, the Ultra Luxury Collection costs a little less ($7,310). Safety features on all Escalade models include anti-lock four-wheel disc brakes with EBD and Brake Assist; and an electronic stability control system called StabiliTrak with rollover sensing. Passive safety features include front seat belts with pretensioners and load-limiters, dual front air bags and side curtain air bags that span all three rows of seats. Tire pressure monitors are also standard.
Walkaround
The front end of every Escalade is dominated by a bold, egg-crate grille that's dripping with chrome trim. The grille is flanked by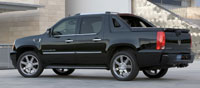 three-element, vertical headlamps that tie the vehicle more closely than ever to the rest of Cadillac's lineup. Both of those elements are set into a one-piece fascia that integrates the grille and bumper, conveying a sense of integrity and quality.
Similarly, the side-view styling is smoothly contoured, with no clunky side cladding as found on other luxury SUVs. As with the front end, there is abundant chrome, including on the door handles, the huge exterior mirrors,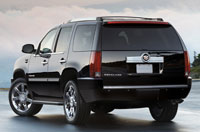 the full-length metal roof rails (which provide anchor points for accessory crossbars for securing cargo on the roof) and Venti-ports above the front wheels, which seem to be a response to the trendy elements found on Range Rovers and Jaguars.
Another clear response to market trends are the optional 22-inch chrome wheels, which visually plant the vehicle, completely filling the Escalade's huge wheelwells and making the standard 18-inch wheels look positively puny by comparison (though we prefer the 18-inch wheels).
Particularly appreciable in colder climates are the pull-type door handles that are easy to grasp, even with gloves on. They're also more comfortable, less likely to snap away from your fingers and less likely to break a fingernail.
The rear view features the nicest modern interpretation of Cadillac's classic skinny taillights, which recall the dramatic tailfins of Cadillacs of the 1960s and '70s, but are now rendered in crisp LED strips. A high-mounted, horizontal brake light with LED illumination crosses the top. But the dominant feature of the Escalade's tail is the enormous badge set within a chunky block of chrome trim.
A surprisingly low bumper height both reduces the truck look while providing easier access to the cargo area; from the ground to the cargo floor is a respectable 32.3 inches. The Class III tow hitch that comes standard is covered by a trim panel that is removable when not need, and which easily can be refitted once a trailer is detached.
Interior Features
The Escalade's interior was designed to provide luxury both in terms of space as well as features. Escalade comes standard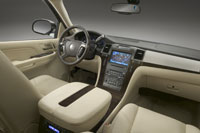 with seven-passenger seating, with second-row bucket seats separated by a center console, with a three-passenger, third-row bench behind it. The third-row bench on the standard Escalade has marginal legroom, making it suitable for adults for short trips only; kids should be fine for longer trips.
The EXT pickup is available only with a three-across bench seat in the second row, so it seats up to five people.
Escalade ESV adds nearly 10 inches of additional legroom for the third row, making it a pleasant place even for six-footers. Also, getting into the third row is easier with ESV, its longer rear door providing a larger opening when the second-row seat is folded. Though step-in is somewhat high, which is to be expected for a full-size SUV, the driving position is stellar. Escalade's streamlined, low dashboard is much more like a car-like than expected, providing easy access to controls without resorting to an imposing bank of buttons and switches. The result is a feeling of openness, with excellent outward vision to the front and side.
Interior trim is very high in quality. The mix of soft, padded materials, genuine aluminum accents, chrome details and relatively convincing faux wood combine with soft leather seats for an ambience on par with other luxury-brand SUVs in this price range. Two color schemes are offered: ebony-over-ebony, or cocoa-over-cashmere.
The Escalade's backlit gauges are clear and bright, featuring white markings and blue pointers on a black background. Between the speedometer and tachometer lies an information display that cycles through several menus via buttons on the steering wheel. The stalk controls for the turn signals and wipers have the supple, expensive feel worthy of the Cadillac name, as do the buttons and knobs on the radio and climate controls.
Escalade comes standard with a 10-speaker (eight-speaker on EXT) stereo that features a six-disc changer that plays both CDs and audio DVDs. Bose designed the speaker system, outfitting the vehicle with 5.1 surround sound, an eight-channel amplifier and a subwoofer. XM radio comes standard.
On vehicles without the navigation system, the head unit presents audio information clearly. On vehicles with the navigation system, the radio features are incorporated into the touch screen-based interface. The latter takes a bit of familiarization to operate smoothly, but offers more functionality and fine-tuning capability once you're comfortable with it all. OnStar route guidance is also included, for those times when getting directions from a live person is preferred. The navigation system is about mid-pack in terms of clarity and simplicity within its competitive set.
A rear-seat entertainment system is available, utilizing a flip-down eight-inch screen that folds down from overhead. The DVD driver itself is mounted in front, but does not play the movie in the front seats. Rear seat passengers can listen to the audio portion of their DVDs via all 10 speakers in the vehicle, the rear speakers only, or infrared wireless headsets. Order DVD entertainment in the ESV and you get a second eight-inch screen for the third seat, as well as an additional set of headphones.
The front bucket seats are quite nice: comfortable and supportive with power adjustment in many directions. Narrow-framed drivers may find the seats a touch wide, but all drivers should find plenty of elbow and shoulder room.
Leather upholstery is standard on all models, which also covers the four-spoke steering wheel with redundant controls for the audio system and cruise control. The Escalade's huge cabin benefits from triple-zone automatic climate controls: one zone for each front passenger and another tending to the rear-seating area.
In back, full-size adults can enjoy plenty of space in the second-row buckets. The EXT with the second-row bench seat offers roomy accommodations for two adults and adequate space for three. Escalade and ESV come with standard with heated front and second-row seats while EXT gets heated front seats only.
Interior storage space is abundant. The glove box is large. And the space under the armrest of the multi-level center console is absolutely huge. Additional storage is found in pockets in the doors. The Escalade has four 12-volt power points, including one near the tailgate (EXT gets three) as well as cupholders galore.
Cargo space behind the 50/50 split third row in the Escalade is on par with other luxury SUVs with three rows of seats; in other words, hauling anything but groceries will likely require the third-row seat to be folded. And while some competitors have power third-row seats that fold into the floor, the Escalade's seats can be removed altogether, giving it an edge in overall space over any other luxury SUV once they're out. Fortunately, removing the seats is not difficult at all, and carrying them is facilitated by a handle (although they are somewhat bulky and heavy once removed). Owners who tow will appreciate this combination.
Loading cargo into the Escalade isn't as bad as one might expect, thanks to its relatively low 32-inch liftover height and wide tailgate with separate opening glass. A power liftgate is standard on Escalade and ESV. Numerous tie-down hooks make securing cargo simple.
For an analysis of the EXT's cargo capabilities, refer to New Car Test Drive's review of the Chevrolet Avalanche.
Driving Impressions
On the road, the nimbleness of the Cadillac Escalade is a pleasant surprise. The steering is light and reasonably precise, a nice
compromise between the weight of the BMW X5 or Audi Q7 and the vagueness of the Lincoln Navigator. In spite of having a live-axle rear suspension (as opposed to an independent rear suspension, as found on some of the newest SUVs), the Escalade manages bumps beautifully, thanks to the road-sensing Autoride system.
The interior is remarkably quiet, enhancing the ability to hold hushed conversation as well as hear the surround-sound system without extraneous noise. Even more remarkable is the plush ride. The Escalade models we've driven were shod with the optional 22-inch wheels and low-profile tires, and we'd expected them to transfer more road vibration and harshness than they did. We haven't driven any of these vehicles with the 18-inch wheels, but expect them to offer even softer ride characteristics. Frankly, we'd order the 18-inch wheels because we think they are superior for towing and are sturdier for rugged terrain.
Handling crispness and body control are impressive, considering the Escalade's formidable mass.
All Escalades are powered by a huge 6.2-liter V8 that produces a whopping 403 horsepower and 417 pound-feet of torque. Acceleration is astonishing for such a tall, heavy vehicle. A pleasing growl is emitted when accelerating briskly; otherwise, the engine is virtually silent.
Towing is aided by this prodigious power. The various Escalade models are rated to tow trailers of 7600 to 7800 pounds; that's lower than the ratings for the Lincoln Navigator and Infiniti QX56, but GM is known to be conservative with its tow ratings, which are influenced by lawyers and marketing professionals as well as engineers.
Hitching up a trailer is made easier by the Escalade's optional rearview camera, which mounts in the liftgate to provide a view behind the vehicle when backing up. What the camera sees is projected onto the navigation screen. We highly recommend this feature because it eliminates jumping out of the truck 17 times to get the ball lined up under the trailer tongue. It's also a very useful feature when parallel parking or when backing up close to another object. It can also help the driver spot a child behind the vehicle when backing up, potentially avoiding a tragedy.
The six-speed automatic transmission shifts imperceptibly except during full-throttle acceleration. A Tow/Haul mode holds gears longer, or the driver can select gears manually via a button on the column-mounted shift lever. The multi-information display in the instrument cluster clearly displays the selected gear.
All-wheel drive is available. It's a full-time system oriented around sure-footed traction on slippery pavement, rather than creeping through boulder fields. There is no low-range, for example. It works particularly well in slushy conditions with inconsistent grip, improving handling stability and traction and helping the driver better control the vehicle. We demand it for winter weather, but it's a great aid in hard rain or on oily pavement or wet leaves or on gravel or dirt roads or in mud.
The brakes are powerful and quite responsive, more than up to the task of bringing the big truck to a halt with little drama and surprisingly little brake dive. The pedal feel was good, if not as pleasingly firm as its German competitors. ABS and electronic brake force distribution come standard for stable braking while turning or when the grip is inconsistent.
StabiliTrak electronic stability control system manages wheel slip by applying the brakes at the slipping wheel without interrupting power deliver to the wheels with grip. StabiliTrak also helps maintain stability in corners by braking individual wheels when the vehicle's path doesn't match the driver's intentions. It's a superb system.
Fuel economy is EPA-estimated at 12 miles per gallon city and 19 highway for the standard-length, 2WD Escalade, which isn't miserly but in line with competitors.
The Escalade Hybrid features GM's two-mode, gas-electric hybrid propulsion system. While conventional full-hybrid systems offer only one electric mode that is used during low-speed driving, GM has teamed with Mercedes-Benz and BMW engineers to co-develop a patented two-mode system, based on technology already in use in hundreds of GM transit buses across North America. In the first mode, for low speed and light loads, the hybrid can operate on electric power only, engine power only, or any combination of engine and electric power. When the first mode operates as electric only, fuel consumption is reduced in heavy stop-and-go traffic by shutting off the engine for extended periods of time. That's a great feature for commuters in Los Angeles, Atlanta, and other metro areas. The second mode provides an electric assist at highway speeds. It also integrates sophisticated electronic engine controls, such as Active Fuel Management, cam phasing, and late-intake valve closure to allow even more efficient engine operation. Full eight-cylinder engine power is provided when conditions demand it, such as passing, towing or climbing a steep grade.
The Generation 7 OnStar system, with a one-year Directions and Connections service plan, includes the Advanced Automatic Crash Notification system, making crash data available to emergency services so they can potentially dispatch the appropriate life-saving personnel and equipment to crash scenes faster. If the vehicle is in a crash that activates an air bag, the OnStar system automatically notifies an OnStar Advisor, who will check on the occupants and summon emergency help if no one responds. OnStar also can assist authorities in locating a vehicle if it is reported stolen or if it's difficult to find, for example if it goes off the road and is hidden in a deep gully or ravine.
Summary
The Cadillac Escalade is an impressive vehicle in more ways than looks. It drives like a smaller vehicle while accommodating adults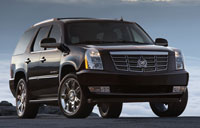 in unbridled luxury. It offers the segment's most powerful V8, which will make it a great vehicle for drivers who tow or simply like the feeling of strong acceleration. As long as one has enough space in their driveway or garage for this big truck, and can afford its thirst for gasoline, we expect the new Escalade will make many drivers very comfortable and happy for the long haul.
Steve Siler filed this report to NewCarTestDrive.com, with nctd.com staff reports.
Copyright © 1994-2007 New Car Test Drive, Inc.