RESEARCH LA AUTO SHOW BY YEAR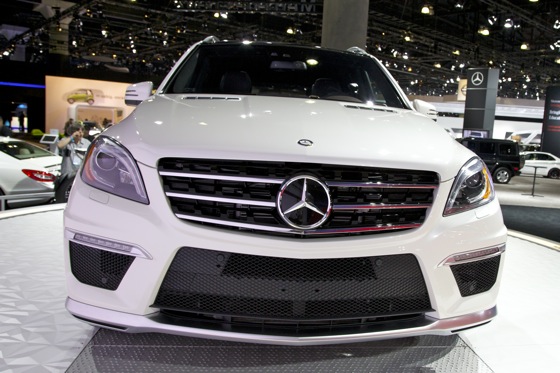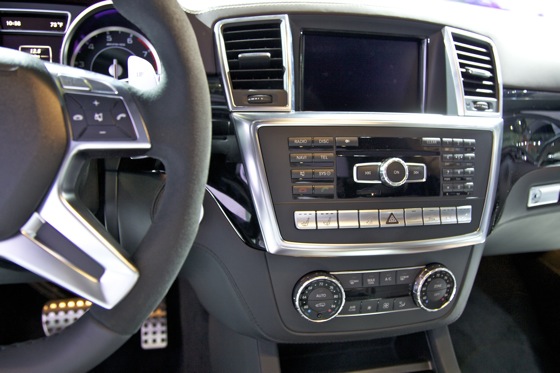 The new ML63 AMG, based on Mercedes' recently redesigned M-class, debuted at the LA Auto Show.
A 518-horsepower bi-turbo 5.5-liter V8 replaces last year's 6.2-liter naturally-aspirate engine.
Buyers looking for even more speed can opt for an AMG Performance Package, which brings power to a wild 550 horses.



With the recently redesigned Mercedes M-class already on the streets, it was only a matter of time before the automaker revealed the new SUV's high-performance AMG version. Mercedes did just that at this year's LA Auto Show, announcing the next generation of its sporty ML63 AMG SUV.
While the 2012 ML63 AMG features several improvements over the standard M-class, the most important difference is under the SUV's hood. That's because the SUV trades in last year's naturally-aspirated 6.2-liter V8 for a twin-turbocharged 5.5-liter V8 capable of a mighty 518 horsepower and 516 lb.-ft. of torque - up from 503 horses and 472 lb.-ft. in its predecessor. Only offered with Mercedes' Speedshift Plus seven-speed automatic, the new powerplant reportedly propels the ML63 to 60 miles per hour from a standing stop in just 4.6 seconds.
Of course, the ML63 AMG's engine represents a major jump from the standard ML350's 302-horsepower V6, but the high-performance SUV offers more than just a power boost. On the outside, revisions include completely new front, rear fascias and sculpted side skirts that run the length of the SUV's body. Other upgrades include chrome tailpipes and unique 20-inch alloy wheels, which are accompanied by bulkier front and rear fenders.
The high-performance SUV is also distinguished by its sporty handling. According to Mercedes, the 2012 ML63 AMG is 99 pounds lighter than the model it replaces, giving it slightly more agility through curves. Other enhancements include AMG-developed sports suspension with adjustable AIRMATIC air suspension, automatic level control and Mercedes' Active Curve System, which provides roll stabilization in hard cornering.
Despite all of the ML63 AMG's go-fast upgrades, there's still more power available for buyers who want the ultimate performance SUV. According to Mercedes, the optional AMG Performance Package boosts the ML63 AMG's horsepower to 550, its torque to a monumental 560 lb.-ft. and its top speed from 155 mph to 174, making the SUV among the fastest and most powerful ever built. The automaker also offers 21-inch wheels for buyers looking for slightly more aggressive styling.
While Mercedes hasn't announced pricing or a release date for its 2012 ML63 AMG, we expect the athletic SUV to go on sale early next year with a base price of somewhere in the mid-$90,000 range.
What it means to you: Mercedes is once again near the top of the ultra-high-performance SUV game.
See moreLA Auto Show news.