RESEARCH LA AUTO SHOW BY YEAR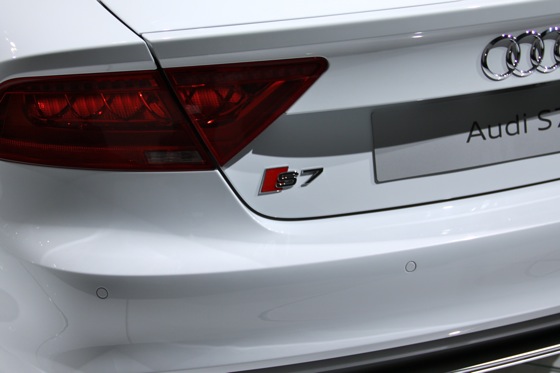 High-performance take on Audi's stylish A7 "five-door coupe"
New twin-turbo V8 with a 7-speed automatic and Quattro all-wheel-drive
Sporty S-specific design details


The S7 that Audi revealed at the LA Auto Show is a very similar car to the S6 sedan that also had its American debut here. The two cars share mechanical and cosmetic components as well as some sheet metal, but the S7 features a hatchback design that not only helps the car swallow cargo but also gives it a unique and sporty look that seems to draw endless attention and compliments. This might make the S7 an even better home than the S6 for Audi's new, 420-horsepower twin-turbo V8.
The new engine moves the S7 from a standstill to 62 mph in under five seconds, and keeps going up to a155-mph governed top speed. But Audi didn't simply drop a more powerful engine into an A7 and call it a day. The S7 includes a range of performance-enhancing components, like Quattro all-wheel-drive, a torque vectoring rear differential and sport-tuned adaptable air suspension.
The S7 looks the part, too, with exclusive S-specific wheels, bumpers, grille, rear diffuser and trunk lid spoiler. Inside, the S7 gets sport seats, unique steering wheel, diamond-stitched Valcona leather, an S-specific instrument cluster and extensive aluminum trim.
Standard equipment on the S7 includes high-tech solutions for efficiency and communication. The A7 gets Audi's cylinder deactivation system to save fuel when full isn't needed. Active engine mounts and active noise cancellation mitigate any audible fuss from the system. Audi's MMI navigation is also standard, and delivers a host of connectivity capabilities.
Unlike the five-passenger S6, the S7 seats just four. But with the large rear hatch and folding rear seats, it has SUV-like cargo capacity. Considering this extra utility and the car's performance credentials, the S7 is a car that can move your stuff - and just plain move.
What it means to you: The S7 adds a big dose of extra power and a host of performance upgrades to match the five-door hatchback's muscular lines.