RESEARCH DETROIT AUTO SHOW BY YEAR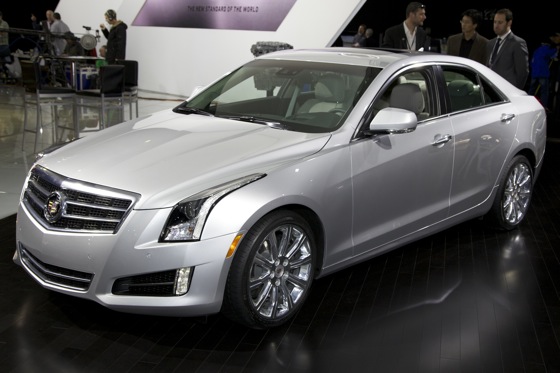 The all-new Cadillac ATS is roughly the same size as BMW's popular 3 Series
The ATS offers three engine choices, with horsepower ranging from 200 to 318.
Scheduled for a summer launch, the ATS will offer all-wheel drive and Cadillac's new CUE infotainment system.


Cadillac's newly unveiled 2013 ATS is poised to take on established German sport sedans like the Audi A4, the Mercedes C-Class and even the revered BMW 3 Series. That's the latest from the Detroit Auto Show, where Cadillac finally pulled the wraps off the hotly anticipated rear-wheel drive ATS ahead of its launch this summer.
On the outside, the handsome ATS features several design elements inspired by Cadillac's popular CTS sedan, including a long, sweeping rear roofline, tall vertical tail lights, a dramatic front grille and angular headlights. The sport sedan's sizing is a perfect match for its European competition, with exterior dimensions coming within a few tenths of an inch of BMW's recently unveiled sixth-generation 3 Series in every measurable category. The ATS even shares the BMW's highly touted 50/50 weight distribution along with its curb weight, tipping the scales at around 3,400 pounds.
Inside, the ATS also draws from current Cadillac models and features a wide center stack with an integrated touch screen, blue backlit gauges and several stylized lines that add flair to the cockpit. Innovative features include Cadillac's CUE infotainment system, Bluetooth, a USB port and auxiliary inputs for an iPod or other MP3 players. The sedan also offers a choice between real wood and carbon fiber accents, and features attractive stitching on upholstery and door surfaces.
But in the wildly competitive sport sedan game, what's under the hood matters most - and Cadillac has that covered, too. Base ATS models are powered by a 2.5-liter four-cylinder that produces around 200 horsepower, while upscale versions offer customers a choice between a 270-horsepower 2.0-liter four-cylinder powerplant and the automaker's muscular 318-horsepower direct-injected 3.6-liter V6. Cadillac says a 6-speed manual transmission is standard, while a 6-speed automatic is on the options list.
"Designed with quick, nimble and fun-to-drive dynamics, ATS expands Cadillac's portfolio into a crucial global segment," said Don Butler, Cadillac's vice president of marketing. "More than just another new entry, the ATS aims to change the status quo of the European-dominated segment."
While Cadillac has not announced whether the ATS will offer coupe, convertible or station wagon body styles like many competitors, the automaker did say the sedan will feature optional all-wheel drive - a must-have for buyers in many northern states with inclement weather. The automaker also hasn't announced pricing, but we expect the ATS to start in the low-$30,000 range, with well-equipped models likely topping $50,000.
What it means to you: If the ATS performs well on the street as it does on paper, it could be a major blow to established European sport/luxury sedans.