RESEARCH DETROIT AUTO SHOW BY YEAR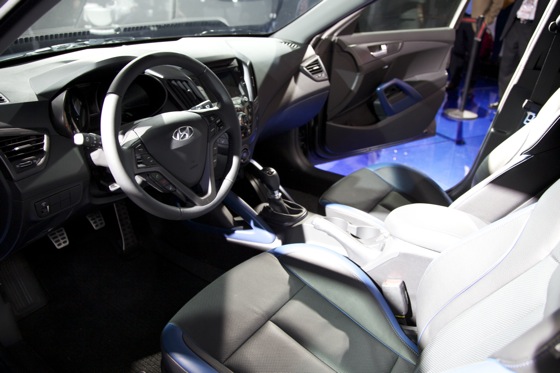 The new Veloster Turbo features a 201-horsepower turbocharged version of the automaker's 1.6-liter four-cylinder powerplant.
Exterior upgrades include a body kit, a new grille and an updated rear bumper, while the Veloster Turbo's interior adds two-tone sport seats.
We expect the Veloster Turbo to start around $22,500 and hit showrooms this summer.




Hyundai chose this year's Detroit Auto Show to roll out a turbocharged version of its unconventional Veloster hatchback, which went on sale last summer. Officially dubbed the Veloster Turbo, the new model features a considerable power boost over the standard version, addressing a common complaint with the otherwise highly praised small car.
While the 2013 Veloster Turbo offers several updates over the standard model, the most important is, of course, under the hood. That's because Hyundai fitted the sporty hatchback with a turbocharger that adds a whopping 63 horsepower to the Veloster's 1.6-liter four-cylinder powerplant, leading to a grand total of 201 horses. The boosted engine also produces 195 pound-feet of torque, placing the Veloster Turbo squarely in competition with established hot hatches like the Volkswagen GTI and Mini Cooper S.
But the Veloster Turbo's increased performance doesn't come at the expense of fuel economy. In fact, Hyundai says the tuned-up hatchback is still capable of an impressive 27 miles per gallon in city driving or 38 mpg on the highway with its standard 6-speed manual transmission - just two miles per gallon short of the regular model. An automatic transmission, which slightly reduces performance and fuel economy, is also available.
In addition to its upgraded engine, the Veloster Turbo also features exciting new styling both inside and out. Interior revisions include leather-trimmed two-tone sport seats, while an upgraded exterior features an entirely new grille with a wider opening up front, a new rear bumper with a built-in diffuser in back and a body kit that adds more pronounced character lines down both sides. Also included are larger wheels, a brawny dual exhaust and the availability of Hyundai's first matte finish paint job, which was shown in Detroit.
Although Hyundai hasn't confirmed pricing for the 2013 Veloster Turbo, we expect the new model to start around $22,500 including destination charge when it arrives in dealerships this summer. That represents a serious price bump over the standard Veloster, but undercuts rivals like the GTI and Cooper S, which both start at around $24,000 including destination charge.
What it means to you: The hot hatch world just added a serious new contender.