RESEARCH GENEVA AUTO SHOW BY YEAR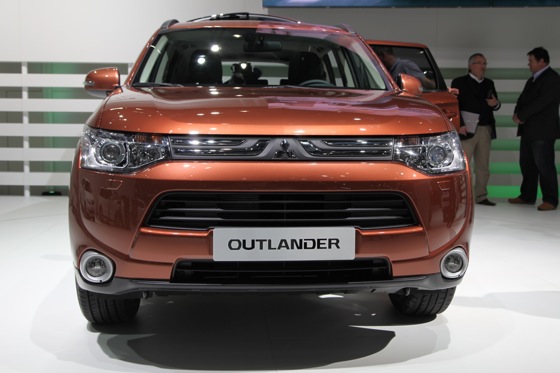 Exterior styling is based on the PX-MiEV II Concept
Functional new interior includes available touchscreen navigation
Hybrid powerplant from PX-MiEV II could come later


Mitsubishi chose this year's Geneva Auto Show to launch its all-new third-generation Outlander crossover. Based heavily on the PX-MiEV II Concept that debuted at last year's Tokyo Auto Show, the new Outlander offers handsome new exterior styling, a revised interior and a new engine that could soon include a plug-in hybrid variant.
On the outside, the newest Outlander is immediately distinguishable from its predecessor thanks to a redesigned exterior with larger dimensions borrowed directly from the PX-MiEV II Concept. In front, the SUV is marked by wide headlights that flow into its quarter panels, two curved lines that run from its headlights to a wide lower grille, and a thin grille opening that Mitsubishi says marks a new stylistic direction for all of its models. Rear-end styling features the Outlander's signature clear tail lights joined by a unique silver bar spanning the width of the SUV's tailgate.
Inside, the Outlander offers a functional cabin that trades some of the current model's stylistic touches for a more driver-focused approach. Gone is last year's simple, angled dashboard accented in faux aluminum, replaced instead by an upright dash with a center-mounted touchscreen navigation system that's angled towards the driver. The SUV also offers a large black engine start button wrapped in silver trim, which is integrated into a larger center console that gives the interior a more cockpit-like feel.
Interestingly, while the PX-MiEV II Concept featured a fuel efficient plug-in hybrid drivetrain, Mitsubishi announced only gasoline and diesel variants of the production-ready Outlander in Geneva. Although we don't expect the diesel engine to make it stateside, we think it's possible that the newly announced 150-horsepower 2.0-liter four-cylinder gasoline powerplant could replace today's 2.4-liter motor, though US models will likely eschew Europe's standard manual transmission for a new 6-speed automatic. Despite the lack of a hybrid option, it's likely Mitsubishi is developing one - along with a range-topping V6 - that could join the crossover's lineup after its release.
Although Mitsubishi didn't announce pricing or an official on-sale date for the 2013 Outlander, we expect the crossover will begin arriving in dealer showrooms late this year with a starting price that's only slightly boosted from today's figure of around $23,000 including destination.
What it means to you: Although the new Outlander will join a crowded field of compact SUVs, its new exterior styling and larger dimensions may merit serious consideration.