RESEARCH NEW YORK AUTO SHOW BY YEAR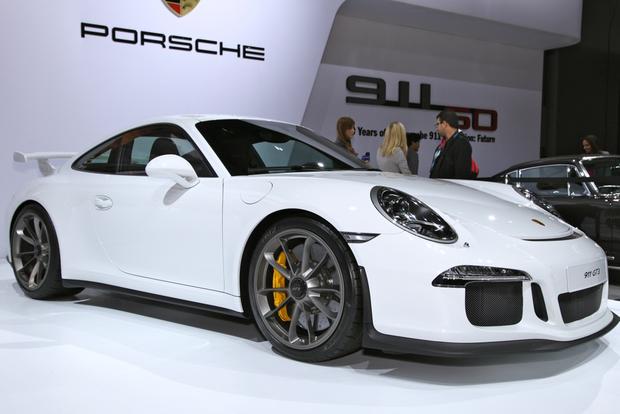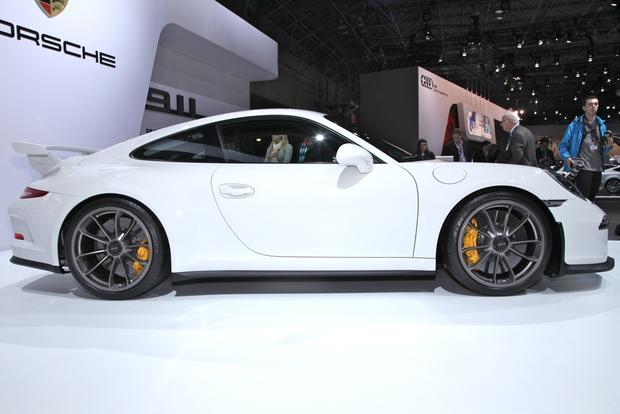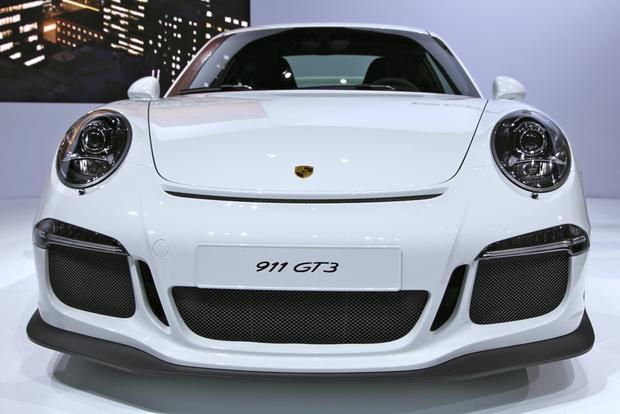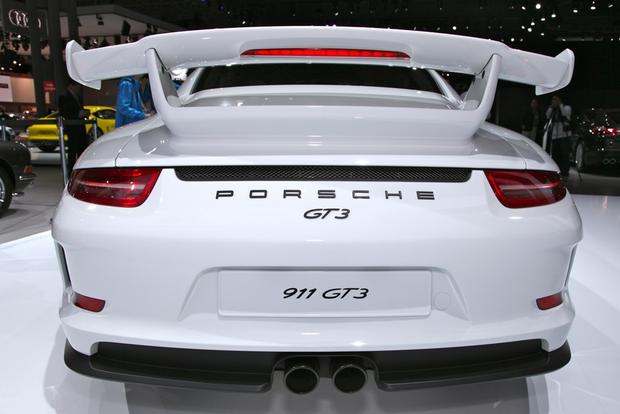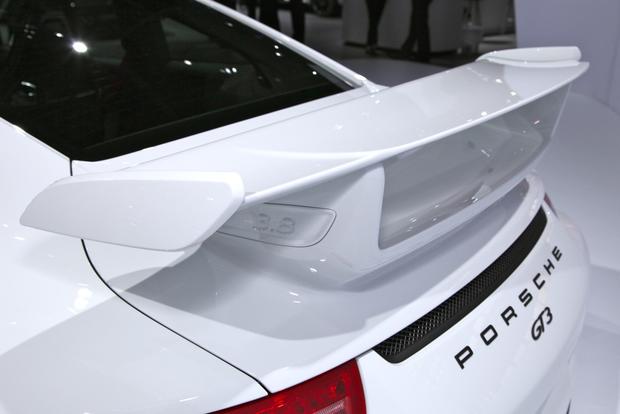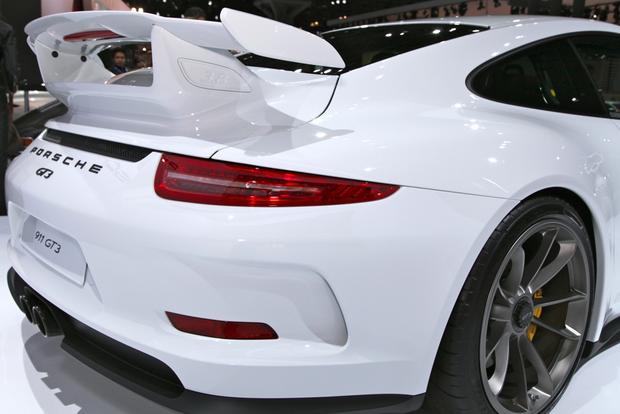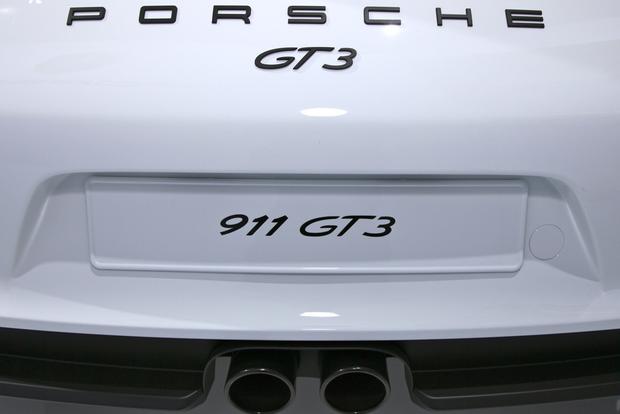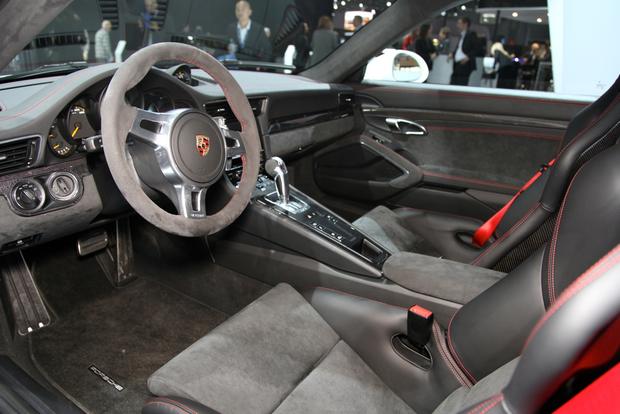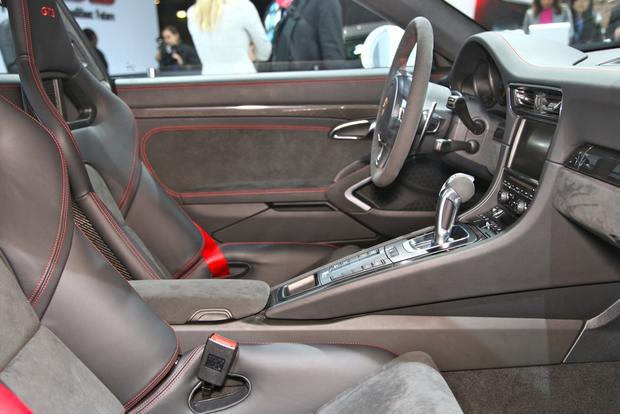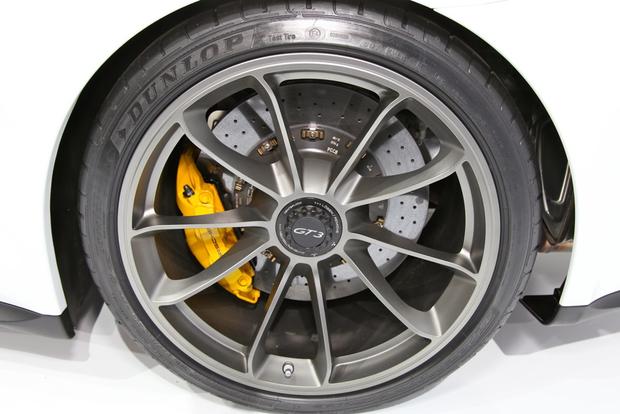 What is it:
The latest version of the ultimate track-ready 911 sports car.
When Porsche introduced the all-new 2013 911 - code-named "991" - we knew it was only a matter of time before the ultra-high-performance 2014 Porsche 911 GT3 arrived. Making its North American debut here at the 2013 New York Auto Show, the 991 GT3 features a rear-mounted 475-horsepower engine, active rear-wheel steering, and the GT3 model's signature fixed rear wing.
Notably, it also comes standard with Porsche's "PDK" automatic transmission. The GT3 was previously offered only with a conventional six-speed manual.
How Much:
$130,400 to start, plus a $950 destination fee.
When can you get it?
Late 2013.
Add it to your Shopping List because...
The 2014 Porsche 911 GT3 has a 9,000-rpm redline. Need we say more? Well, we'll say more anyway, because this car is quite simply an enthusiast's dream. The 3.8-liter, 475-horsepower flat-6 engine is naturally aspirated, so there are no lag-producing turbochargers standing between you and all that power. Full-throttle acceleration will be just one linear rip to redline after another, punctuated by noises akin to an angel playing a harp with a chainsaw. Trust us, the GT3 is awesome. And when rapid cornering is called for, the active rear-wheel steering and massive 20-inch rubber will join forces with the extra-wide rear end - 1.7-inches wider than that of the 991 Carrera S - to keep this formerly tail-happy beast glued to the tarmac.
The only arguable downside, and we do mean "only," is the fact that a conventional stick-shift isn't even available as an option. The GT3 used to be one of those cars where you knew there was a real driving enthusiast behind the wheel, because no one else would want to deal with the mandatory heavy-duty racing clutch. Now, your average reality TV star with a fat paycheck can simply hop in and put the PDK lever in "D." But hey, automated transmissions are obviously the future, even for classic sports cars like the GT3 -- and PDK is quite simply the best of the best, delivering perfectly smooth yet razor-sharp shifts with superhuman quickness. So don't worry, we're not too broken up about it.
Other cars to consider:
Chevrolet Corvette ZR-1: Catch one of these "C6" ZR-1s while you can, because it'll be a while yet before the new 2014 Corvette Stingray, a.k.a. "C7," gets the ZR-1 treatment. Why buy this instead of the GT3? Because in addition to the 638-horsepower supercharged V8 under the hood, there's also a proper six-speed stick-shift on the center console.
Ferrari 458 Italia: If it's less about price for you than the overall experience, the gorgeous 458 Italia is almost beyond compare. One run through the gears with that 4.5-liter, 562-horsepower V8 and you'll be hooked.
Nissan GT-R: Although the GT-R is cheaper than the 991 GT3 by tens of thousands, it's just as quick to 60 mph (3.3 seconds or thereabouts), and its handling is hard to beat at any price.
Used "997" Porsche 911 GT3: If you're one of those purists who's up in arms about the PDK-only 991 GT3, why not just buy a used 997 GT3 at a steep discount? The "old" GT3 is still one of the best driver's cars ever built.