RESEARCH LA AUTO SHOW BY YEAR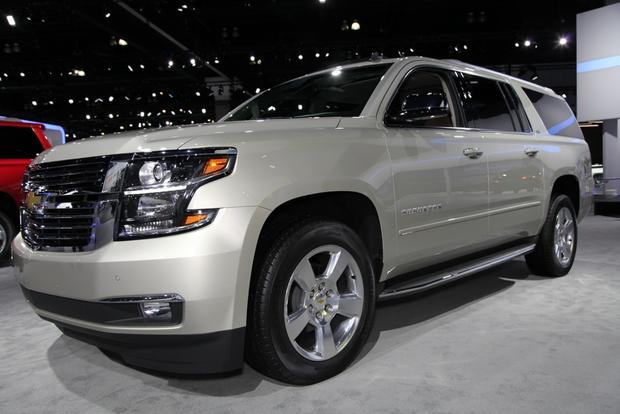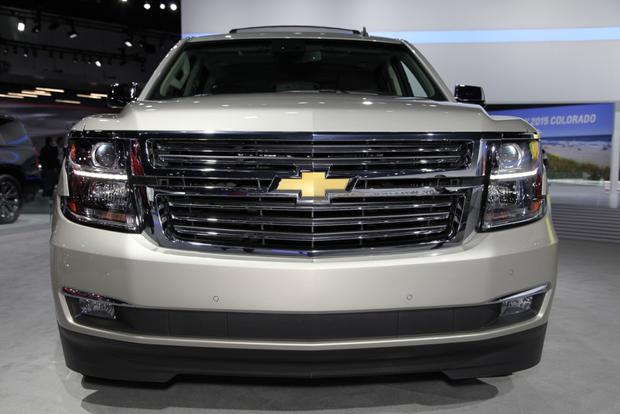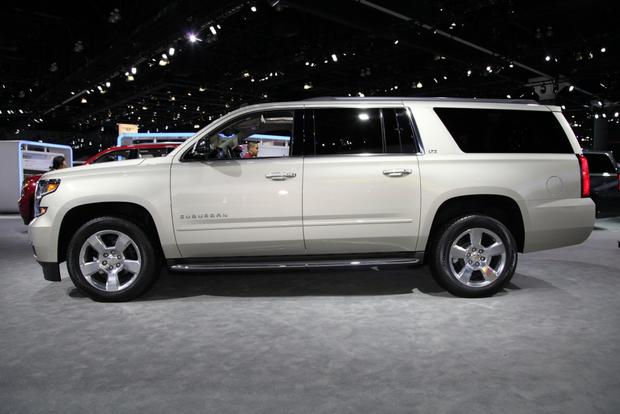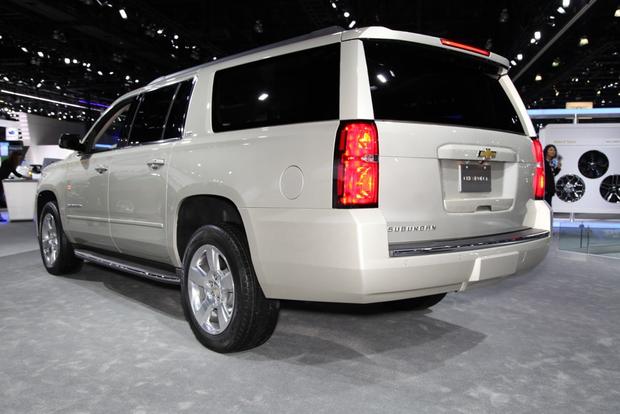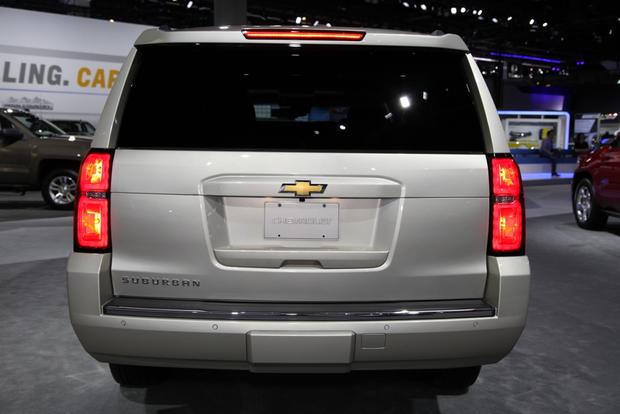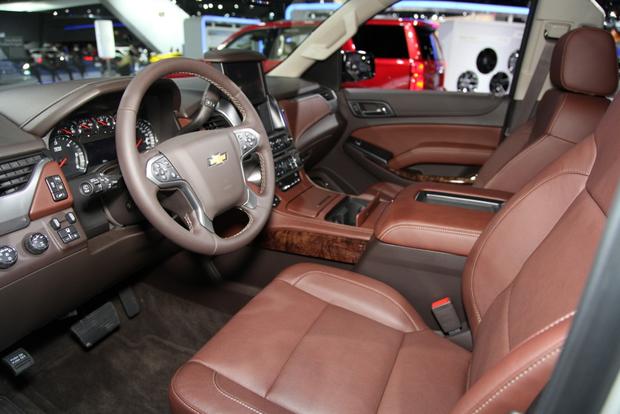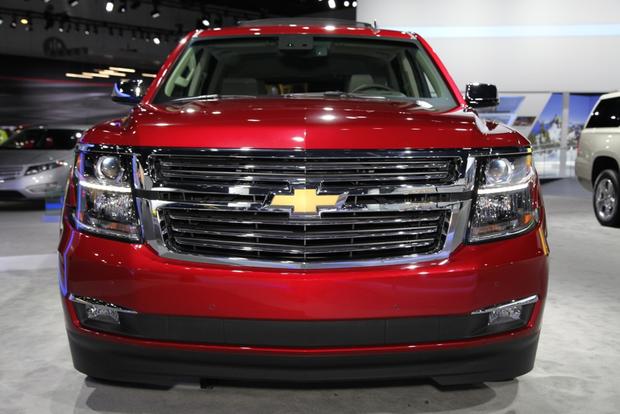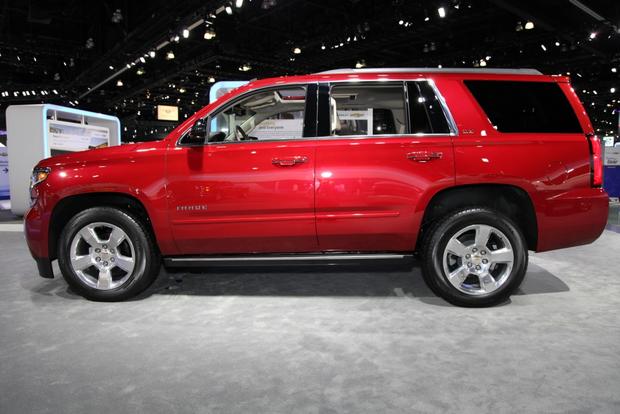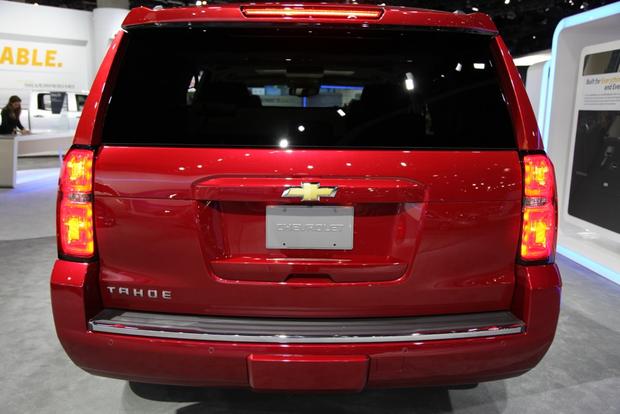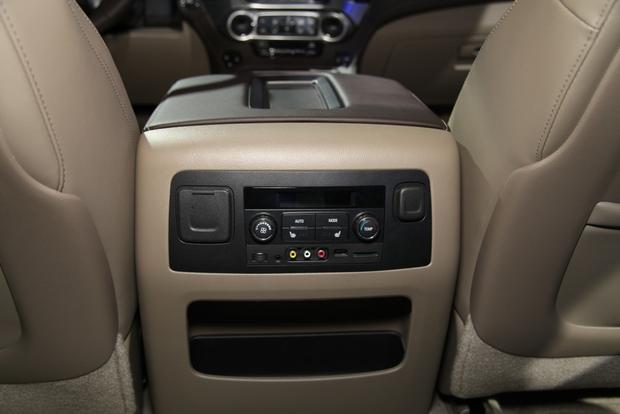 What Is It?
The 2015 Chevrolet Suburban and Tahoe are full-size SUVs with V8 power and room for the whole family. They're redesigned for the new model year to offer new features, engines, interiors and a completely new look.
On the outside, the SUVs get a refreshed appearance. While they still look similar to last year's models, the new Suburban and Tahoe clearly boast updated grilles, lights and overall lines. Inside, there's an entirely new cabin with a larger center console, higher-quality materials and new features, such as Chevrolet's MyLink infotainment system.
Under the hood, the Suburban and Tahoe offer a new V8 engine. It's the same 5.3-liter found in the newly redesigned Chevrolet Silverado, and it boasts 355 horsepower and 383 lb-ft of torque -- a huge boost over last year's 5.3-liter V8, which offered 320 hp and 340 lb-ft. Fuel economy with the new engine is said to be a sharp improvement over last year's powerplant. The Tahoe and Suburban don't include the same 420-hp 6.2-liter V8 that's available in the mechanically similar GMC Yukon and Cadillac Escalade SUVs.
How Much?
Chevrolet hasn't announced details yet, but we expect the Tahoe to range from $44,500 to around $60,000, while the Suburban will be slightly more expensive.
When Can You Get It?
Spring 2014
Add It to Your Shopping List Because...
The 2015 Chevrolet Suburban and Tahoe are among the best full-size SUVs around, thanks to a huge interior, powerful V8 engines, a long list of equipment -- standard and optional -- and legendary durability. The latest model only improves on that, bringing new styling, new technology and a more efficient engine to the popular model lineup.
Other Cars to Consider
Ford Expedition -- It's getting old compared to the Tahoe and Suburban, but it still follows the same formula: a full-size SUV with V8 power, 3-row seating, good towing capacity and lots of available extras.
GMC Yukon and Yukon XL -- The biggest competitor to the Tahoe and Suburban is within the same GM family. The Yukon and Yukon XL are largely similar to the Tahoe and Suburban, though they offer a higher-end Denali trim and a more powerful 6.2-liter V8.
Toyota Sequoia -- The Toyota Sequoia boasts 3-row seating, strong towing capacity and V8 power. It's a good Tahoe rival, but it's not as big as the full-size Suburban.
Used Mercedes GL-Class-- Think of the Mercedes GL-Class as an upscale Suburban and you won't be far off. It has V8 power, three rows of seats and a lot of torque. But with a starting price above $63,000, you'll want to look at used models to keep one in the Suburban's price range.