RESEARCH NEW YORK AUTO SHOW BY YEAR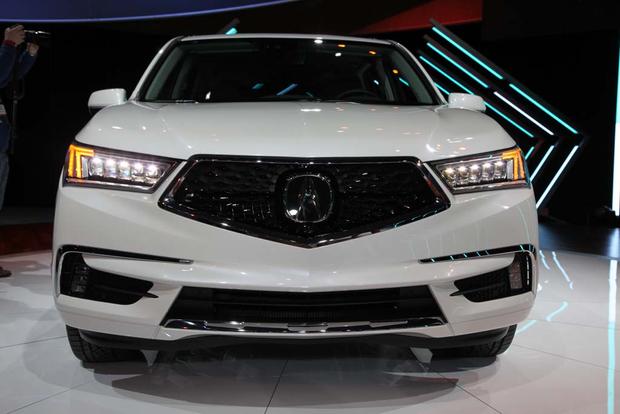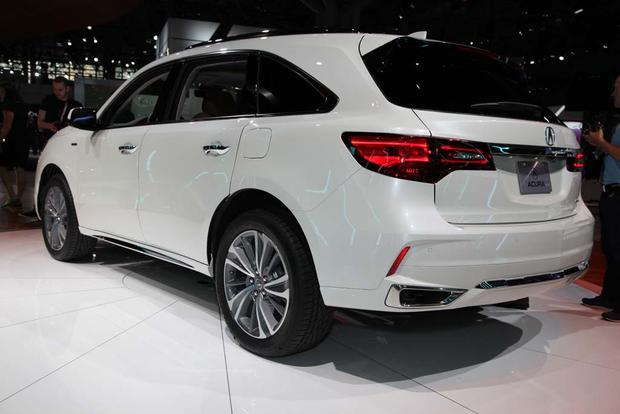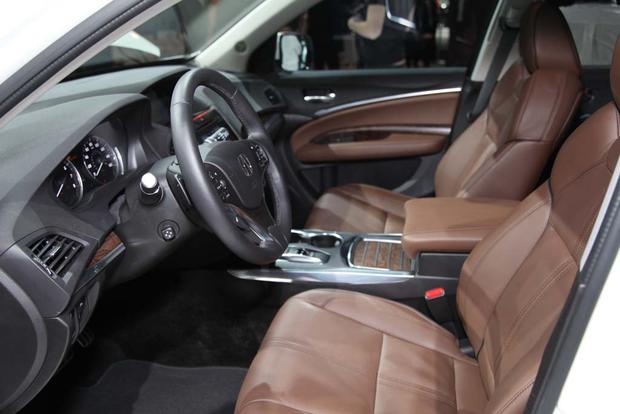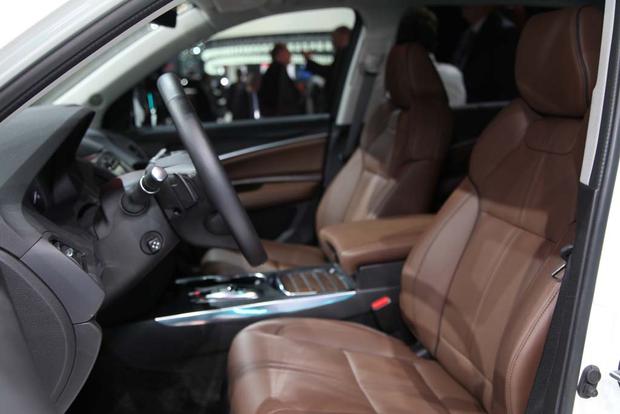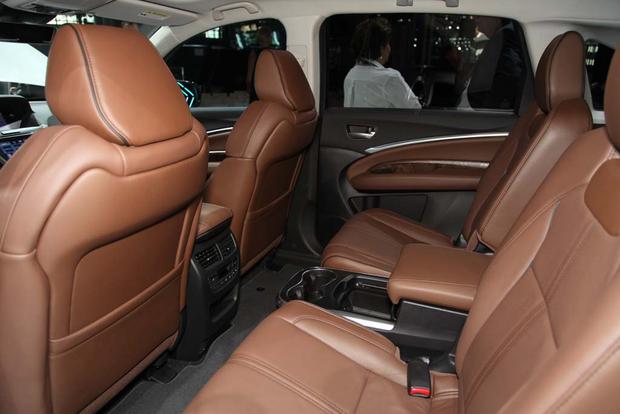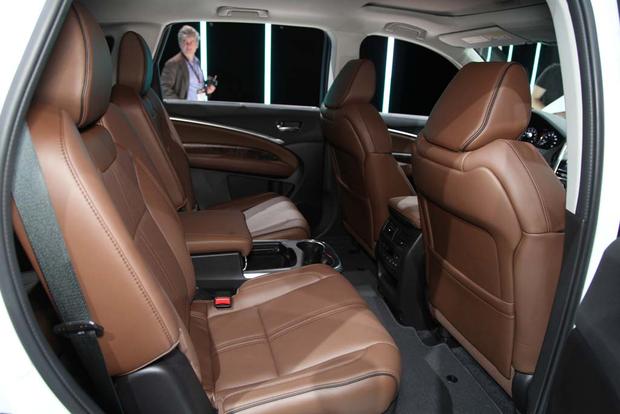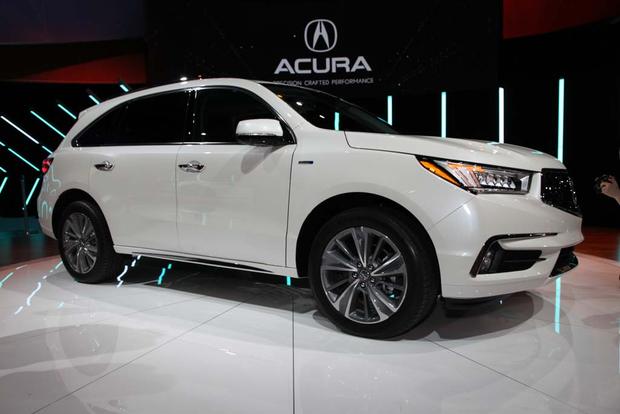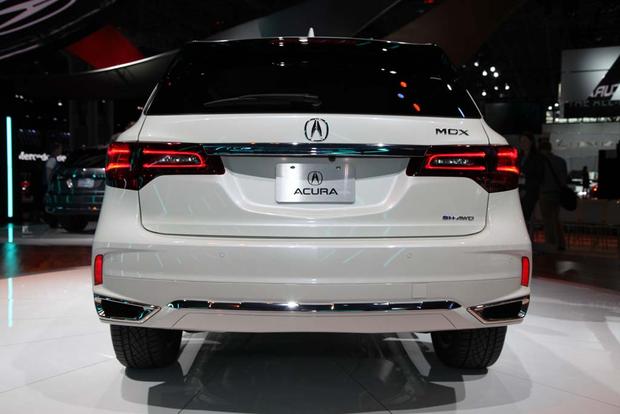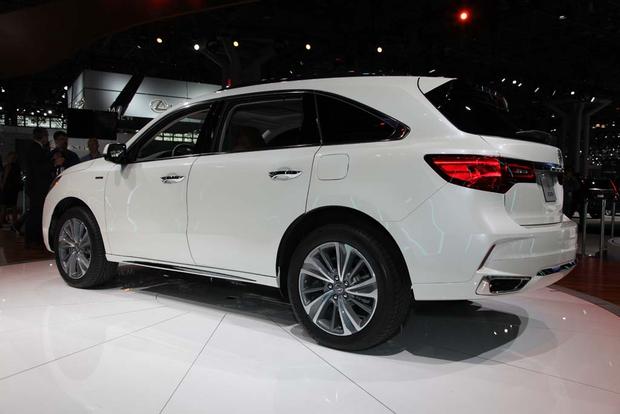 What Is It?
The 2017 Acura MDX makes its New York debut, building on its already impeccable reputation as one of the best-selling luxury crossover SUVs on the planet. Along with its dramatic new styling, the 2017 MDX features more luxury, more features and advanced new powertrain technology. An electric parking brake with auto hold, auto high-beam headlights and four USB charging ports are among the new standard features. New options include second-row captain's-chair seating, a heated steering wheel and Acura's Surround View Camera.
Alongside the gasoline-powered MDX comes a new hybrid version, sharing its 3-electric motor Sport Hybrid SH-AWD (SH-AWD) powertrain with the NSX and RLX sedan: A 3.0-liter V6 paired with a 7-speed automatic joins an electric motor driving the front wheels and two additional electric units at the rear wheels. Total output is 325 horsepower, 35 more ponies than the nonhybrid model. Fuel economy estimates for the hybrid are a respectable 25 miles per gallon in the city and 26 mpg on the highway; that's a 7 mpg improvement over the nonhybrid MDX's city rating.
The 2017 Acura MDX will also feature as standard the AcuraWatch safety system that includes automatic braking, collision mitigation, lane-departure warning and adaptive cruise control, among other features.
How Much?
$44,000-$60,000
When Can You Get It?
Fall 2016
Add It to Your Shopping List Because...
In the world of 3-row luxury crossover SUVs, the 2017 MDX is about the closest thing to a sure bet. Its reputation for reliability and strong resale is well established, as are its luxury and performance credentials. With gasoline at or below $2 a gallon, the MDX's lack of a diesel option doesn't hurt it. The only way to get a larger third-row seat and more cargo space is to move up to a larger, more expensive SUV such as the Cadillac Escalade or Lincoln Navigator.
Other Cars to Consider
2017 Audi Q7 -- The Q7's styling isn't as bold as the MDX, but it offers an interior second to none, plus the choice of a supercharged V6 or diesel V6 engine.
2016 Infiniti QX60 -- Infiniti's QX60 isn't as roomy as the MDX, but it, too, has an exceptionally nice interior and also offers a hybrid option. However, the MDX offers a more powerful gasoline engine.
2016 Mercedes-Benz GLS -- The GLS is known for its safety and performance abilities, offering a wide range of models and engines, including a potent standard V6, a fuel-efficient turbodiesel and a high-performance AMG V8 good for 577 hp.
2016 Lexus GX -- The GX isn't as refined as the MDX, nor is it as technically advanced. The GX does offer a more powerful (and fuel-thirsty) V8 engine and better off-road capability.
Used Land Rover Range Rover -- The Range Rover is the pinnacle of what a luxury SUV should be, and its off-road abilities far exceed those of the MDX. The Range Rover's in-cabin technology, however, isn't as user-friendly as the MDX's setup.
Used Cadillac Escalade -- If you need lots of interior room for crew and cargo, as well as the ability to tow up to 8,300 pounds, the Escalade makes a great used luxury-SUV choice.