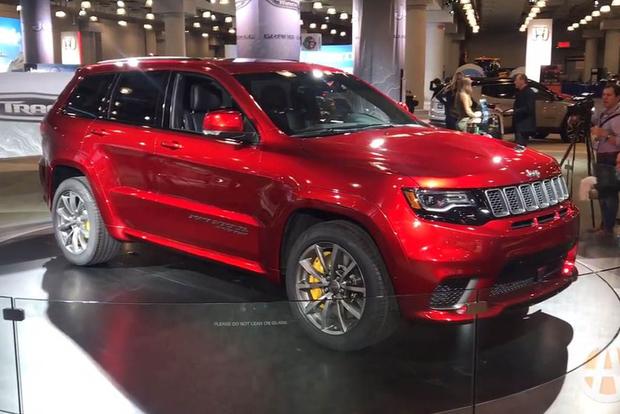 One of the coolest cars at this year's New York Auto Show is the2018 Jeep Grand Cherokee Trackhawk. It's just a regular 'ol Jeep Grand Cherokee family SUV ... with 707 horsepower.
That's right --707 hp, courtesy of the same engine as the Dodge Hellcat: a 6.2-liter supercharged V8. It propels this from zero to 60 mph in 3.6 seconds, which is truly supercar territory. Except this isn't a supercar -- it's a 5,400-lb luxury SUV with leather upholstery, radar cruise control, heated back seats, a giant panoramic sunroof and Chrysler's excellent Uconnect infotainment system.
But don't go thinking this is some comfortable luxury car: The brakes are almost 16 inches in diameter, and there's standard all-wheel drive with a launch mode for fast starts.
If you're interested, the 2018 Jeep Grand Cherokee Trackhawk goes on sale later this year -- and while Jeep hasn't announced pricing, I'm thinking it'll be somewhere in the 70-to-80-thousand-dollar range.