RESEARCH PARIS AUTO SHOW BY YEAR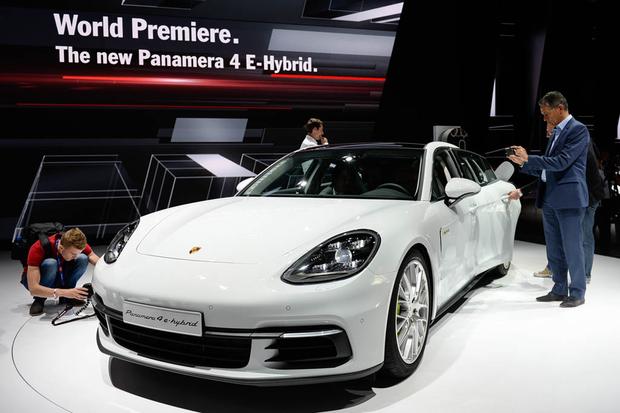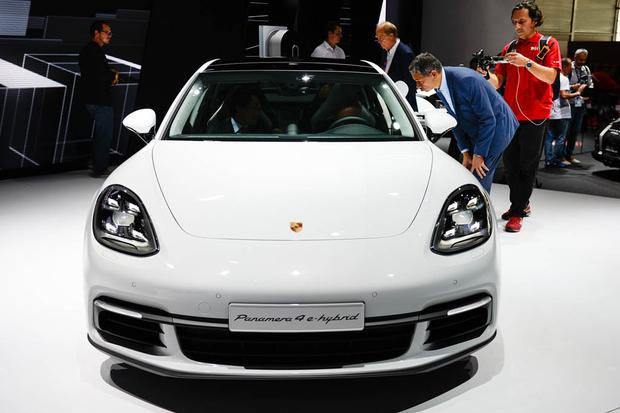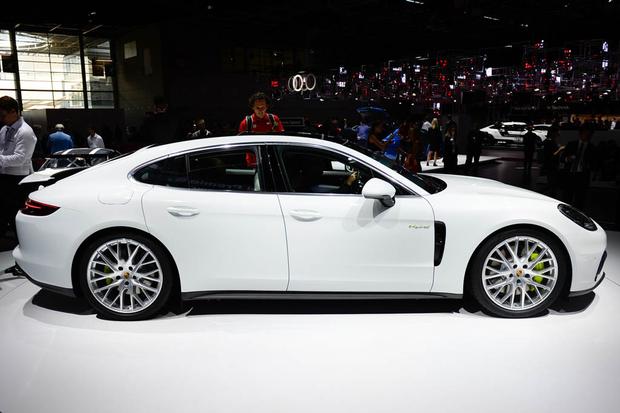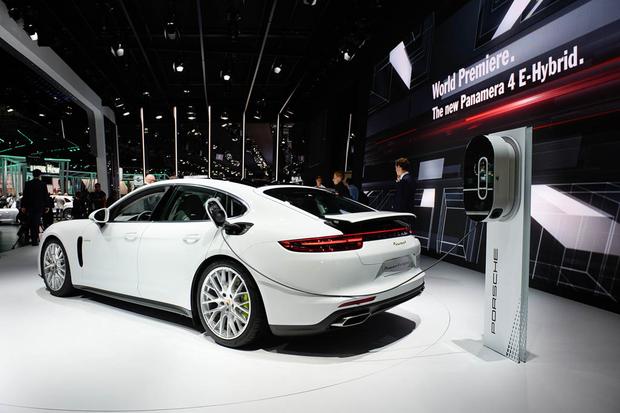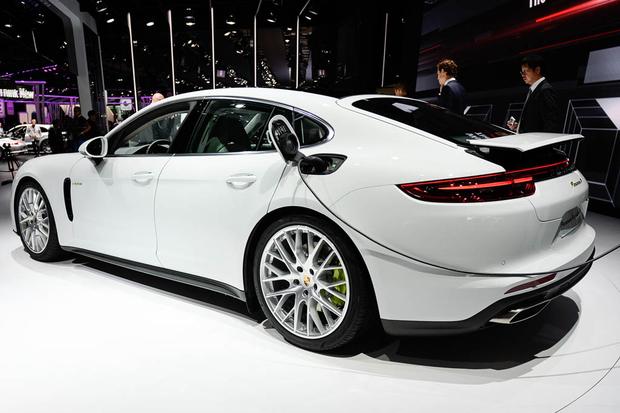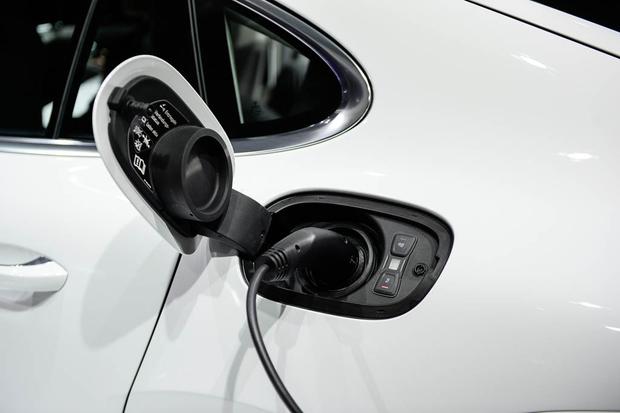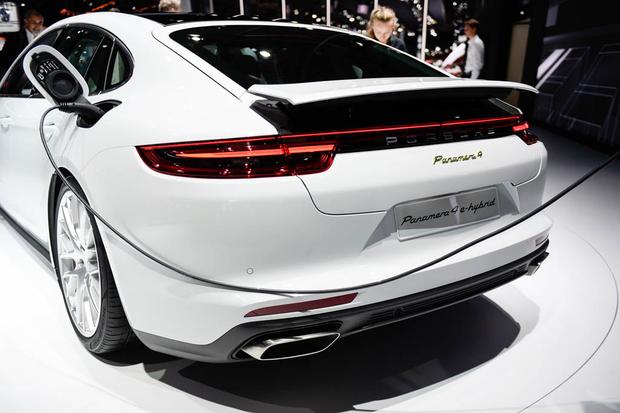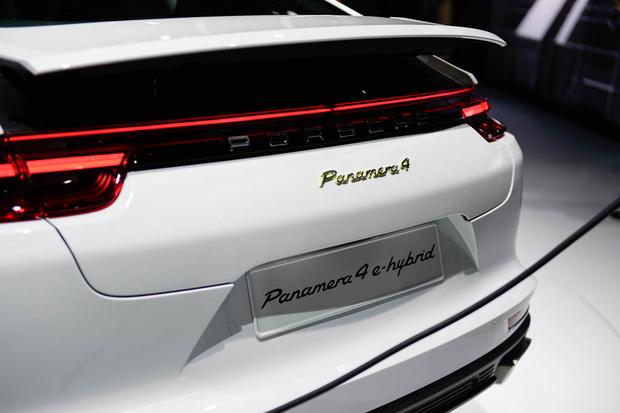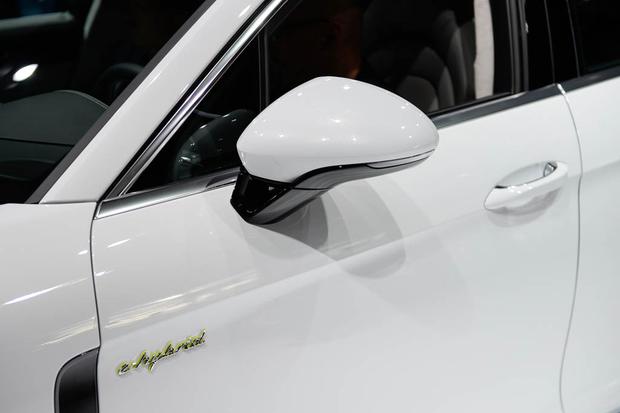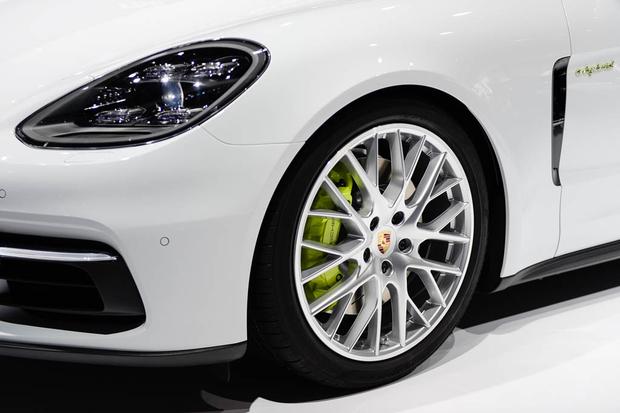 What Is It?
The 2018 Porsche Panamera 4 E-Hybrid is the newest variant in the latest generation of Porsche's luxury-car range. The second-generation Panamera debuts as a 2017 model, with regular versions on sale from January, but this plug-in hybrid version is still a little way down the line.
It should be worth the wait, though. Usually, a hybrid is some worthy fuel-sipper that holds up everyone else behind it. But remember that Porsche created the 918 Spyder, a hybrid-powered supercar, and won the famed Le Mans 24-hour race for 2 years running (2015 and 2016) with the 919 Hybrid machine. The combined output of this Panamera's twin-turbo V6 and the electric motor is a considerable 462 horsepower and 516 lb-ft of torque going to all four wheels. Porsche says the E-Hybrid can sprint from a standstill to 60 miles per hour in a fleeting 4.4 seconds before hitting a top speed of 172 mph. This is no Prius.
Yet the E-Hybrid can also cover 31 miles in electric-only mode (at this level, 20 miles is considered good). And although there are no Environmental Protection Agency fuel-consumption estimates yet, Porsche's European figures convert to around 94 mpg. Factor in a high-tech interior, air suspension and fine cabin materials, and we're not talking about the best of both worlds but the best of three worlds -- performance, fuel economy and luxury.
How Much?
To be announced
When Can You Get It?
The 2018 Porsche Panamera 4 E-Hybrid is expected to go on sale in the United States in the summer of 2017.
Add It to Your Shopping List Because...
This mix of luxury and low-emissions sportiness shows that Porsche is a master of conventional-car engineering while also blazing an electric trail.
Other Cars to Consider
2017 BMW 740e xDrive -- The new generation of 7 Series is wonderful, with a luxury character made slightly spicier by a more fun attitude. This plug-in hybrid has all-wheel drive (that's the xDrive part of the name) along with 322 hp and 369 lb-ft of torque. It's undoubtedly capable and arguably quite clean, but its mission isn't the same as the Porsche's.
2017 Mercedes-Benz S550e -- A fabulous luxury car, but this one only comes with rear-wheel drive and doesn't have any kind of sporty credentials.
2017 Tesla Model S -- The all-electric S gets a slight update for 2017, and the P90D version should have a 270-mile range to go with its blistering performance and all-wheel drive. Not to mention, there's not a fuel emission to be sniffed anywhere near it.
Used Fisker Karma -- It's hard to find something as energetic and emissions-conscious as the Panamera 4 E-Hybrid, but a used Karma (mainly electric, with a small combustion engine acting as an onboard generator) is also comparatively cheap. If only some of them hadn't caught fire...