RESEARCH CHICAGO AUTO SHOW BY YEAR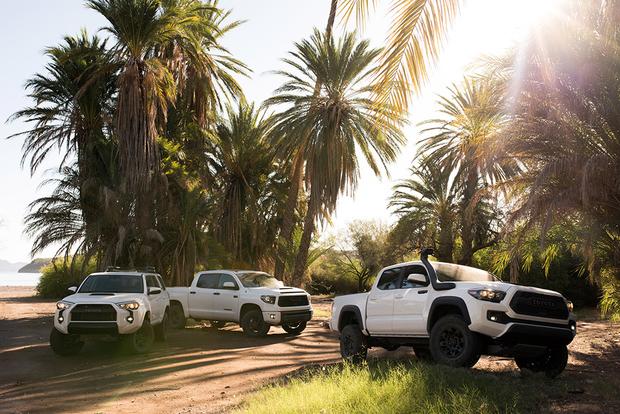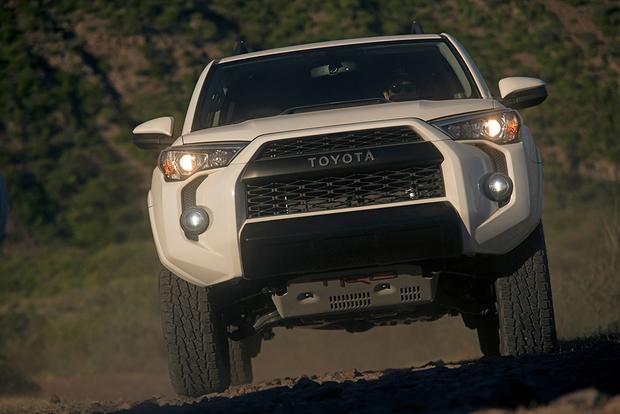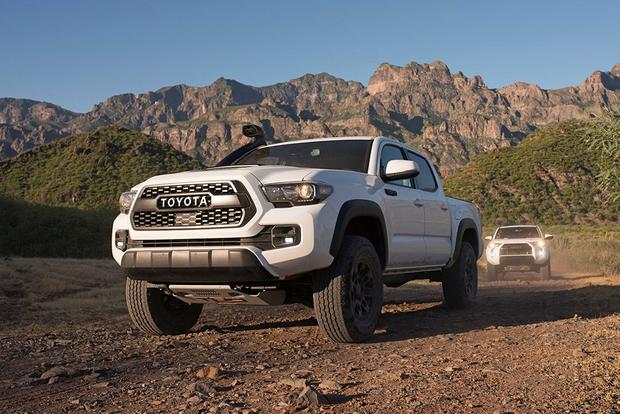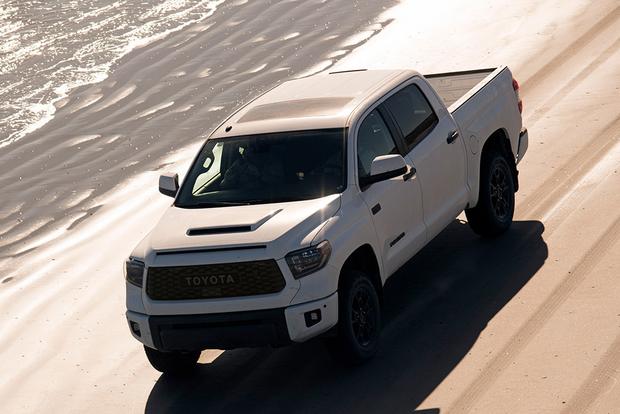 What Is It?
2019 Toyota TRD Pro is a dedicated off-roading package, first unveiled in 2014, that ups the off-pavement capability of certain Toyota vehicles. At this year's Chicago Auto Show, Toyota took the wraps off of the Toyota TRD Pro upgrades for its 2019 Tundra, Tacoma and 4Runner models.
Although the package is specifically tuned for each vehicle, a new addition common to all three will be 2.5-inch TRD Pro-exclusive Fox Internal Bypass shocks. Replacing the traditional off-road shocks with bypass tubes on the outside of the shock body, the new Fox shocks incorporate multiple bypass zones inside the aluminum body. Bypass tubes are engineered to adjust damping pressure, particularly in higher-speed off-road racing. The bypass zones in the Fox shocks not only provide stiffer damping adjustments for off-road racing and driving, but also deliver a more cushioned ride over pavement. Up front, the Fox shocks are mated with TRD-tuned springs, further improving ride comfort and providing extra lift for a more aggressive stance.
Among other TRD Pro enhancements on the Tacoma are a 1-in increase in lift and a 1-in wider track, a larger front sway bar, an updated front skid plate with red TRD lettering, and a black-chrome exhaust tip. An available TRD Desert Air Intake is located away from the dust swirling inside the wheel well for more consistent performance of the 278-horsepower V6 engine.
From the new front Fox shock/spring pairing comes an extra 2 inches of lift on the Tundra TRD Pro. Rear-wheel travel is also increased by more than 2 inches. LED headlights, accent lights and fog lights brighten the night. A new front end is joined by TRD Pro stamping on the rear quarter panels.
The TRD Pro 4Runner gets a 1-in boost in front lift and 1-in extra wheel travel. Red TRD lettering now brings focus to the quarter-inch-thick front skid plate. Matte-black 17-in TRD alloy wheels emphasize the 1-in wider track front and rear.
How Much?
Pricing to be announced.
When Can You Get It?
Fall 2018
Add It to Your Shopping List Because...
Serious off-roading is about more than simply 4WD. The 2019 Toyota TRD Pro is a total off-road-engineered system squeezing the maximum off-pavement performance from the vehicle. Not to mention, in the case of Toyota, this off-road grade includes a few exclusive interior enhancements. Off road or on, TRD Pro performs as good as it looks.
Other Trucks to Consider
Chevrolet Colorado ZR2 -- Available diesel, unique task-oriented styling and cutting-edge shocks.
RAM 1500 Rebel -- Available V8 Hemi, Bilstein shocks, multiple skid plates and macho styling.
Jeep Cherokee Trailhawk -- Refreshed for 2019 with new 4-cylinder turbo, 3 AWD systems and Jeep's Trail Rated label.