RESEARCH ALTCAR AUTO SHOW BY YEAR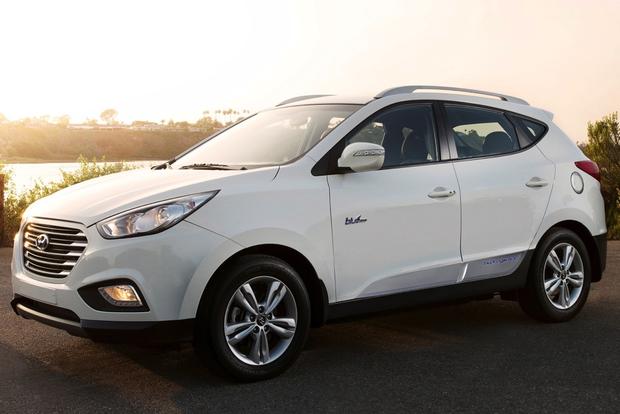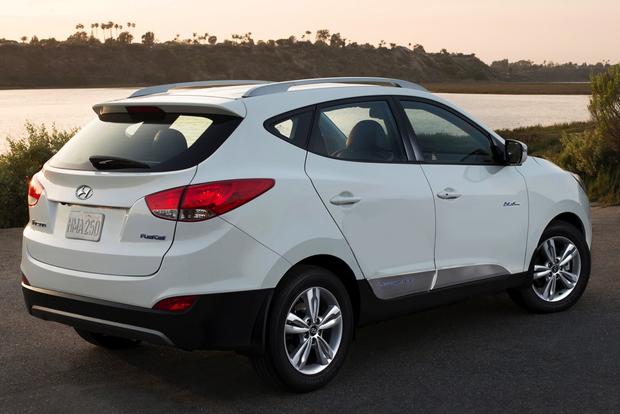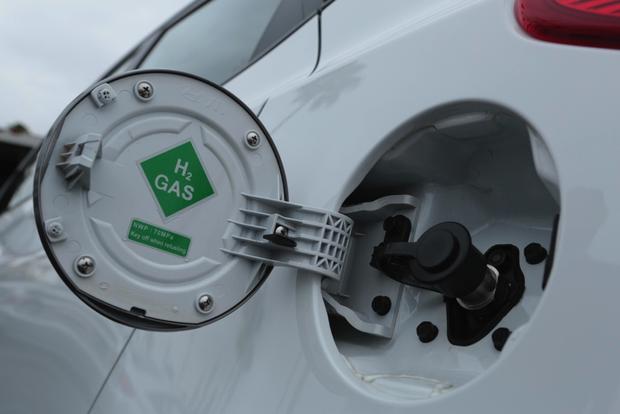 What Is It?
The Hyundai Tucson Fuel Cell is a special version of Hyundai's popular crossover that employs an electric motor and hydrogen power. It's similar to an ordinary electric vehicle, but its hydrogen fuel cell system takes the place of a battery pack.
Like the regular Tucson, the Hyundai Tuscon Fuel Cell has four doors and a compact footprint. It comes standard with numerous upscale features, including leather upholstery, dual-zone automatic climate control, a 360-watt audio system and heated front and rear seats. Versatility is basically unaffected by the fuel cell system's presence. The Tucson Fuel Cell can swallow 23.3 cu ft. of stuff behind its rear seat backs and 53.3 cu ft with its seat backs folded down, whereas the regular Tucson manages 25.7 cu ft and 55.8 cu ft, respectively. That's a refreshing change from ordinary electric vehicles (EVs), which often lose 20 percent or more of their cargo areas to batteries.
The Tucson Fuel Cell's 100-kilowatt electric motor is rated at a modest 134 horsepower by Hyundai, but that's typical. What's important in an EV is the torque rating, which checks in at a robust 221 lb-ft here. That should be plenty of oomph for most driving situations. As with other fuel cell cars, the only byproduct of the Tucson Fuel Cell's electrochemical fueling process is pure water, though current methods of producing hydrogen for fuel tends to release carbon dioxide.
Range is also a strong point for the Tucson Fuel Cell. Hyundai estimates that each full hydrogen fill is good for up to 300 miles, dwarfing the range of every EV save for the Tesla Model S. Additionally, refilling the hydrogen supply takes just 10 minutes, which is an eye-blink compared to normal EV charging times.
The question mark with hydrogen is always the refueling infrastructure, or lack thereof. There are 12 hydrogen filling stations in the entire country at present, 10 of which are in California. Moreover, seven of the California stations are in the Los Angeles metropolitan area (eight if you count the one in Riverside). California, at least, has an expansion plan in place, but it remains to be seen whether other states will follow suit.
Will They Ever Sell It?
In fact, they are selling it. Well, leasing it. It's initially being offered to customers in Los Angeles County and Orange County at $499/month for 36 months, with $2,999 due at signing.
Why It's Important
Hydrogen has been on the radar for a while now as an environmentally friendly gasoline/diesel substitute, but the lack of infrastructure has severely limited consumer access to this technology. Now that California has committed to building a real network of hydrogen filling stations, the Hyundai Tucson Fuel Cell could play a crucial role in determining whether consumers are ready to embrace the hydrogen revolution.