RESEARCH GENEVA AUTO SHOW BY YEAR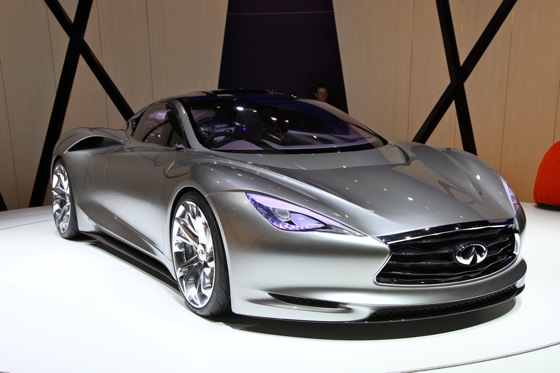 Infiniti unveils the EMERG-E sports carconcept vehicle at this year's Geneva Auto Show
A Glimpse into Infiniti's future mid-engine sports car future
Powered by twin electric motors producing 402 horsepower


Infiniti proves with the EMERG-E that the emergence of electric and plug-in hybrid vehicles does not signify the death of the sports car-far from it. The Infiniti EMERG-E is powered by twin electric motors with an onboard range-extending three-cylinder gasoline engine. With 402 horsepower, the EMERG-E is capable of making a 0-60 MPH run in four seconds. 0-130 MPH takes a bit longer at 30 seconds.
Much like production vehicles like the Chevrolet Volt and the Prius Plug-In Hybrid, the EMERG-E has a range of around 30 miles on an initial electric charge. After depleting the initial charge, the 1.2-liter three-cylinder gasoline generator engine (engineered by Lotus) engages and provides electricity on the fly for extended range. Combined, the full range of the EMERG-E is over 300 miles.
Infiniti felt that most mid-engine sports cars have a crude design. Infiniti wanted to break that mold with the EMERG-E. Infiniti describes its EMERG-E design, on the other hand, as "silk wrapping over the wheels." While a silk wrapping design is not what most mid-engine customers are looking for, there's no denying the beauty of the EMERG-E body design.
The body panels of the EMERG-E are made of carbon fiber. Underneath the bodywork, the chassis is an ultra-lightweight aluminum construction. The carbon fiber and aluminum combination provides a 20-percent increase in body strength and a 50-percent reduction in overall weight. Infiniti is so pleased with its design results; it is currently exploring future production application of this materials combination.
For now, the EMERG-E is simply an example of Infiniti's design prowess. However, with any luck, customers will be able to get a hold of fuel-efficient and powerful mid-engine sports cars like the EMERG-E within the next few years.
What it means to you: The Infiniti EMERG-E combines the best of both mid-engine sports car performance design with the efficiency of range-extended electric vehicles.