RESEARCH SEMA AUTO SHOW BY YEAR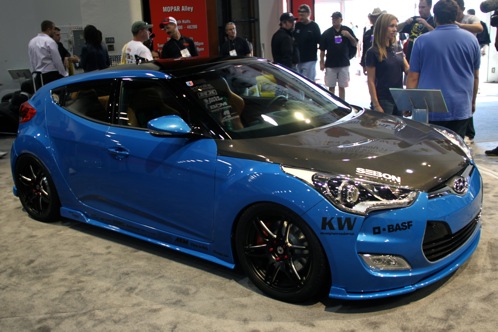 While PM Lifestyle is best known for its digital publication Slide America, which focuses on drifting, it may be tough to take its latest collaborative creation around a corner with its tail out, unless of course the handbrake is being cooked in the process. That's because its paired up with Hyundai to trick out a Veloster, Hyundai's little front-wheel-drive hatchback, and if we know anything, it's that "FWD" and "drifting" don't normally belong in the same sentence. But that's all well and good, because PM Lifestyle has branched out into the automotive world as a whole, and with it, honed its eye for design and aftermarket engineering, all of which can be seen on the PM Lifestyle Veloster at SEMA, thanks to the wrenches at the Universal Technical Institute.
Packed into the Veloster will be a laundry list of enhancements, including enough LED lighting to land a plane at night, and seemingly enough carbon fiber to build the bird it's guiding in. But all the parts sport the big names in the game. Kicker does all the audio inside the car, while Magnaflow provides the aural excitement on the outside. Seibon provided all of the carbon fiber bodywork, including a hood, trunk, and diffuser. Under the hood plenty of nitrous is included, as would be expected, as well as an AEM cold-air-intake, and a SPEC clutch to get the power to the ground. KW was entrusted with getting the car's mass planted a little closer to the tarmac, and when it all needs to come to a stop, and SSBC big brake kit should fit the bill.
But SEMA isn't the last stop for this car. As part of a program to showcase UTI's handiwork, it will be racing all 263 horsepower on tour for no less than three years. The chosen backdrops for its appearances will be autocross, supercross, and other general alternative sports events, as well as school demonstrations for UTI.
See more coverage of the 2011 SEMA Auto Show.
ROSS DARBYcomes from a family that has been present in the automotive industry for generations, sowing the car enthusiast seed at a young age. When he's not tracking the industry, Ross likes to run, eat buffalo wings, play soccer and partake in the finest of brown spirits.