RESEARCH DETROIT AUTO SHOW BY YEAR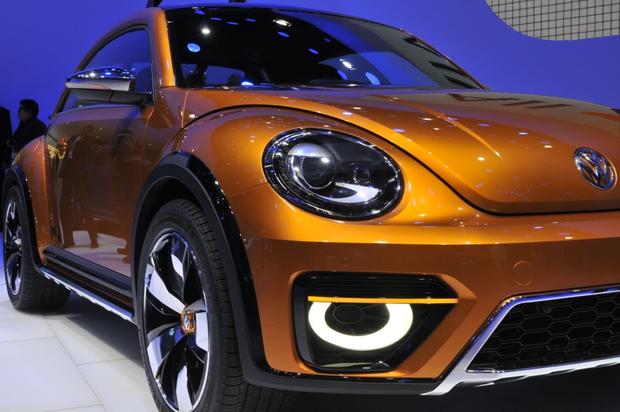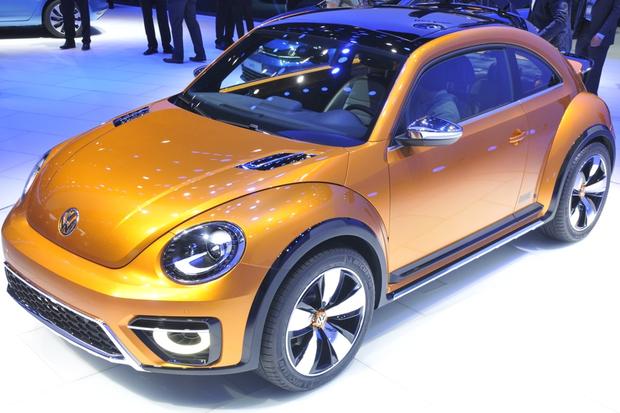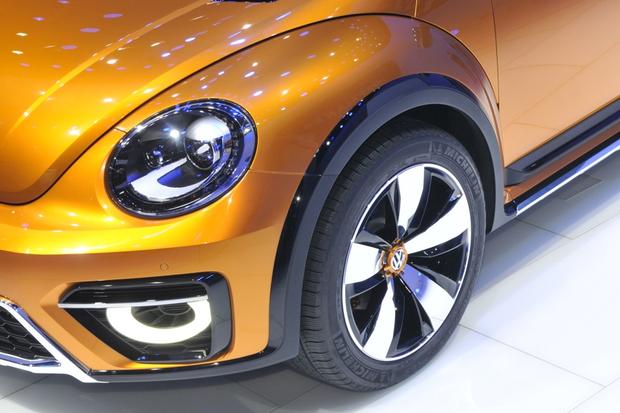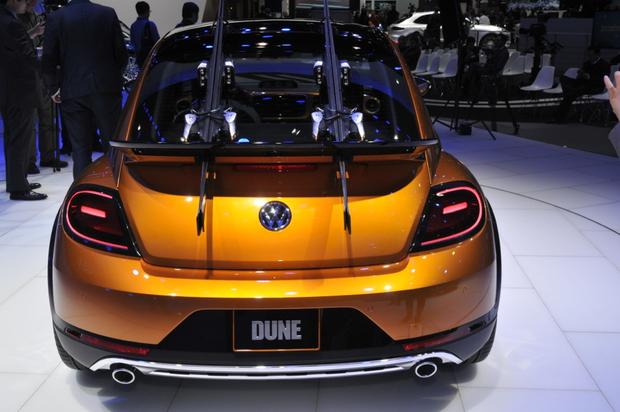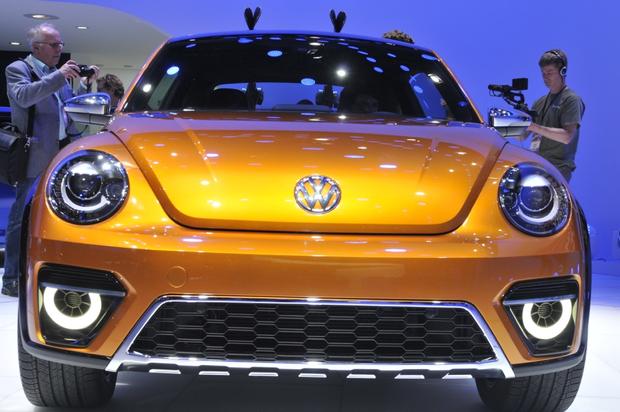 What Is It?
The Volkswagen Beetle Dune Concept evokes images of those old dune buggies made from the original, air-cooled VW Beetles. It's based on the well-packaged R-Line version of the current Beetle, but slightly longer, wider and taller, with two extra inches of ground clearance for an off-road-ready look.
Beetle aficionados will notice a different hood. This one has vents on either side of a wide central bulge. Beneath that hood rumbles a turbocharged 2.0-liter 4-cylinder engine, supplying the Beetle Dune Concept with 210 horsepower. VW hasn't mentioned torque figures, but this unit can produce 258 lb-ft, which would be most welcome on the real dunes.
Just the front wheels do the work, but Volkswagen can fit an all-wheel-drive system to a production version. Either way, VW's 6-speed DSG auto/manual transmission is a great piece of equipment to complete the drivetrain, along with a virtual limited-slip differential.
Two rear spoilers -- one at the roof, the other just above the trunk lid -- also act as a rack for skis, snowboards, sandboards (this is called a Dune, after all) and the like.
The cabin houses interesting electronic touches, such as the infotainment system's 7.7-inch touchscreen that uses Active Matrix Organic Light-Emitting Diode (AMOLED) technology for ultra-sharp resolution. That screen will provide access to VW's Sideways app, which not only provides restaurant information but can also tell users if their dining companions have arrived.
Will They Ever Sell It?
VW hasn't said "yes" for sure, though it has dropped several big hints. There was a similar concept unveiled in Los Angeles in 2000 called the New Beetle Dune. The company describes this current effort as "a lot more feasible ... production ready," and says it "shows the potential for a new production version." One rumor has it coming off the assembly line this summer. VW has even quoted fuel consumption figures, even if they are unimpressive: 23 miles per gallon city/29 mpg hwy.
Why It's Important
The Volkswagen Beetle Dune Concept attempts a brave stab at trying to attach the same coolness to the current Beetle that used to ooze from the original version. And if that coolness, by some kind of lucky magic, should spread to a few of VW's more ho-hum efforts, so much the better.