RESEARCH DETROIT AUTO SHOW BY YEAR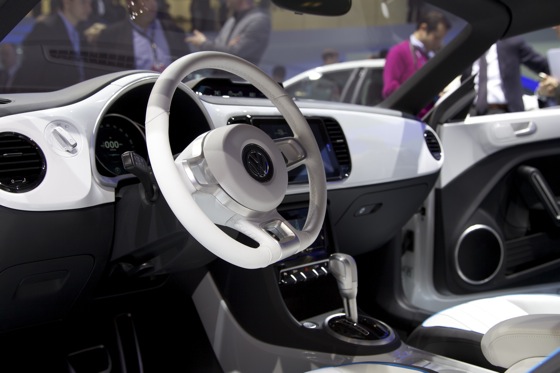 VW E-Bugster Concept debuts at this year's Detroit Auto Show
All-electric version of the infamous VW Beetle
VW's "Blue-e-motion" electric drive allows for 100+ miles per charge


The Volkswagen E-Bugster, combines "E" for electric, "Bug" for the nickname for Beetle, and "Speedster." VW has taken their reinvented Beetle and made an all-electric version.
Underneath the sleek new Beetle body is the heart of the E-Bugster, a 114-horsepower electric motor and a 176-pound lithium-ion battery pack that allows the E-Bugster to achieve more than 100 miles per charge. Volkswagen has nicknamed the electric drive unit in the E-Bugster the "Blue-e-motion," and will be featured in future VW products such as the Golf Blue-e-Motion.
Inside the cabin, the E-Bugster has EV-specific gauges and the traditional tachometer has been replaced with an energy consumption display that reacts to vehicle acceleration.
On the outside, VW differentiated the E-Bugster from the standard Beetle in several ways: V-shaped daytime running LEDs light are featured in the front and rear bumpers and flared wheel arches accent the E-Bugster's sizeable 20-inch wheels.
Though only a concept at this time, the E-Bugster shows Volkswagen's dedication to building, fun, stylish, and most importantly, different vehicles. With the E-Bugster, VW proves that electric vehicles (EVs) don't have to be boring.
What it means to you: If VW puts the E-Bugster into production; it'll be one of the most stylish and distinctive EVs on the road.