Cargo vans are extremely useful and often essential tools for businesses of all sizes. However, new vans can be expensive, even the stripped-down base models. Used vans can give business owners on a budget some relief from sticker shock while still reliably reporting for duty as some much-needed equipment to get the job done. Here are 10 good used cargo vans for your business.
2015-2018 Ford Transit
The current-generation Ford Transit has been around in the U.S. since the 2015 model year, which is long enough for a good amount of used examples to be available right now. Transits that have experienced some depreciation have a lot to offer at reasonable prices. The Transit has been dominant in work vans, having been the best-selling van in the U.S. since 2016 — including minivans — and fuels Ford's 57-percent U.S. market share in the full-size van segment. The full-size Transit is available with a 3.7-liter V6, a twin-turbo 3.5-liter EcoBoost V6 or a 3.2-liter inline-5 PowerStroke turbodiesel. The EcoBoost option claims best-in-class torque from a gas engine of 400 lb-ft. Right now, there are more than 4,000 used current-generation Transits on Autotrader that can purchased for as little as around $15,000, but most are closer to the $20,000 mark.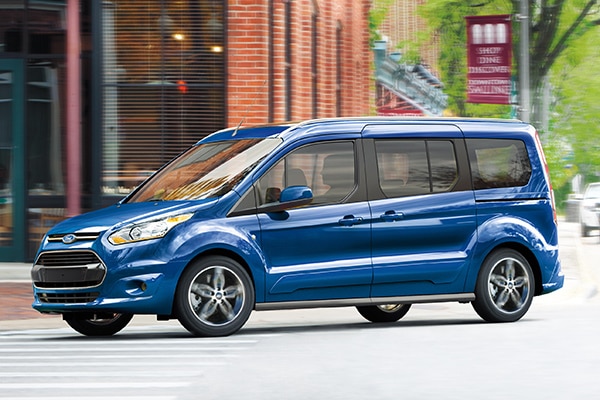 2014-2018 Ford Transit Connect
If you like the Ford Transit but don't need a van that large, the smaller Transit Connect is a great option. It has a smaller footprint than a full-size van, making it easier to maneuver in traffic and easier to park. Its smaller size and engine options of a 2.5-liter inline-4 or a turbocharged 1.6-liter EcoBoost inline-4 make it more fuel efficient. What people love about the Transit Connect is that it has the utility of a cargo van, but it's as easy to drive as a compact car. These little vans are pretty abundant already on the used market with over 1,000 used examples on Autotrader. If you look carefully, you can get one for less than $10,000, but most of them are closer to the $15,000–20,000 range.
Find a Ford Transit Connect for sale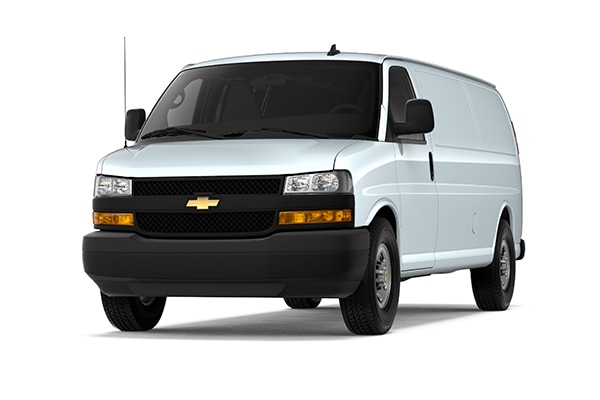 1996-2018 Chevrolet Express/GMC Savana
General Motors is the only major car company that still offers a good old-fashioned, body-on-frame, truck-derived work van. It might not be the most modern van on the list, but the Express and the Savana have the old-school charms and capabilities that many business owners love. It has powerful engine options including an old-school 6.0-liter V8, which makes 341 hp and can tow up to 10,000 lbs. If you need a van that can do some serious, heavy-duty towing and hauling, one of these no-nonsense cargo vans would be a great fit.
The fact that these vans haven't been thoroughly revised since 1996 means you can get an old one that's not much different from a new one for much less money. If you go all the way back to the 1996 model, you can get an Express or Savana for next to nothing. Even models from after the 2003 facelift can be purchased for around the $5,000 mark, making this a great work van for small businesses on a budget. Obviously, a newer example with fewer miles will cost more, but you can still get a nice one for less than $15,000. You shouldn't have much trouble finding one, because there are more than 8,000 of these vans on Autotrader. Don't let miles scare you, these vans have reputations for lasting a very long time.
Find a Chevrolet Express for sale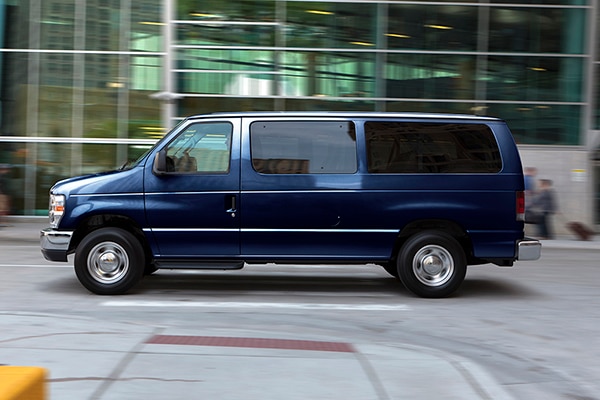 1992-2014 Ford E-Series
One option that you can get on the used market that you can't buy new is a Ford E-Series or "Econoline." A direct competitor to the Chevy Express, the Ford E-Series was little more than an F-150 truck with a van body. It was discontinued in 2014 in favor of the Transit, but it's still a great option in used work vans. It's one of the few cargo vans you can get with a V10 engine, which is nice if you want big power and torque ratings but don't want a diesel. Like its GM counterpart, the most recent E-Series went a very long time without major revisions. Right now, there are more than 2,500 used examples of the most recent Econoline van on Autotrader with prices for clean, newer ones around $10,000–15,000.
2012-2015 Ram C/V Tradesman
Another cargo van that you can't buy new is the Ram C/V Tradesman. The C/V may look familiar as a Chrysler minivan, but it serves a different purpose. It only has two seats, with the rest of the van being committed to cargo space. The rear windows are replaced with solid metal. The C/V Tradesman was equipped with the reliable and efficient 3.6-liter Pentastar V6 engine, which had a towing capacity of 3,600 lbs. Since it had such a short production run, there aren't a whole lot of these on the used market, with only about 300 used examples on Autotrader right now. If you can find one, it's a good, modern van that can easily be purchased for less than $10,000.
Find a Ram C/V Tradesman for sale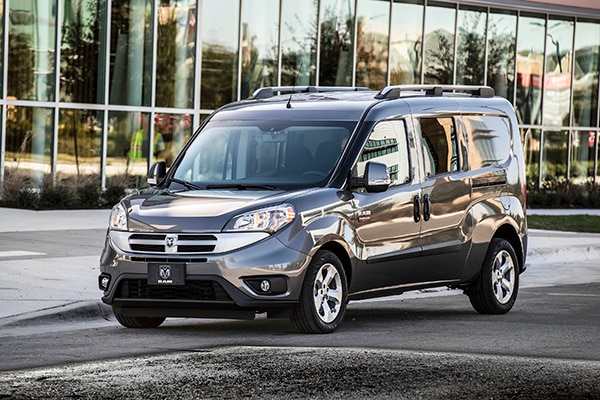 2015-2018 Ram ProMaster City
The aforementioned Ram C/V Tradesman was discontinued in 2015 and replaced with the Ram ProMaster City. Based on the Fiat Doblo, the ProMaster City competes with the Ford Transit Connect. This Ram boasts best-in-class cargo capacity of 131.7 cu ft., giving it a slight advantage over the Ford in terms of pure volume. The only engine option is a 2.4-liter Tigershark inline-4, which offers best-in-class horsepower (178), torque (174 lb-ft) and payload (1,855 lbs). Not only does it excel in capability, but it also returns class-leading highway fuel economy of 28 miles per gallon. These are already more common than the Ram C/V Tradesman with about 400 examples on Autotrader, most of which are going for $15,000–20,000, which is similar pricing to the Transit Connect.
Find a Ram ProMaster City for sale
2014-2018 Ram ProMaster
If you want to up-size from the ProMaster City, the Ram ProMaster is a unique offering in full-size vans. What makes the ProMaster different from the competition is the fact that it's front-wheel drive. Front-wheel drive gives the ProMaster a traction advantage over RWD competitors, making it good for snowy climates. Ram also claims that FWD means a lower lifetime cost of ownership, thanks to having fewer parts to maintain, like a driveshaft and a rear differential. The ProMaster boasts best-in-class turning diameter, making it easy to navigate and park for a van of its size. It comes with an impressive standard cargo height of 65.4 inches. There are more than 1,500 of these used vans on Autotrader, and you can expect to spend around $20,000 or more for a clean, low-mile, used ProMaster.
2006-2018 Mercedes-Benz Sprinter
The Sprinter has been sold under many different brands, including Dodge, Volkswagen and even Freightliner. They're all the same van no matter what badge they wear, and they're popular for a reason. The Sprinter is arguably the van that made tall cargo vans mainstream rather than trucks with van bodies causing brands like Ford to ditch the Econoline in favor of the Transit. There's an all-new Sprinter for the 2019 model year, which should help drive down prices of the current generation model, making it a good buy on the used market. If you search for used Sprinters on Autotrader wearing Mercedes-Benz, Dodge and Freightliner badges, you'll find about 800 results. They have a very wide price range, and these vans are generally pricier than competitors, with average prices around $30,000.
Find a Mercedes-Benz Sprinter for sale
2012-2018 Nissan NV
A brand that's often forgotten when it comes to commercial vehicles is Nissan. The Nissan NV has been available in the U.S. since the 2012 model year as an attractive alternative to the domestic brands. It's derived from the same platform as the Nissan Titan full-size pickup, but modified to be more useful as a van. Its engine options are a 4.0-liter V6 or a 5.6-liter V8 and it's only available with rear-wheel drive, so it might not be the best option if you need to drive it in the snow with any regularity. However, the NV is a rugged alternative to more mainstream vans. Right now, there are about 400 used Nissan NVs for sale on Autotrader with average pricing around the $20,000 mark, which is in line with the Transit and the ProMaster.
2013-2018 Nissan NV200/Chevrolet City Express
The Nissan NV200 and the recently discontinued Chevy City Express are the same van wearing different badges. Chevy needed a city van to compete with the Ford Transit Connect and decided to borrow the NV200 rather than developing its own van. It has many of the same virtues as the Transit Connect and ProMaster City as a small, efficient cargo van. Like the bigger Nissan NV, the NV200/City Express is a strong value proposition in compact used cargo vans. There are about 600 of these city vans for sale on Autotrader with an average asking price between $15,000-20,000. With this van priced so similarly to the Transit Connect and the ProMaster City on the used market, picking the right city van for your business is a matter of personal preference.