With the SUV boom in full swing again, fuel economy isn't the major priority for many consumers it once was. A decade ago, high-mpg gasoline-electric vehicles were headline-grabbers at major auto shows across the world. Yet what was thrifty then may be just average today. Take the Nissan Altima Hybrid. At 34 miles per gallon in combined driving, it was miserly for its day, while a brand new 2020 Altima without a gasoline-electric powertrain is quicker, far less complicated, and rated at 32 mpg combined using the Environmental Protection Agency (EPA)'s latest test.
Given the substantial costs of developing these complicated systems more than a decade ago, most automakers chose not to go it alone. A common theme in this list is the partnerships formed to develop hybrid technology. In the end, not everyone came out equally, however. Good luck finding a brand new Mazda or Nissan hybrid today.
Forgotten hybrids represent an outstanding value and an excellent way to find cheap hybrid vehicles for sale. Here's a look at 10 ecofriendly cars you may have forgotten.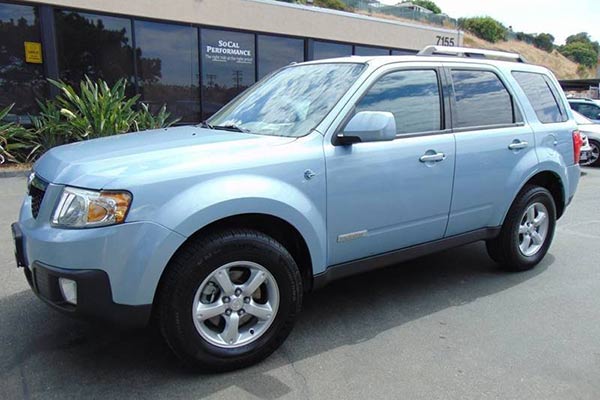 Mazda Tribute Hybrid
Though it was offered alongside the Miata and RX-8, the Mazda Tribute was far from zoom-zoom. It was a rebadged version of the Ford Escape (and later Mercury Mariner), and when Ford went hybrid, so did Mazda. To this day, it is the only Mazda hybrid to have been offered to the U.S., though that's likely to change soon.
The Escape Hybrid earned its keep as a New York taxi, and though I've never seen a Tribute Hybrid with a medallion, it's possible one existed. Our own Doug DeMuro didn't find one in 2017, and it's not likely one has popped up since. However, maybe it's your turn to be the first. Clean Tribute Hybrids cost less than $10,000 used. Find a Mazda Tribute for sale
Chrysler Aspen/Dodge Durango Hybrid
Chrysler's first foray into hybrids made some sense at the time. 3-row SUVs were hugely popular, and so in late 2008 Chrysler and Dodge unveiled hybrid versions of the Aspen and Durango twins. Underhood, they used a 2-mode hybrid system developed with General Motors, Daimler and BMW. The Dodge and Chrysler SUVs were largely identical aside from their grilles and interior trim. They arrived at just the wrong time — as the world was diving into a global recession — and, frankly, they weren't very good.
Chrysler did nothing to cancel out the added heft of bringing 400 pounds of hybrid tech to an SUV that now tickled 6,000 pounds with a full tank of fuel and a driver aboard. Still, the SUVs were rated at 21 mpg combined, which was far better than the 15 mpg combined for the standard Durango and Aspen V8s. If you can find one, these Chrysler and Dodge hybrids can be had for less than $10,000. Find a Chrysler Aspen for sale or Find a Dodge Durango for sale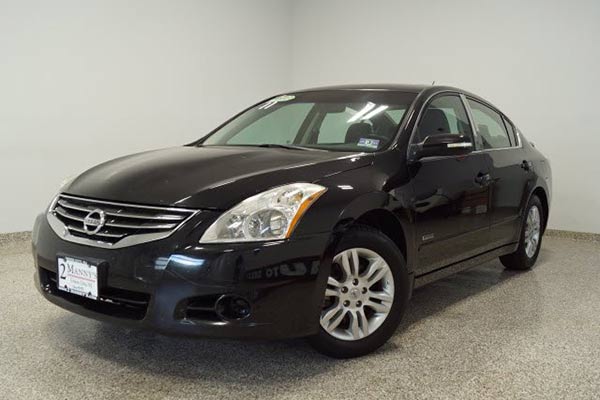 Nissan Altima Hybrid
Nissan sought out arch-rival Toyota's system for a thriftier version of its Altima. The sedan used technology similar to what Toyota fitted to its Prius, but a less aerodynamic design and a thirstier 2.5-liter inline-4 as the gasoline engine resulted in just 33 mpg combined.
The automaker managed to move just 35,000 Altima Hybrids over a 4-year period, with sales relegated to just seven states. The cars were, for a brief period, popular with the New York Police Department and as yellow-painted New York cabs, but it's unlikely too many are still in service. Low-mile examples that didn't carry perps or paying passengers can be had for less than $7,000. Find a Nissan Altima for sale
Honda CR-Z
Honda was a hybrid pioneer and to date remains the only automaker to have offered a manual transmission in a hybrid sedan (the first-generation Civic Hybrid). Between Honda's engine-building expertise and a heritage of creating fun, lightweight runabouts, the CR-Z arrived with high expectations for the 2011 model year.
I happened to be at the press launch for the CR-Z in 2010, where Honda was so eager to link the car to the dainty CRX hatchback that they brought one from their museum and let us automotive journalists take a spin in it. The CRX proved far more fun than the CR-Z, which felt watered-down and soft. Still, the CR-Z weighs little and can be found with a manual transmission, which makes it a fun commuter choice for around $7,000. Find a Honda CR-Z for sale
Saturn Aura Green Line/Chevrolet Malibu Hybrid
Prebailout General Motors was throwing darts at the wall and hoping (really hoping) that one would stick. Bowing for the 2008 model year, the Aura Green Line (and the related Chevrolet Malibu Hybrid) made use of a 2.4-liter inline-4 teamed with a motor/generator and a 4-speed automatic transmission. The so-called "mild hybrid" used the electric motor to power accessories while at a stop and to aid the gas engine in acceleration. At just 29 mpg combined, they were barely more ecofriendly than the standard engines, however, and they had less truck space.
The Malibu proved somewhat popular as a government vehicle — it was American and green(ish), after all — but consumer sales were limited, even with hefty incentives offered as the automaker wound down its Saturn brand. They can be hard to find, but these rare hybrids won't likely set you back more than $7,000. Find a Saturn Aura for sale
Nissan Rogue Hybrid
Here's one you can still buy new (if you shop closely), but you've probably forgotten about: the Nissan Rogue Hybrid. Introduced for 2017 and discontinued for 2020 — hey, gas is cheap — the Rogue Hybrid is rated at the same 170 horsepower as its nonhybrid sibling. Combined fuel economy is 5 mpg higher, and Nissan priced the hybrid relatively aggressively at just $1,000 more than the standard model. According to the EPA, Rogue Hybrid drivers would spend around $250 less annually on fuel than those in the standard Rogue, which meant it only took four years of low-guilt driving to pay off the premium.
Sounds like a win, right? Apparently not. Nissan launched the Rogue Hybrid with high hopes but limited sales to just four regions in the U.S., and after lackluster sales the powertrain was dropped for the 2020 model year. New ones run upward of $30,000, but a lightly used Rogue Hybrid can be found for about $20,000. Find a Nissan Rogue for sale
Lexus HS 250h
The HS was Lexus' first dedicated hybrid, a move that seemed like it made a lot of sense when it hit the market for the 2010 model year. Here you had a Lexus sedan sized about like the compact IS that earned 35 mpg combined, 11 mpg better than the IS 250. If the Toyota Prius-based HS looked a little dowdy, that was a fair compromise, Lexus figured, for its plush interior and great fuel economy.
Except not quite. The HS was criticized before anyone even drove it for what should have been its strongest selling point. A 2010 Prius was rated at 50 mpg combined! The floor mat and brake override software recall that hit Toyota and Lexus hard in 2010 didn't help, either, and by 2012 the car was gone from Lexus showrooms. About $14,000 buys you a clean example today. Find a Lexus HS 250h for sale
VW Jetta Hybrid
The fact that the Volkswagen Jetta Hybrid was a total flop is a head-scratcher, though VW's questionable relationship with environmental causes may have had something to do with it. The Jetta Hybrid arrived in 2012 as a complement to the TDI turbodiesels — and it was by far the greener choice, though we didn't know exactly by what magnitudes until VW was caught intentionally cheating on emissions tests in 2015.
The Jetta Hybrid was rated at 44 mpg combined compared to just 35 mpg combined for the TDIs. It could only be had with an automatic transmission, and at about $25,000 it was a reasonable $1,000 more than an equivalent turbodiesel. The Hybrid doled out its 170 hp in a smooth and linear manner, and it was exceptionally quiet. Maybe it's a hybrid worth remembering. Plan to spend $8,000 for a clean example. Find a Volkswagen Jetta for sale
MORE FROM OVERSTEER:
Autotrader Find: 2006 Lotus Elise With 114,000 Miles
Here Are the Most Fun Cars Under $10,000 for Sale on Autotrader
The Original Jeep Wrangler Unlimited Was Such a Good Idea