Faced with a move and some major home improvement projects planned for our new house, last fall I located an inexpensive Ford F150 pickup on Autotrader. I named the truck Eddie — he's from the Eddie Bauer trim level — and quickly bonded with my new work buddy. I certainly could have rented a truck any time I needed one from a big box store, but that often requires planning. And those trucks can get expensive quickly.
I'm not saying that buying a cheap pickup was a brilliant idea, but it proved to be a huge time and effort saver. When I was done with the projects, I reluctantly put Eddie up for sale and found a new owner within days. Even calculating the little bit of work I put into Eddie, the truck saved me a good deal of money and hassle.
Maybe you don't need all that justification to buy a pickup. But if you do, there are plenty of ways to buy an inexpensive truck for your next home improvement project. Here's a look at five cheap trucks for sale on Autotrader, each for well under $10,000.
Pint-Size Utility: Ford Ranger
If all you need is a basic, low-frills truck, the Ford Ranger is a solid bet. A 4-cylinder engine was standard fare, though many were built with stronger V6 engines. Later Rangers are more common in the extended-cab configuration, though the space behind the front seats is best for storing shopping bags, not humans. Find a Ford Ranger for sale
Here's a clean 2001 Ranger — which looks nearly identical to the 2011 model — for just under $4,000 in Warsaw, Indiana. This particular truck has the extended-cab body and the styleside bed, and it's well-equipped with 4-wheel drive, power features and cruise control.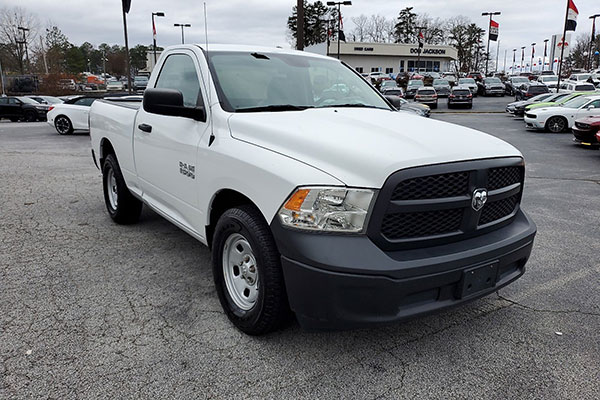 Just the Basics: Ram 1500 Tradesman
A basic work truck gets the job done for countless tradespeople every day, so why not add one to your stable for the job you have planned? The Ram 1500 looks great and has a coil-sprung rear axle that gives it a better ride and better handling than its competitors. Opt for the aptly named Tradesman trim level, and you get an easy-to-clean interior with vinyl flooring and upholstery and with fewer features that can go wrong.
This 2017 model is definitely spartan, though it has cruise control, air conditioning and — well, not much else. Its 3.6-liter V6 is plenty powerful to haul around this lightest of Ram trucks, and it makes use of an excellent 8-speed automatic transmission. Find this Ram 1500 Tradesman for just $8,995 in Union City, Georgia. Find a Ram 1500 for sale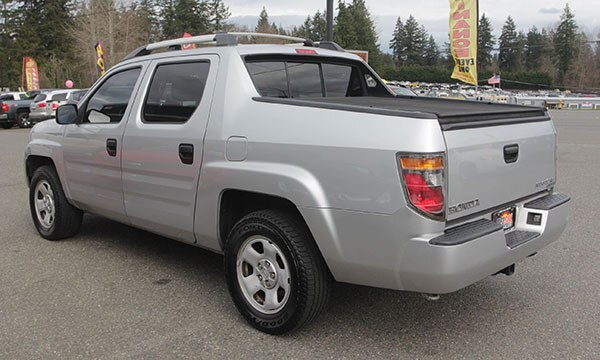 Crossover-Like Comfort: Honda Ridgeline
It may be ungainly, but the original Honda Ridgeline is just so practical for the way most people use their pickups. The Ridgeline has a plush interior, a comfortable suspension derived from the Honda Pilot and a damage-resistant composite bed that won't rust. There's even a hidden storage area under the bed.
Unless you really need something that can tow heavy loads or haul items larger than its 5-foot bed can accommodate, a Ridgeline like this 2008 RT base model in Everett, Washington, is a smart choice. This truck boasts more than the basics, plus it has a slew of airbags, a roof rack and even a bed cover for just $8,710. Find a Honda Ridgeline for sale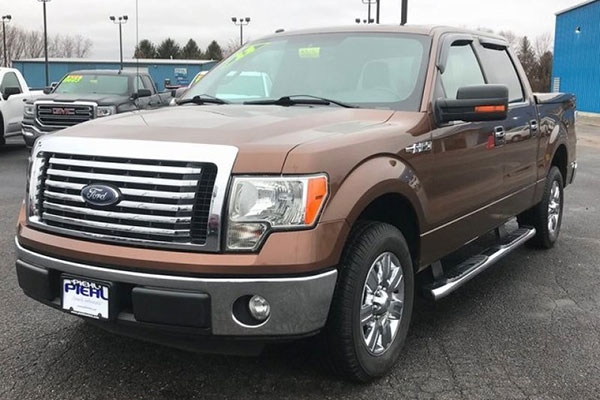 Your Neighbors Will Think You Spent More: Ford F150
Just because a truck is cheap doesn't mean it has to look like it. High-mile late-model full-size trucks offer lots of capability, and they generally have pretty good reputations for durability. In the case of this 2012 Ford F150 XLT SuperCrew in Princeton, Illinois, a smidge under $10,000 buys a rich-looking brown paint job, plenty of chrome and an interior loaded with modern conveniences, such as Bluetooth, a USB port and more.
It's covered 209,000 miles and it's a rear-wheel-drive model, but if all you're after is a hardware store hauler, a high-mile late-model truck like this F150 will get you there in comfort. Find a Ford F150 for sale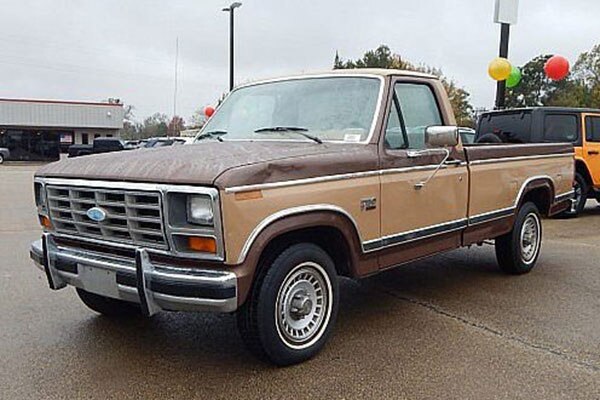 Golden Oldie: A Vintage Pickup
Classic pickup truck values are on the rise, so you could scoop up a great deal on an older model and watch it appreciate while you put it to use. Just be careful. No dumping rocks into the bed, you know?
This 1984 Ford F150 XLT looks well kept, and it's finished in a period-cool 2-tone brown color scheme. Its bed has a rubber pad that looks like it's never seen a heavy load. Inside, its cloth bench seat looks like the drapes at your grandparents' house. It's just dripping with character, right down to its stock AM/FM stereo. Find it for a mere $7,995 at a Dodge dealer in Bristow, Oklahoma. Find a Ford F150 for sale
MORE FROM OVERSTEER
Buying My Dream Car: 1966 Ford Mustang GT350 Restomod Tribute
5 Unique Land Rover Defenders for Sale on Autotrader
Autotrader Find: 1992 Ford E-350 Flatbed Pickup With 10,000 Miles