Cutting a hole in the roof of a perfectly good, modern car has always seemed strange to me. Sunroofs — or moonroofs, as the glass-paneled ones are called — add considerable complexity and the potential for leaks or other malfunctions. Still, people love them. So much so that it's almost impossible to buy a crossover or SUV without a massive panoramic glass panel that lets the sun bake the interior in any weather.
Most sunroofs and moonroofs fall into two categories: normal and super size. Occasionally you'll find an oddball example like the Land Rover Discovery, which had two glass panels plus a pair of "alpine" windows that presumably gave Land Rover marketers a decent view of some mountains once. But then there are the downright bizarre sunroofs, and I've gathered five of the best below for your reading pleasure.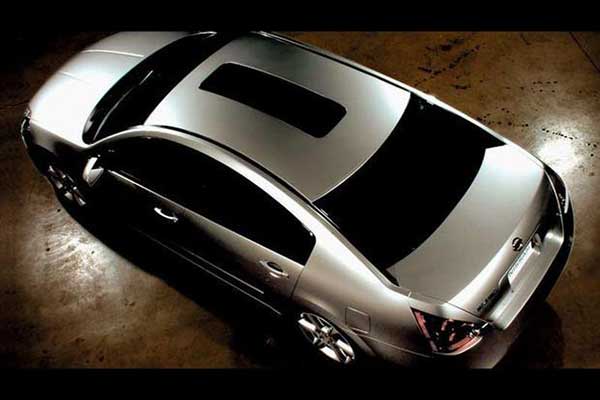 Nissan Maxima and Quest SkyView
Once upon a time, Nissan was a solidly quirky automaker. The first decade of the 21st century may have been the automaker's zenith for oddball designs, and even the two products that competed in segments most automakers would consider ultra staid had their weird touches. The sixth-generation Maxima and third-generation Quest both had small fixed glass sunroof panels that ran perpendicular to conventional sunroof placement.
Nissan called the panels SkyView. The Maxima got just one, and it was standard, although it could be deleted in favor of a conventional moonroof for about $900. The Quest came standard with a steel roof and offered four SkyView panels plus a standard moonroof as an option on most trims. While they were unique, the panels looked more like coin slots than moonroofs, and they were ditched in favor of traditional moonroofs on the next-generation Maxima and Quest models. Find a Nissan Maxima for sale or Find a Nissan Quest for sale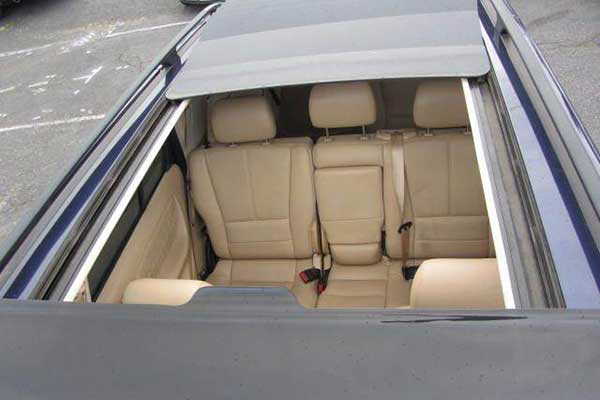 Mercedes-Benz M-Class Skyview
There's no question that the first-generation Mercedes-Benz M-Class (badged as the ML) was an innovative SUV. It boasted rounded styling but a separate ladder chassis and a standard low-range as well as an interior that looked like a contemporary Benz 4-door but with materials that wouldn't have passed muster at Little Tykes. A year after the first ML320 went on sale, the 1999 model went on sale with a newly optional multi-panel sunroof that stretched nearly the entire length of the roof. Mercedes christened the system Skyview, without the capital V, and its existence actually dates to a 1995 patent in which the automaker described it as a "lamella" roof because of how its horizontal panels went together. It seems that Mercedes didn't mind Nissan using the same name for its moonroof panels.
The package was very unpopular, in part because of the $2,450 price of admission compared to the $1,095 the automaker charged for the standard moonroof. It seems to have been slightly more popular on the bonkers ML55 AMG, because why not. Here's a particularly tacky one for sale. The option was dropped for the second-generation M-Class, which arrived for the 2006 model year. Find a Mercedes-Benz M-Class for sale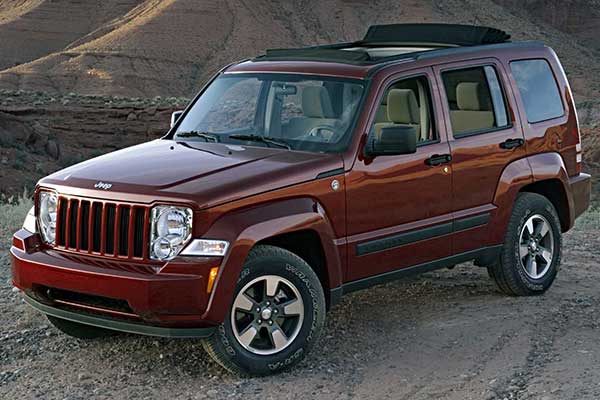 Jeep Liberty Sky Slider
The Jeep Liberty had big shoes to fill when it arrived for 2002 to replace the venerable Cherokee. The bulbous, cute ute-like Liberty sold well at first — really, anything with a high seating position was a hit in 2002 — but the second-generation model that bowed with blockier styling for 2008 has gone down in history as particularly unloved. It was especially light on personality, aside from one quirky feature Jeep offers on the Wranglers of today: a huge canvas roof that slides back for a convertible-like feeling.
The Sky Slider cost between $1,060 and $1,200 depending on the trim level in 2008, just a tick more than the $850 Jeep charged for a conventional moonroof. At first, the roof was watertight and fairly quiet, but the mechanism wasn't built for the long haul. Also, earlier this year, word leaked that Jeep's parent, Fiat Chrysler Automobiles, no longer had the parts in stock to fix the roof, which makes a used Liberty Sky Slider about as practical as a Shelby Cobra for anyone not in, say, Tucson. Find a Jeep Liberty for sale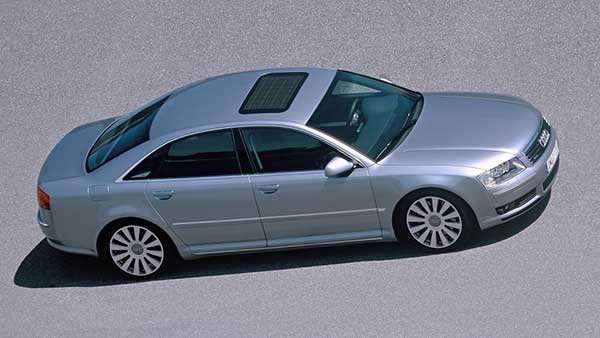 Audi Solar Panel Sunroof
Never one to shy away from technology (even when it's not quite ready for prime time), Audi once offered a solar panel sunroof. The sunroof wasn't see-through like a glass moonroof, but it was pretty trick looking, and it powered the climate control fan in an effort to keep interior temperatures a little more bearable in summer.
The system worked as advertised, at least at first, but it could hardly cope with blistering American heat. The optional was reasonably priced at $790 on the A8 in 2008, but unlike other then-exclusive features, such as adaptive cruise control and massaging front seats, the solar panel sunroof would never trickle down to less costly Audis. Solar panel roofs are likely here to stay, though, and they'll eventually charge batteries while electric cars are parked. This may not be so effective in Seattle in February, but drivers in Albuquerque stand ready to harness the sun's power. Find an Audi A8 for sale
MORE FROM OVERSTEER:
Autotrader Find: 1994 Cadillac Fleetwood 6-Door Limo
Video | The Pagani Zonda Is an Insane $6 Million Supercar
Autotrader Find: 1988 Jeep Cherokee Pioneer 2-Door 4WD With 119,000 Miles