It might be hard to believe, but not too long ago, the Chrysler PT Cruiser was a widely respected car. The big car publications showered it with awards and great reviews, it sold like crazy and even hardcore enthusiasts who were into customization and hot rods used the PT Cruiser as a blank slate.
The Specialty Equipment Market Association, or SEMA, throws a big show every year where manufacturers and hot rodders bring their creations to show off their customization chops. Here are some of the craziest PT Cruisers that have been shown off at the SEMA show over the years.
2004 PT Speedster
This performance-oriented PT convertible kind of looks like a Harley-Davidson F-150 with its two-tone paint job. Under the scooped hood lies a Mopar Performance Parts Stage 1 turbo upgrade, which cranks up the horsepower to 235 and the torque to 260 lb-ft. It sits on coil-over suspension and 18-inch Budnik custom wheels. If you think SRT Neons are overkill, imagine if this thing ever made it to mass production.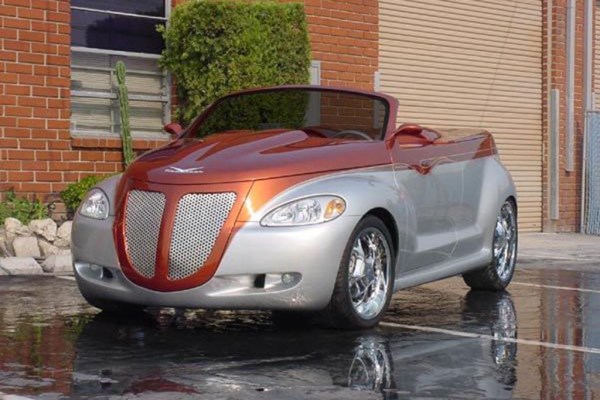 2003 Pteazer Roadster
Pteazer is not an allergy medication, it's a custom parts manufacturer that specializes in PT Cruisers and Chevy HHR parts. Yes … that's a business that exists. Anyway, this SEMA PT Cruiser is a modular design. They made a short hardtop, a long hardtop and a rear hatch that can transform this PT Cruiser convertible into different shapes. As you can see, questionable decisions were made on the inside and outside of this car.
2001 Decoma PT/10
What we have here is a PT Cruiser turned into a pickup truck. It's just like an El Camino! This PT/10 has a surprisingly tasteful custom front grille and fascia with custom tail lights on the truck bed. Oh, and it also has a 500-hp Viper RT/10 engine under the hood, lashed to a 6-speed manual transmission. It has a beefed up airlift suspension and Wilwood brakes under huge BBS wheels to ensure this little truck is able to handle and stop with all of that power. Admit it: this PT Cruiser is kind of cool.
2000 Setzer Cruiser
This Hot Wheels-esque PT Cruiser was specifically designed by DaimlerChrysler's Pacifica Advanced Product Design Center for Brian Setzer to promote his album "Vavoom!" Who is Brian Setzer? He was the guitarist of The Stray Cats. Who are The Stray Cats? We're not sure. What we do know is this: In addition to an awesome paint job, this PT Cruiser had an amp and speakers built into the cargo area. "Having this built is just like winning a Grammy," Setzer said, for some reason.
2000 Futuristic Woody
The competition is stiff, but this one might have the funniest name. This Futuristic Woody was built by California Street Rods and aims to hit home the whole "old meets new" design language of the PT Cruiser. In place of where wood paneling would traditionally go, there are carbon fiber inlays on the sides and back of the car, framed with ash wood. The body is lowered, and there's a custom 1-piece grille that omits the stock front bumper. It also doesn't have door handles — you open the doors with just the key fob.
2000 Indian Cruiser
Chrysler and Indian are two brands with a lot in common, in the sense that they like being bought out to save them from certain doom. What better way to celebrate that than a collaboration? This yellow PT Cruiser with wood paneling has a matching motorcycle trailer hitched to it, replete with "Indian" decals. More than an aesthetic upgrade, Magna International added a Borla exhaust and a supercharger to the PT Cruiser, which gave the engine about 100 extra hp.
This is just the beginning. If we can take anything away from these questionable hot rods, it's a reminder that just because you can, doesn't mean you should. Find a Chrysler PT Cruiser for sale
MORE FROM OVERSTEER:
Why Do Automakers Think Plastic Cladding Signifies Utility?
The Nissan Rogue Has Become a Top 10 Best-Selling Car
The BMW Z4 Is Surprisingly Cheap (and Cool)