During my Oversteer debut, I made it clear that you should skip the train and drive across Europe. I'm here to say that you should do the exact same thing here in the beautiful U S and A! No matter your destination, the car is the best way to get across our country while enjoying its splendor. It's not only less expensive, especially with our current mercifully cheap gas prices, but also you can see things you would never see any other way. It's an experience you'll remember forever; here's what I learned on my cross country drive in our Jeep Wrangler Unlimited.
All estimates are based on two travelers, a July 21, 2017 departure — which was an arbitrary "one-month-from-the-day-I-wrote-this" date — and a return one week later on July 28.
As with the previous train-vs.-car comparison, we'll start with the cost. Specifically, we'll start with the best option: driving! According to AAA, the current average price of gas is $2.28 per gallon. Since I'm a true enthusiast, I'm of course using the Cannonball Baker Sea-To-Shining-Sea Memorial Trophy Dash route for this price estimate, so factor roughly 2813.7 miles one way. If I'm reading this U.S. Department of Transportation website right, the average fuel economy for a light-duty vehicle in 2015 was about 24 miles per gallon. You can do the math from there. Go ahead, I'll wait. That's correct: To get across the United States via the Cannonball Run route, you'll need 117.2375 gallons of gas for your 24 mpg vehicle, which in today's money will cost $267.30. (Admittedly, this doesn't account for tolls, though there aren't many.) For the total cost of driving cross country and back in your own car, just double it: $534.60 round trip.
First competitor, the train. For $582.00, Amtrak will get you and a friend to Los Angeles. But it's not very direct, and it'll take you some time. How much time? Seventy one and a half hours, or almost three days of clickety-clack, clickety-clack. Specifically, you'll depart New York City for a 28-hour, 15-minute trip on the 51 Cardinal through D.C., Cincinnati, Indianapolis and eventually Chicago. You'll have a 5-hour transfer in Chicago, and then you're off on a 43-hour, 15-minute trip on the Southwest Chief from Chicago through Albuquerque and on to Los Angeles. To be fair, I was offered a 63-hour trip for just $372 for me and my traveling companion to get back to New York City, which brings the grand choo-choo total to $954.00 round trip.
This is probably where you'll obviously say that any idiot would fly in a dang airplane, and that's probably true. Ah ha, but I'm not just any idiot, and this is my column! Remember, I said the car was the best way to get across the United States and see its splendor. See, that little caveat grounded your Boeing real quick, didn't it? OK, it's faster, I get it. But you don't see our amazing country from the air. Plus, it's not that cheap: Google Flights estimates the average round-trip cost to get from NYC to LAX is about $400 per person, or roughly $800 round trip.
OK, at this point you're yelling profanity into your monitor about how the trip in the car will require additional costs like a hotel, food, etc. Which is true, sort of. When my fiancee-at-the-time and I drove cross country in our Wrangler Unlimited circa 2012, we were able to "camp out" in the Jeep for a few nights. It's not that hard: Drop the back seats, get a futon mattress or something similar, shave off whatever stuffing doesn't fit between the wheel wells, toss in some blankets and pillows, and voila, your home away from home. And it's free. We just kept our bags, and the dog, on top of the bed while driving, and then tossed everything (except the dog) up onto the front seats at night and slept until we were ready to drive again. You can pretty easily rig up some "curtains" with towels to keep out light (and prying eyes), and I even found some magnetic mosquito nets that stuck to the outside of the Jeep, allowing us to keep the windows down at night.
Top Tip: Truck stops are great for "car camping." Unlike campgrounds, they don't charge you anything to park there; plus, they have supplies, snacks and even showers, if you're brave enough. I was not. Word of warning, though: Do NOT park next to the refrigerated trucks; they may seem innocuous, but when that cooling generator thing kicks on, it's very loud. Also, look at Google Maps before you settle on a spot; some areas have trains that woooo woooo their way through the area at 2 a.m., waking you up just as their passengers also lie awake thinking of how much they paid to get to L.A.
Which brings me to time spent traveling. Obviously the airplane wins, we know that, six hours each way, blah blah blah; but it's disqualified for not allowing you to see the aforementioned splendor. I already noted that the train isn't exactly expedient, although you and your companion are both able to sleep during the trip. But at an average of 67.25 hours spent traveling each way, it's still pretty slow. But at least you can see some of the "splendor," although train tracks aren't always built in the best places. The expediency of a car — well, that depends on how quickly you want to get there. Add a fuel cell, toss in some other stuff, perhaps a small 6-figure investment, and you can cross the country in 28 hours and 50 minutes. Just like Ed Bolian and company did in their Mercedes-Benz CL55 AMG back in 2013.
For the rest of us, if you can average about 70 mph (vs. the 98 mpg average pace that Bolian set) and drive about 12 hours a day, you can still get there in about three days. That's roughly 800-900 miles of driving per day, long to be sure, but certainly doable with two drivers. My fiancee-at-the-time and I easily logged 10 to 12 hours per day on our 2-week trip. This is where the U.S. and Europe differ greatly; getting from country to country over there is basically like getting from state to state here. Plan accordingly. The point is to see the sights, and driving 75 mph for 12 hours a day, while expedient, isn't ideal.
Stop, see things, experience stuff, plan your trip around fun and interesting meals. That's the real point — after all, this is a journey, not a destination. If you need to get there quickly, you'll fly. If you want to enjoy the trip, drive! Our route was intended to be D.C. to New Orleans, then we would continue west all the way to San Diego. However, on our second day of driving, after a perfectly lovely evening in a truck stop parking lot somewhere in Tennessee, we got word that the Big Easy was being evacuated because of an impending tropical storm.
So, we hung a hard right and went through Memphis, which has a great downtown where you can walk around with beers; on to an awesome overnight in Little Rock, which has a fantastic downtown; onward to Oklahoma City, where the Murrah Federal Building bombing memorial is a must-see, if solemn, stop; further west to Amarillo, where we stayed at The Great Texan Steak Ranch, home of the 72-oz. steak challenge that I did not try; further onward to Roswell, which was just OK, not nearly as weird as I had hoped; and then up through Arizona to Las Vegas. Sin City! We pulled into Vegas a day early, and decided to just spend some more time there than planned. Our final destination of San Diego never happened, but Vegas sure did.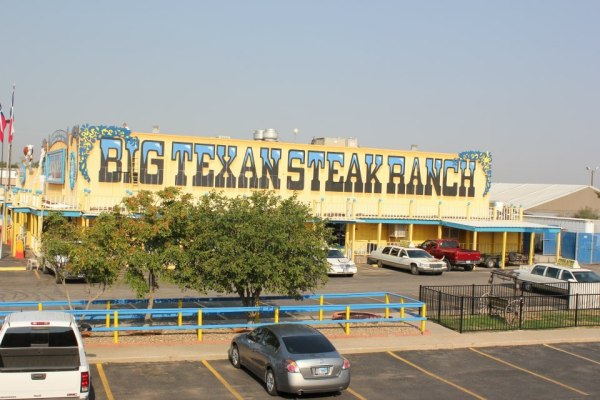 That's our western route. On the way back east, we hit the Grand Canyon, Four Corners, Colorado Springs, Denver and then Kansas, Kansas … more Kansas … for the love of God, it's never-ending Kansas, and finally, an overnight in Kentucky for some bourbon before heading back home.
Oh wait, I almost forgot the bus in this comparison! No, I didn't. You can go Greyhound for $151.00 each way. An excellent deal. But it'll take you an average of about 66 hours each way, and you'll make seventeen stops and two transfers. I suppose if you have no other option, no car, no friends, and you don't have an extra $116.30 to pay for gas, you can take the bus. I'm sure you'll meet some amazing people. Please let me know in the comments if you've ever done this. And of course, I'd love to hear your cross-country stories. Find a Jeep Wrangler for sale
Based in Northern Virginia, William is professional writer and editor and acts as the Editor-in-Chief of Right Foot Down. He misspent most of his youth on tracks in the Mid-Atlantic, as well as killing cones in parking lots, and he once taught at a teen performance driving school.
MORE FROM OVERSTEER:
The Toyota Land Cruiser Heritage Museum Exists and Is Free to Visit
Autotrader Find: 1995 BMW M5 Touring — for $130,000
Here's a Kia Sorento Driven by the U.S. Government