The new 2020 Kia Telluride is here! It's a surprise from Kia, as it's pitched as a sporty, rugged SUV — and it blends some of the best design elements from the current crop of luxury SUVs. I just spent a week with one courtesy of Kia, and it helped me escape the city for a few days. It also let me see what it's made of — on everything from long stretches of highway to muddy farm roads.
If you believe that imitation is the sincerest form of flattery, then the Telluride should flatter some of the best SUVs on the market. At a minimum, I see Bentley Bentayga in the side profile, Volvo XC90 in the rear, and GMC Yukon in the front. Call it what you will, those are some of the best looking SUVs on the market — at least, in my opinion. So if you're going to do an impersonation, you might as well aim high. The result is that the Telluride looks good — but my experience has shown me that it's so much more than a pretty face.
The new Telluride is pretty reasonably priced. The base LX model starts at $31,690, the S trim comes in at $33,990, the EX at $37,090 and my loaner SX starts at $41,490. If you're wondering, the Telluride is aimed at other midsize SUVs like the Ford Explorer and Toyota Highlander — which makes sense, since the Highlander starts at $31,830 and the Explorer starts at $36,675. That means the Kia comes in just under the Highlander, and a used NA Miata less than the Explorer. Meanwhile, the most expensive Highlander, the Limited Platinum, starts at $47,510 — and the priciest Explorer, also called the Platinum, hits an eye watering $58,250 starting MSRP!
It should be no surprise that the Telluride is roughly the same size as the competition. It's got 87 cu ft. of total cargo area, which almost matches the 2020 Explorer's 87.8 cu ft., and it bests the 2019 Highlander's 83 cu ft. of cargo room. That is all accomplished by having very similar wheelbase, length and height measurements as the competition. But the Telluride manages to look bigger — maybe it's that Yukon-like front end.
So it's just as big as the competition and competitively priced — but what's it like to drive?
Before I start that bit, a quick disclaimer. This is my first, and only, Telluride experience, and I was driving a very well-equipped SX model that included the following additional options:
– SX Prestige Package ($2,000)
110V power inverter
Automatic rain-sensing windshield wipers
Head-up display (HUD)
Heated second-row seats
Premium headliner
Premium Nappa leather seat trim
Ventilated second-row seats
– Floor mats ($210) and cargo mats ($115)
– Snow White Pearl paint ($395)
That brought the grand total to $47,255, which isn't cheap — but it came with a lot of stuff, and it legitimately felt like a full-on luxury SUV. Now, on to the driving.
First, driving a Telluride doesn't feel like you're driving a huge SUV, because of course, you aren't. It just looks large — but in reality, it's quite maneuverable and easy to park. You get one engine option, a 3.8-liter V6 with 291 horsepower and 262 lb-ft of torque, but it makes pretty good use of its power. It weighs between 4,200 and 4,500 pounds, depending on options and trim, which isn't bad these days for an SUV. So merging onto the highway was quite easy, and I never felt lacking in power.
I think my favorite feature on the highway, or in any urban scenario, was the unique sideview camera function. Click your signal in the direction you'd like to change lanes and the available Blind Spot View Monitor (BVM) will light up a crystal clear view of what's next to you, right between your speedometer and tachometer. It takes a few tries to get used to it, but it's fantastic.
Off-road, the Telluride's eight inches of ground clearance was more than enough for the muddy and rocky farm roads. It's not quite a Wrangler, but it never suffered from too many embarrassing scrapes along my trek. The all-wheel drive (AWD) system worked admirably, as well — noticeably searching for grip as the wheels dug into the dirt and mud along the way. The end result was a great weekend in the country and mercifully away from the city, and it proved to me that the new Kia Telluride is quite at home in either location.
The real question is whether or not people will buy it. A lot of people asked me what it was, and then frowned at the Kia badge. As with the fantastic Stinger, the Telluride shows that Kia has once again proven they can build a world-class vehicle. I'm fortunate to get new press loaners dropped off quite a few weeks in a row throughout the year, but this is one of the few that I was left feeling like I would spend my own money on. It's just that good, I just hope people buy it. Find a Kia Telluride for sale
Bonus Pics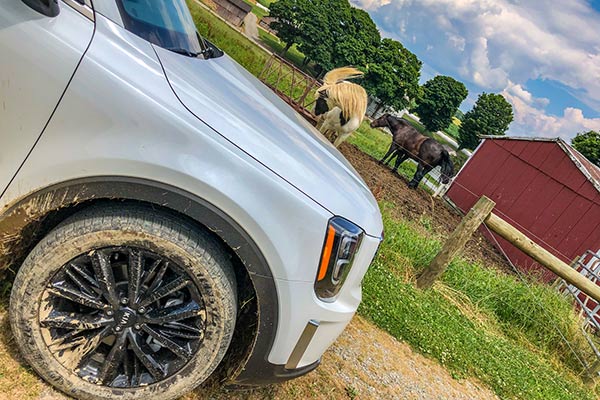 MORE FROM OVERSTEER:
I Bought the Cheapest Teal GMC Typhoon in the USA
I Saw This Really Weird Long Jeep Wrangler
Video | Here's How You Turn On the Locking Differentials on the New G-Wagen