GMC has pretty strongly established itself as a leader in luxury pickup trucks and SUVs. Yes, they're still little more than Chevrolets wearing nice suits, but they're actually selling quite a lot of those fancy trucks. But not too long ago, GMC took some unusual risks. Some of those risks paid off handsomely — and some of them were, well, just kind of weird. Here are just a few examples.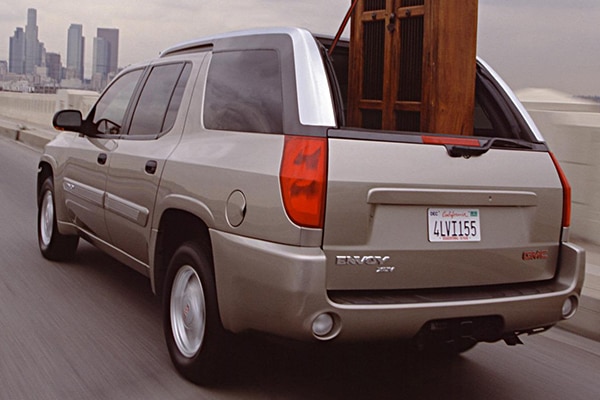 Envoy XUV
I can't say for sure, but I'm assuming XUV stands for "Xtreme Utility Vehicle." What was so Xtreme about this restyled Chevy Trailblazer, you ask? The fact that the back part of the roof opens up to allow you to haul especially tall things. I remember GMC advertising that it was the perfect vehicle for transporting grandfather clocks, and I guess it's kind of hard to argue against that claim. But for the rare occasion that you aren't transporting a grandfather clock, it's just kind of a weird feature that isn't that especially useful. What was kind of cool about the Envoy XUV is that the tailgate could swing open down or sideways, like a Honda Ridgeline.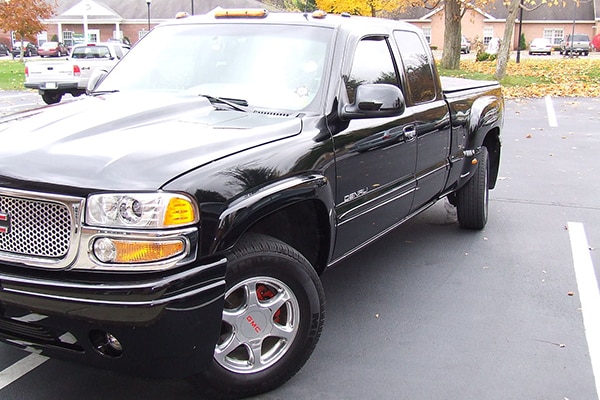 Quadrasteer
Big trucks aren't exactly known for their tight turning radiuses, and GMC attempted to remedy that by introducing the Quadrasteer. The Quadrasteer is exactly what it sounds like: 4-wheel steering, which was available on the Sierra from 2002 to 2005. GMC wasn't the only one that got this feature. You could also get it on a Chevy Silverado or a Suburban 2500. The Quadrasteer actually worked pretty well and tightened up the turning radius by up to 21 percent — and it was especially useful for trailering. Unfortunately, it was just too expensive, adding more than $5,000 to the cost of your truck when it was first introduced.
Long-Wheelbase Envoy
Was the XUV not confusing enough for you? GMC also made a long-wheelbase variant of the Envoy. Now this is an interesting one, because SUVs that size seem to be all anybody wants to buy today — but making their 3-row SUV to be just a stretched out Envoy was kind of an odd choice. And when I say long wheelbase, I mean long. At a total length of 207.6 inches, this thing was longer than a standard-wheelbase Yukon and it actually had a pretty usable third row of seats. The Envoy XL was replaced by the Acadia in 2007, which was a crossover that made a lot more sense.
Denali All the Things
Now here's a weird idea that actually worked! Denali was born just before the 2000s — but it was the 2000s when GMC's luxury sub-brand started really growing into what it is now. It spread from the Yukon SUV to the Sierra pickup and its HD counterpart, the Envoy and the Acadia that followed. The Canyon mid-size pickup didn't get a Denali variant until the second-generation model showed up a couple years ago. It might sound weird to spread the reach of Denali so far, but it's working marvelously. Today we live in a world where every non-commercial GMC product has a Denali variant — and those things are printing money with huge profit margins. Now how long until we see a Savana Denali?
You could call these gimmicks, or you could call these bold experiments at changing the truck game. Either way, there's no doubt that GMC has been making its mark on trucks and SUVs in the 21st century.