Everyone has a dream car — and for many people, that dream car is an exotic car: the one they had as a poster on their bedroom wall, as their computer wallpaper, or as a video game hero. The problem with this dream, of course, is that not many people can be financially fortunate enough to experience one from the driver seat. I'm here to tell you that you don't have to be rich to get behind the wheel — and I'm going to explain what I mean by showing off five of the cheapest and easiest ways to drive an exotic car.
Xtreme Xperience
First on my list is the exotic car track experience known as Xtreme Xperience. Xtreme Xperience is unique on my list, as it's the one program that will travel the country to come to a local race track near you. In fact, Xtreme Xperience visits over 40 race tracks in a year, including well-known circuits such as Streets of Willow Springs, Road America, Pocono Raceway and Texas Motor Speedway.
The Xtreme Xperience car fleet includes a Ferrari 488 GTB, a Lamborghini Huracan LP 610-4, a Ferrari 458 Italia, a Porsche 911 GT3, an Audi R8 V10 and a Nissan GT-R. Laps in the cars range from $265 for three laps in a Nissan GT-R to $379 for three laps in a Ferrari 488 GTB.
I have personally used Xtreme Xperience a handful of times out of my own pocket. I can personally vouch that the cars are not limited, and the instructors don't limit you to any gears — and, instead, you get to drive the cars to the extent of your driver experience level.
My next two choices are different than Xtreme Xperience in the way that they do not travel, but rather they're located in Las Vegas, Nevada. But like Xtreme Xperience, they let you thrash the cars on track.
Exotics Racing
All of the experience suggestions on my list have exotic cars, but Exotics Racing has additional options in its program.
Along with having one of the largest exotics fleet of any car experience program — getting you behind the wheel of anything from a Porsche 718 Cayman GTS all the way to a Lamborghini Aventador S — Exotics Racing will give you the option to get behind the wheel of a real race car.
Exotics Racing features a race school, time attack experiences and even has its own race series, the EXR Racing Series, which features its own race car: the 230-horsepower, 1,800-lb EXR LV02. Prices at Exotics Racing range from $199 for five laps in the Porsche 718 Cayman GTS to $599 for five laps in the Lamborghini Aventador S, but the EXR LV02 race car has its own set of rates. You can do a 15-minute session for $490 or you can do private lapping sessions with private coaching for $2,715 — and you can even participate in an endurance race in the EXR Series for $7500.
Exotics Racing, call me. I think I need a date with the EXR LV02.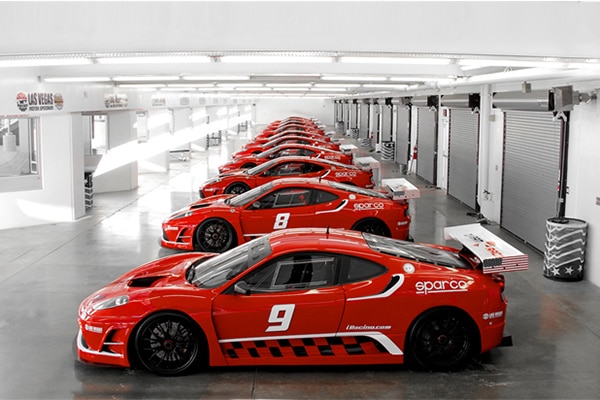 Dream Racing
Another Vegas-based experience with a fleet rivaling the Exotics Racing fleet is DreamRacing, which has its own unique experiences.
The DreamRacing fleet starts with the Ford Mustang GT Fastback for $179 for five laps, and it ranges all the way up to a Lamborghini Aventador SV for $599 for five laps. DreamRacing also gives you the opportunity to drive the race car variants of your favorite cars, like the Porsche 911 GT, Lamborghini Gallardo GT and Ferrari 458 GT race cars.
Interestingly, along with getting you behind the wheel of your dream cars, DreamRacing provides the opportunity for a drifting experience on track. There are two drifting options: a battle drift experience where you and a companion get ride alongs together, or a solo drifting experience. It should be said just not any ol' person is drifting you around the track: instead, the instructor is Alec Hohnadell, who competes in the Pro 1 Formula Drift series as a driver. The drift cars are a BMW E92 M3 and a Chevrolet Camaro SS, and the experiences go for $99 for a solo 2-lap experience, or $249 for the companion drift battle experience.
Turo
By now, it's basically impossible for you to not have heard of Turo. Affectionately known as the AirBnB for cars, Turo allows you to ditch old-fashioned rental car companies and rent cars from anyone.
Although Turo mainly features consumer-level cars, you can often find yourself behind the wheel of exotic cars for fairly reasonable money — as low as $100 a day, in some cases. Your results may vary, depending on what's available in your area, as you have a better chance of finding a Ferrari or a Lamborghini in Los Angeles, New York or Miami, then a small town in Nebraska.
The one difference with the track experiences listed above is that when you get behind the wheel of a Turo rented car, you're on the road. You can't legally hit triple digit speeds like you can with Xtreme Xperience, Exotics Racing and DreamRacing, but the trade-off is that instead of three to five laps, you get hours or days with the car.
Buy Your Own
This may be overlooked, but the best and cheapest way to get behind the wheel of an exotic car could actually be owning your own. Depreciation can be your enemy when you buy a car new, but it can be your friend when buying used. For all of the other experiences listed, you're paying for laps or time in one, but if you buy your own exotic, you'll have nothing but time in the driver seat.
There are plenty of exotics you might not be thinking about available on Autotrader. Here are a few exotics I found for the price of a new entry level performance car that you could probably stretch your budget for.
Used 2008 Aston Martin V8 Vantage Roadster for $29,677
Used 2005 Lamborghini Gallardo for $41,099
Used 2009 Nissan GT-R Premium for $48,500
Experienced one of my suggestions above? Maybe you have one you think is better? Drop your experiences and comments below or on Facebook, as I would love to talk to you in the comments.
MORE FROM OVERSTEER:
The Rolls-Royce Drophead Coupe Is the World's Most Opulent Convertible
Here's What Happens When Project Cars Go Completely Wrong
Killing the Original Jeep Grand Wagoneer Was a Big Mistake — Or Was It?