Owning a vehicle with off-road capability and room for all of your stuff can open you up to some great adventures. With low-range 4-wheel drive, a dependable powertrain and a set of all-terrain tires, the possibilities are endless. Here are five cheap overland vehicles currently listed for sale on Autotrader.
1999 Toyota Land Cruiser — $8,995
This could really just be a one-vehicle list that starts and ends with the Toyota Land Cruiser. Designed for service in the world's harshest environments, this legendary SUV is known to travel well in excess of 300,000 miles before needing a major mechanical overhaul. The 100 Series Land Cruiser, offered from 1998 through 2007, is currently the one to buy, as these large luxury SUVs are criminally undervalued when you consider just how much utility they offer and how inexpensive they are to maintain. We recommend a 1998 or 1999 model, as these came with an easily upgradeable double-din stereo and were offered with an optional locking rear differential to go with their standard locking center. This one, located in the D.C. metro area, has just 145,000 miles on the clock and is priced at under $9,000 — an insane deal as far as old Land Cruisers go. Find a Toyota Land Cruiser for sale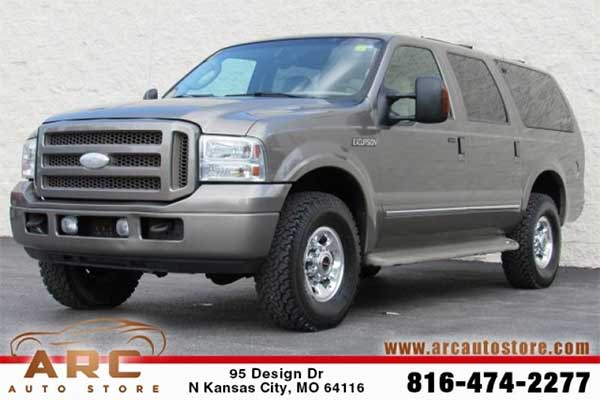 2005 Ford Excursion Diesel — $18,000
Given its massive size, mechanical simplicity and surprising degree of off-road capability, the Ford Excursion is still a highly sought after used SUV even a decade and a half after it ended production. This is especially true for the diesel models, which offer reasonable fuel economy, not to mention all the other benefits of a diesel engine regarding towing and payload capacity. The better of two available diesel powertrains was offered for 2005 and 2006, so we'd target an Excursion from either of those model years. This one, in Kansas City, Missouri, has less than 140,000 miles on the odometer and is a loaded Limited model, meaning it even has heated seats. With a solid front axle taken straight from the Ford Super Duty pickup on which it's based, lifting an Excursion for added capability should be a pretty simple undertaking. Find a Ford Excusion for sale
While it's no longer the well-kept secret it was a few years ago, the Lexus GX is little more than a foreign-market Toyota Land Cruiser Prado with some Lexus-grade luxury features added, like a nice stereo and heated seats. Think of it as a diet Land Cruiser. Needless to say, these body-on-frame SUVs offer exceptional off-road capability, thanks in large part to their solid rear axle and the available Kindetic Dynamic Suspension System, better known as KDSS, which automatically disconnects the vehicle's sway bars when it senses that the SUV is traveling over rough terrain. While there is a variety of built GXs listed for sale on Autotrader that already come with heavy-duty bumpers, lift kits, awnings and off-road tires, we'd keep it simple and go with this stock 2003 example, which is listed for less than $7,000 despite having fewer than 146,000 miles on the clock. Find a Lexus GX for sale
2010 Toyota Tacoma TRD Off-Road — $20,885
The Toyota Tacoma spent many years as the de facto choice for buyers in the market for a midsize pickup, and it's arguably still the most well-rounded option on sale today. Because Tacomas are known as much for their dependability and bulletproof resale value as they are their off-road capability and sporty demeanor, it's hard to find a cheap used Tacoma without going back more than a decade or so. The silver lining, though, is that a used Tacoma won't lose value as quickly as other used vehicles, so you'll recoup a large part of your cost whenever it comes time to sell. For overland duties, we'd look for a TRD Off-Road model, which comes with a Bilstein suspension and a locking rear differential, among other helpful features. This one, a 2010 model located south of Seattle, has 77,000 miles on the odometer and still retails for more than $20,000 — about as good as it gets when it comes to the Tacoma. Find a Toyota Tacoma for sale
2009 Nissan XTerra Off-Road — $6,995
The XTerra was Nissan's Toyota 4Runner competitor, offered from 1999 to 2015. The second-generation model, introduced for 2005, makes for a pretty great bargain off-roader today, and it isn't hard to find one for less than $15,000. For going off the grid, we recommend looking for either an Off-Road or a Pro-4X model, which offered off-road bits like a locking rear differential and roof-mounted lights to go with a funky, roof-mounted cargo box, underbody skid plates and more. Underneath, the XTerra shared a lot of components with the midsize Nissan Frontier pickup, including its frame and solid rear axle. This one, located in North Carolina, has just over 150,000 miles on the odometer. Find a Nissan XTerra for sale
MORE FROM OVERSTEER
Here's Why the BMW M3 E92 Was the Craziest BMW M3
6 Sporty Buicks You Might Have Forgotten
Did You Know the Last Saab 9-5 Had a Wagon Variant?