One of the biggest problems with luxury SUVs — I think we can all agree — is that they're very expensive. Some are very, very, very expensive. But if you buy a used luxury SUV, you don't have to spend a fortune to get what you want. Here are five cool used luxury SUVs you can buy for $25,000 — but just remember, that's only the initial price. Each of these aging luxury SUVs will surely require a healthy maintenance and repair budget to stay in nice shape. But if you want one of the coolest SUVs on the market without paying huge money, it'll be worth it.
The 2012 BMW X5M is one of the coolest high-performance SUVs, as it touts an amazing turbocharged V8 with a monstrous 555 horsepower. Although the X5M hovered around $100,000 when it was new, used pricing has fallen considerably, and this 6-year-old example is offered with 114,695 miles for just $24,900 by PA Cars and Trucks, just north of Philadelphia. The X5M likely won't be as reliable as some of the other members of this list, but it's a lot more fun.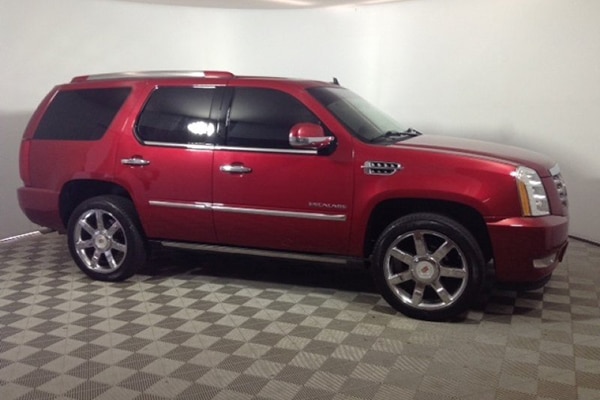 2012 Cadillac Escalade — $25,000
The Cadillac Escalade remains one of the darlings of the luxury SUV world, and this particular example is sure to turn heads. That's because it's finished in an unusually bright shade of red, dubbed "Crystal Red" by Cadillac. It's offered with 91,255 miles by Auffenberg Ford in O'Fallon, Illinois, in the suburbs of St. Louis, and it looks to be in nice shape inside and out.
2002 Mercedes-Benz G500 — $22,995
The Mercedes-Benz G-Class is still one of the coolest SUVs on the market, with its boxy styling remaining completely unmistakable for any other vehicle. Better yet, the G-Class came out in the United States in 2002, and the design hasn't changed much since then — meaning even the "old" model still looks pretty fresh. That's good news if you're interested in this one, since this 2002 G500 is offered by Miracle Autosport in central New Jersey, near beautiful Princeton, for just $22,995. It's covered 151,000 miles, but the G-Class is known to be pretty durable if maintained right — and this one looks pretty nice.
2011 Porsche Cayenne S – $24,995
The Porsche Cayenne first came out for the 2003 model year, but the SUV was heavily revised when it was redesigned in 2011. This Cayenne is a second-generation model, and it's a desirable Cayenne S with a 400-horsepower V8. Mileage is high at 92,000, but the price is right: It's offered for just $24,995 by Fellah Auto Group in Philadelphia, which is a good price for a Cayenne S model from this era.
2008 Toyota Land Cruiser – $24,799
The Toyota Land Cruiser is generally regarded as one of the most reliable, most durable SUVs in existence. That's especially true of the "200 series" model, which came out for the 2008 model year with a big 5.7-liter V8 borrowed from the Toyota Tundra pickup truck. This particular 2008 Land Cruiser is offered by a private seller in Greensboro, North Carolina, with 185,000 miles for $24,799. You may think that's big money considering the mileage, but most Land Cruiser people will tell you this truck is just getting broken in.
MORE FROM OVERSTEER:
Video | The Volvo XC40 Is the Quirkiest Volvo in Decades
Lexus Once Had a "Pebble Beach Edition" Trim Level
Video | A $25 Part Fixed My Broken Rolls-Royce Phantom